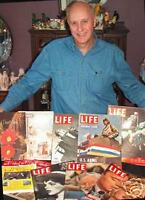 When collecting Life Magazines or giving as a gift, condition is important Grading the condition of vintage magazines can be very subjective. I try to grade my magazines so that each customer will be very pleased with their purchase and will find the magazine to be nicer than they expected. I place a lot of weight on the condition of the cover, as that is what many people are looking for. But even those magazines with that have "rough" covers, generally have interior pages in excellent condition.
The Life Magazines I list are anywhere between 30-70 years old or more and are not new! Paper can survive remarkably well under the right conditions. However, acidity, quality of the paper, and storage play an important factor in how well the magazine has endured the test of time. I try to accurately describe the magazines for sale as precisely as possible.
Mint Condition, in my opinion does NOT exist. Below explains how I judge the quality of these great vintage magazines. Each magazine is judged on the following scale, and additional comments are made on the "Condition" remarks on the listing.

A couple of terms:
Toning is the rust color hue all paper acquires due to oxidation. EG: for a period after World War Two, Life used a different, inferior (more pulpy) type of paper, which is more prone to toning. Toning will increase if proper storage is not used.
Foxing is usually a spotty yellow brown stain on paper. This can occur when there is some small defect in the original manufacture of the paper but may be catalyzed by the damp and poor ventilation. Although not attractive, it generally does not devlaue the magazine.
Mint - impossible to declare. Mint would mean that the magazine was seal wrapped on the day of production and never handled to the present day.
Near Mint - Near Mint is also fairly rare. The color and paper is vibrant and extremely well preserved. There is absolutely no sign of aging to the naked eye. I do have many Life Magazines I describe as excellent which would come close to qualifying for this rating; but I would prefer not to use this classification.
Excellent - Excellent is the most common designation, as my preference is to only offer magazines in this condition; with very little wear or signs of age. Pages may have some signs of aging such as toning. There are no major rips, wrinkles or foxing in the magazine. A minor rip on the outside edge less than half an inch, a corner page curl or dog ear may be evident, however, anything more significant will be noted in the condition section. Generally these imperfections will be masked when framing or matting the awesome ads.
Very Good/Good -- lightly used and clean. There may be faint to mild signs of use or age such as imperfections somewhere on the cover or within the magazine; mild to moderate signs of use or age; a small rip, stain or foxing has affected the magazine. Any imperfections are noted under "Condition" in the listing.
Fair - Usable, but with moderate damage (defined in Condition). Perfect for the person who wishes to read or own a vintage magazine, but doesn't want to pay the high price of a pristine issue. These are either more visibly used or have some more notable damage. Issues with detached covers may be graded "Fair" if cover and all content is VG. Most water marks give the magazine a grade of "fair" or "poor" - a single drip mark may not.
Poor - Magazine has major imperfections such as severe foxing, wrinkles, rips or water/moisture damage. The magazine is listed despite its poor condition due to the interest of the issue and it is still very readable. Problems will be noted under "Condition".
Common to all magazines:
Many vintage magazines have a faint musty odor. After inspecting and listing magazines, the magazine is placed in a protective sleeve and stored in an enclosed, temperature controlled space. Even though our storage area is dry and perfect for long term storage, your vintage magazine may arrive with a slight musty odor. This is usually easily eliminated by removing the magazine from the plastic bag, and spreading it open to air out for a couple days. I apologize that I do not have the space to conduct individual airings here.
Mailing Labels/Centerfolds : Most magazines do have a mailing label, sometimes on the back. You will be able to see this in the photos. At times the center spread is detached with bumped edges - the staples were somewhat short for the fatter issues. I do not consider this to be damage unless the pages have become significantly battered along the edges. This will also be noted in "Condition".

Which condition grade is good enough for framing, or a gift? : If you wish to frame only the cover or an interior page, it may be possible to purchase a less expensive issue when only one page or the cover needs to be in very good/excellent condition. In general, all EXC and VG issues have frameable covers, but many of the G, F, and P issues have frameable covers as well. Interior pages are even more likely to be in good condition. All EXC, VG, and G issues are suitable for a gift. A few "Fair" issues may also be suitable in some circumstances.
Thanks for reading .... check my ebay Store for my Life magazine lisitngs.
.... Ron