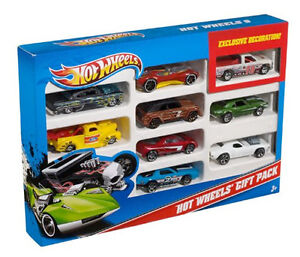 Hot Wheels, the classic diecast play toys, are an American icon and are considered to be some of the most popular collectible toys in history. A favorite among kids and adults, some fans boast over 10,000 items in their Hot Wheels collections. While people could start by buying all of the Hot Wheels cars they can get their hands on, this is not the best method for starting any kind of collection, potentially costing buyers more money than necessary. In order to be successful in starting a Hot Wheels collection, to understand the company history, know the options available for buying, and be mindful of the proper techniques for storing the collection. Additionally, learning how to navigate, search and purchase on eBay can help buyers compare prices and ensure they get the best deal. These following steps will help collectors find the Hot Wheels models they are looking for, make informed purchasing decisions, and protect their investments.
Discover Hot Wheels History
Since 1968, Hot Wheels 1:64 scale replica cars have been a staple of American childhood. Knowing the history of the Hot Wheels company can help collectors determine the age of a Hot Wheels car as well as its value, allowing them to make an informed purchasing decision as well as providing pertinent selling information. Often the products released during certain time periods will reflect major events in the company's history. These events can add value to the models. Below are some of the highlights from the history of Hot Wheels.
Hot Wheels Over the Years
1968: Mattel released the first line of Hot Wheels cars, introducing 16 models to the world. Included among them was a sneak preview of the 1969 Corvette.
1969: With sales much higher than anticipated, Mattel released 24 new Hot Wheels cars, including the VW Beach Bomb.
1970: The famous Snake and Mongoose were produced, along with 31 other Hot Wheels cars.
1973: Inflation caused Mattel to lower the production costs of Hot Wheels cars.
1974: Hot Wheels used printed graphics instead of decals.
1975: The first Hot Wheels motorcycles were made.
1980: Hi-Rakers were introduced.
1988: Hot Wheels celebrated their 20th anniversary. To commemorate the occasion, Mattel produced gold and silver chrome cars.
1990: The first Hot Wheels aircraft was made.
1995: Treasure Hunt cars were introduced. These cars were instant collectibles due to the fact that only 10,000 of each were made.
1996: Mattel purchased the rights to Matchbox cars.
Start a Hot Wheels Collection
A popular hobby, collecting Hot Wheels can be relatively inexpensive, allowing a person to start a collection right away with several cars. However, before beginning a collection, it's necessary to know the type of collectors there are, the types of Hot Wheels on the market, the best entry point into becoming a collector, and the ways to expand and care for a collection.
Two Types of Hot Wheels Collectors
Potential collectors will first need to decide what kind of Hot Wheels collectors they want to be. In general, collectors fall into two primary categories: purists and players. Purists are collectors who only want Hot Wheels in the original packaging either for display or as an investment. Players, on the other hand, want them to be loose, out of the package, so that the cars can be played with and admired up close. Loose Hot Wheels cars are much easier to find and are generally much less expensive than those in their original packaging.
Three Categories of Hot Wheels
Hot Wheels generally fall into one of three categories: Vintage Hot Wheels (Pre-1980), Modern Hot Wheels (1980-1989), and Contemporary Hot Wheels (1990-Present). Just as with any collection, value can be determined by nostalgia. Millions of people across the country have fond memories of these little cars, so an original Hot Wheels car from the late 1960s can sell for over $100 and some rare models cars can go for close to $300, depending on the number made and the personal attachment a buyer has to it.
Where to Start a Hot Wheels Collection
If a person wants to collect Hot Wheels by year, 1999 is a good starting point. In general, Hot Wheels from this year should still be fairly easy to find. Issued each month for the entire year, the 12 Treasure Hunt models and 12 Final Run models can make completing the collection a challenge. In 1999, only 10,000 of each model were released, making them difficult to locate.
Taking a Hot Wheels Collection to the Next Level
Collectors will also need to decide if they are interested in collecting Hot Wheels accessories in addition to the models. Other than cars, Hot Wheels also released numerous tracks over the years. These tracks range from simple racetracks to stunt tracks-some sets getting so elaborate that they send cars careening into the mouth of an alien. As with the cars, a Hot Wheels track will also vary in value depending on the condition and the year it was released.
Organization and Care for Hot Wheels
Once the collection has been started, the collector will need to be organized and make certain to keep the cars in good condition. Proper organization and storage will help make it easier for the collector to see the inventory and protect the investment.
Hot Wheels Cases and Displays
Hot Wheels blister pack cases are available to store and protect the cars in their original packs. Some of these cases can hold up to five cars and will prevent the cardboard backing from getting damaged during storage and handling.
Loose cars can be stored in a multitude of different Hot Wheels cases and Hot Wheels displays. Mattel offers many different Hot Wheels brand carrying cases that will hold a varying amount of cars. Individual blister packs or hard plastic cases can keep individual cars safe. Many larger cases are available that can hold up to 32 cars in individual compartments.
Storing and Protecting Hot Wheels
Whichever method of storage a collector chooses, it is important to remember to keep them out of direct sunlight, which can fade the cars and the cardboard-backed blister packs. Collectors should also limit how often they touch the Hot Wheels with their bare fingers. Oils from fingers can mar or spot the finish or cardboard packaging over time. These blemishes not only damage the car's appearance, but can also result in a reduction of the overall value of the Hot Wheels collection.
Find Hot Wheels on eBay
With a wide variety of vintage Hot Wheels (Pre-1980), modern Hot Wheels (1980-1989), and contemporary Hot Wheels (1990-Now) to choose from, eBay is a great place to start building a Hot Wheels collection. Once collectors have decided which type of Hot Wheels they want, they can go to the Toys & Hobbies portal, click Diecast & Toy Vehicles, then click Cars, Trucks & Vans, and, finally, select Hot Wheels from among the brands listed within the In Diecast Toy Vehicles module in order to start searching for item listings on eBay. Understanding how to sort through categories, use the finder, and perform a keyword search can assist shoppers in finding the exact Hot Wheels cars they are looking for.
Categories Module
The categories list on the left side of each page will help to narrow down the listings by item type. There are links for Contemporary, Vintage, Modern, and more. Shoppers will be able to narrow down their choices by brand by either selecting Hot Wheels from the Brand module located on the left or, as will be discussed shortly, by typing Hot Wheels into the search box at the top. Likewise, within the module, users can narrow down their choices by scale, condition, price, and many other filters in order to making finding the precise model a breeze.
Keyword Search
The keyword search allows shoppers to search eBay listing titles for specific words. For example, if shoppers want to find Hot Wheels planes, they can type " Hot Wheels planes "(without quotation marks) into the Search box. They can then click Advanced, located next to the search box, to expand or narrow down the results. More guidance on searching with keywords can be found on eBay ' s Search Tips page.
If shoppers can't find exactly what they are looking for, they can try shopping eBay Stores, telling the eBay Community what they are looking for by creating a post on Want It Now, or saving a search on My eBay. By doing this, eBay will automatically email the shopper when a match becomes available.
Buy Hot Wheels With Confidence
Anytime shoppers make a purchase on eBay, it is important to make sure that they are aware of exactly what they are buying. Knowing the value of the Hot Wheels cars beforehand can make it easier to weed out the great deals from the scams. Additionally, prior to making the purchase, shoppers need to research the seller and understand how eBay and PayPal can provide shoppers with protection.
Know the Item Being Purchased
When browsing different products, shoppers should carefully read the details in item listings. This is the area where the seller should provide an accurate description of the item and note any flaws or missing parts. When looking at the item listing, the shopper should be sure review the shipping options and prices. Delivery costs should be figured into the final price. If a lot of money is being spent on an item, the shopper should be sure that the seller will insure the item when it ships. If buyers want more information about the item or shipping, they can ask by clicking the "Ask Seller a Question" link under the seller's profile.
Know The Seller
Buyers should research the seller so that they feel positive and secure about every transaction. Some questions that buyers can ask themselves when researching the seller are:
What is the seller's feedback rating?
How many transactions have they completed?
What percentage of positive responses do they have?
What do buyers say in their feedback?
Did the seller receive praise?
Do they offer a money-back guarantee?
What are the terms and conditions?
Most top eBay sellers operate like retail stores and have return policies. If this information is not available, be certain to contact the seller and ask.
Buyer Protection
In the unlikely event that the buyer does not receive the item or it is not as described, eBay Buyer Protection will cover the purchase price plus original shipping. Buyers need to always make sure to complete their transactions on eBay either with a bid, Buy It Now, or Best Offer. eBay's Protection Policy does not cover transactions conducted outside of eBay. Buyers should never pay for the eBay item using instant cash wire transfer services through Western Union or MoneyGram. These payment methods are unsafe when paying a seller that the buyer does not know personally.
Conclusion
Hot Wheels offers thousands of different models that can be added to a collection. For this reason, these model cars are popular among collectors worldwide. Knowing the company, the products available, and the buying options can go a long way in helping Hot Wheels enthusiasts build pride-worthy collections.