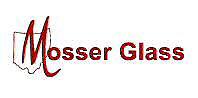 Nestled in the hills of Cambridge, Ohio is yet another great glass company.
Mosser Glass is owned and operated by Thomas Mosser who learned the trade of glass making as a teaneager while working at Cambridge Glass and from his father, Orie Mosser, who was the plant manager at the time.
When Cambridge Glass closed in 1954, Tom acquired some of their moulds, such as salt dips and toothpicks, and started putting together his dreams and skills by opening his own glassware factory in 1959.
With the expertise of his wife, Georgianna, he has added many of his original designs to the line of glass which includes animals, tableware, paperweights, plus many decorative and useful items. The handcrafted glassware in a variety of colors and some are hand painted.
Check out our eBay store for some of the items we have in Mosser Glass.
(Permission granted from Mosser Glass)