As an ebay seller of, among other things, new and gently used clothing, I wanted to pass on what I have learned about listing and selling clothes to get the most out of your auction. There are quite a few things you can do to increase the final value of your auction and the extra work it takes is worth the payoff in the end and also boosts your reputation as a valuable member of the ebay community.
Pictures
There is a reason the age old adage "a picture is worth a thousand words" remains a popular phrase: it is absolutely true. The first impression a buyer is going to get of your auction is the gallery picture (which, when selling clothes is always good to have). Whether you are selling new or gently used clothing, taking a good picture is key. Most people do not own a professional camera nor do they have a studio setting. The most important thing to remember is natural light. Taking pictures in natural light against a neutral backdrop (can even be a beige carpet) allows the colors to stand out and really makes the clothing pop.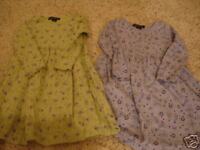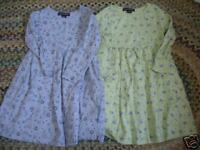 As you can see, there is a huge difference between these dresses in the two pictures above. They are the same dresses, however, the top picture was taken at night in a lit room, but no natural light. The bottom picture was taken during the day. To a buyer, knowing what they are going to be receiving is the most important thing when considering a purchase.
If you are going to be starting to sell on a very large scale, it may be worth buying some advanced equipment. Here is a link to photo equipment on ebay: Camera Equipment
Title
If you don't have a great title, buyers are going to miss your auction. When selling clothes, some important things to consider for your title are:
Condition of the Clothing (New With Tags (NWT), New Without Tags (NWOT), Excellent Used Condition (EUC), Like New (Lk New), Great Condition, Gently Used
Brand (Gap, Old Navy, Ralph Lauren)
Lot (if applicable)
Size (XS, S, M, L, 6, 8, etc)
Gender (Boys, Girls, Womens)
Type of Clothing (Top, Shorts, Skirt)
If you find yourself with extra spaces, consider adding color or season to your title. Don't waste any of those precious spaces as they are so few. It may be worth looking at auctions of similar items to see what is selling the best and then using elements from their titles. For example if you are selling a boy's gap shirt in a size 4, you could look at the titles of these auctions: Examples of auctions
Sizes & Measurements
A 2T is not always a 2T and a 10 is not always a 10. Sometimes a capri is really cropped and sometimes fitted only means something to the person selling the clothing. Taking the time to measure important parts about your clothes before you list them saves the buyer the trouble of having to ask you a question and in some cases, just leaving your auction because they are not sure what they will be receiving. A soft tape measure is a neccessity to your ebay office area (Tape Measures). Below is a short list of some practical measurements you can take:
Tops (jackets, shirts etc.):
Chest: Measure from side-to-side from the points in the armpit where the side-seems ends and sleeve starts. Multiply by two.
Sleeve: Start on the underside of the sleeve (in the armpit) and measure to the endpoint of the garment.
Bottoms:
Waist: Place the trousers on a table, front side up. Measure from side-to-side of the garment on the top part of the trousers (follow the garment with the measure tape). Multiply by two.
Inseam: Start on the anchor point in the crotch, and follow the seam on the inside of the leg down to where the leg ends.

Sizes:
It is also important to list size comparisons. For example, what does a women's S translate to numberwise? It may be a 4 or a 6. A boy's S usually translates to a 6 or 8. Many times, if you go to the website of the clothing brand you are selling (Disney, Gap, Old Navy, Sonoma), there are sizing charts available to determine this information.
When you are selling baby clothes it is very helpful to include the length and pounds the clothes are designed for. For example 0-3 month clothing often fits babies up to 12 pounds, although not always.
Materials & Care
It is nearly impossible to tell from a picture what the clothing is made of and feels like. It is very helpful to a buyer if you list the breakdown of materials that make up the article of clothing. This information is almost always found on clothing tags.
Also found on clothing tabs are care instructions. Someone considering an article of clothing may be put off if they think the care will be very difficult (hand wash or dry clean only), but these days, most clothing is made to be very durable and can be machine washed on a gentle cycle. You also owe it to your customers to tell them if clothing is dry clean only, as that bring a whole new element of cost to them.
Wear
Nobody is going to buy your clothing if they are not 100% clear on the condition.
Selling clothing new with tags (NWT) is the easiest: you state the in the auction and that's that. New without tags (NWOT) is also just as easy. It is when you are selling gently used clothing that you need to be meticulous in your description.
If your clothing is in perfect condition with no wear whatsoever and no stains or rips, you can describe it as being in Excellent Used Condition (EUC).
Beyond that, you need to let your buyer know every aspect of your clothing that is less than perfect, so that when they receive the item they are not disappointed and angry. Common things to point out include:
Pilling
Fading from washing
Wear from washing or normal use
Any stains regardless of how small they are (it can help to take a picture of any stain so the buyer can have a clear idea of what you are talking about. See picture below)
Bleeding of colors
Stretching or shrinkage
Any missing or cut out labels
Any names or writing on labels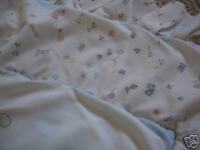 It is amost impossible to see, it is so faint, but this fabric has a spot on it and this picture shows the honesty of the seller as well as reassures the buyer that it isn't very bad, otherwise would be glaring in the picture.
Hopefully this guide has pointed out a few things to you about selling clothing on ebay. Whether you are selling baby, children's or adult clothing, incorporating these ideas should help you become a more professional and more successful seller.