This guide is intended to explain what to look for whenever you purchase a new Himalayan salt lamp. This guide will cover a particular shape which is the Natural shape. Natural shape salt lamps are able to showcase the true and natural beauty of the actual Himalayan crystal salt.
These lamps are known to have healing properties ranging from reducing asthma and allergic reactions to reduce snoring or enhancing your quality of sleep. On the same note, the salt crystal lamps are also known to have a limit in their healing properties. You have to be within the lamps reach in order to receive the benefits of the salt lamp. That is why it's recommended to purchase several salt lamps and have them spread across your home rather than having a huge one in the middle of the house.
You have to image the salt crystal lamp creating a magical and invisible protective bubble around itself. That protective bubble has a reach. The larger the lamp is, the larger the area that the lamp will cover.
What are the benefits of the Himalayan salt lamp?
The salt lamps will help you with:
Reduce snoring (Claimed by buyers)
Reduce asthma attack inside the house
Reduce allergic reaction inside the house
Better quality of sleep
Reduce morning sickness, some type of depression. (Claimed by buyers)
Will purify the air
Will reduce "electro-smog" or EMF
Help people with skin cancer regenerate skin cells
Help kids with autism (Claimed by buyers)
Help cats to feel warm in the winter. (Claimed by buyers)
Reduce stress
Increase awareness
Himalayan salt lamps benefits ( Coverage Chart )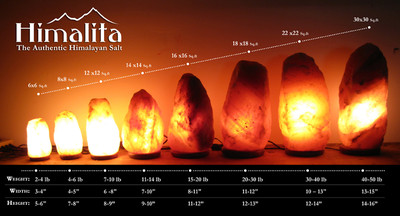 To view the above chart in full or to learn more about the Himalayan salt please visit: