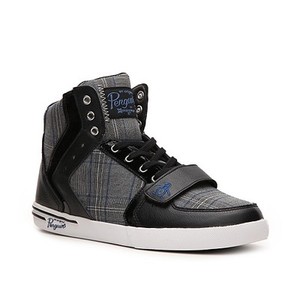 Hi-top sneakers are not just for basketball anymore. Although they had their start as an athletic shoe for elite hoops players, hi-tops grew so popular over the years that they are now seen on the feet of anyone who wants to step into comfort and style. From classic canvas Converse All-Stars to chic suede styles, from shiny, sparkly wedge-heeled versions to tiny baby hi-top booties, the variety of hi - top sneakers that is available can be overwhelming. This guide will provide information about the diverse styles of hi-top sneakers, and what to look for when buying them.

Hi-Top History
Hi-top sneakers were first developed 1917 by the Converse Rubber Shoe Company of Massachusetts. Designed for professional basketball players, the shoe had a rubber sole and canvas uppers. In 1921, the Converse Company sponsored a team called the All-Stars who featured a player named Charles "Chuck" Taylor. Taylor also sold the shoes at his basketball clinics and suggested design improvements to Converse. The iconic Converse ankle patch was a result of Taylor's idea to protect players' ankles during play, and the patch now sports his signature. Initially, Converse Chuck Taylor All - Stars shoes were monochromatic, though after World War II, the toe guards, laces, and outer wraps were made white. In 1966, the company added colors to coordinate with professional team uniforms. Converse even published a Yearbook, beginning in 1932, which celebrates not only hi-top athletic shoes, but also everything about the game of basketball.
Over the years, "Chucks" grew popular with certain American sub-cultures, from greasers to surfers to hipsters, and other shoe manufacturers began to make hi-top sneakers for both athletic use and for fashion statements. Hi-tops have even been seen on haute couture runways.

Features of Hi-Top Sneakers
The chart below illustrates the three different parts of sneakers: soles, uppers, and lacing, as well as demonstrating what kinds of options are available to the shopper.

| Part of Shoe | Description |
| --- | --- |
| Sole | The sole of a sneaker is comprised of three layers. The outsole, or bottom layer, is usually made of carbon rubber and has segments for flexibility and grooves for traction. The midsole has cushioning for comfort and shock absorbency. The insole, which is the part directly under the foot, offers more shock absorbency and arch support, and is often removable for washing. The soles of hi - top sneakers range from smooth loafer types to fashionable higher heels to waffle-stomping boot styles to cleats for baseball, softball, and football. |
| Upper | The upper is the body of the shoe, which the part that is located above the sole. The uppers of most hi-top sneakers cover the ankle, and some reach to the mid - calf or the knee. They are usually made of either canvas or leather, and some more light-hearted styles feature spikes or embroidery or shiny materials or glitter. The toe box at the front of the upper should have enough room for the wearer to be able to wiggle their toes, and the heel counter at the back should keep the wearer's heel from slipping out of the shoe. |
| Lacing | Hi-top sneakers feature laces and often include extra eyelets at the top for a snug fit over the ankle. Some include Velcro tabs at the ankle, or are completely fastened with Velcro. For hi-tops that will be worn for sports, flat laces are preferable, since they are less likely to slip and loosen. For those who are concerned with fashion sense, there are many styles of shoelaces to choose from to brighten up the look of hi-tops. |

Knowing the different parts of a hi-top sneaker can help buyers to select their desired features and styles. The chart above provides the basic guidance necessary to make an informed decision.

Hi-Top Sneakers for Infants and Children
Doctors recommend that babies go barefoot until they begin to learn to walk. When they first start to toddle, it is important that their shoes have a very flexible sole and breathable uppers. Leather or canvas baby sneakers with rubber bottoms are ideal, because parents can properly test their pliability and feel their baby's toes through the uppers, and those little toes will get the air that they need to grow. There should also be plenty of room for feet that are growing quickly. A parent's thumb should fit between the tip of baby's toe and the front of the toe guard. Tiny hi-tops come in a number of adorable styles for the well-dressed toddler.
As children grow, their feet should be checked regularly to determine whether they need new shoes. Kids may not be able to communicate that their shoes feel tight, so parents should look for stressed seams or worn areas. Bulging sides or uppers that look worn on the sides may indicate that the shoes are not wide enough, and toes bending upwards will show that the child needs a longer shoe. Toes or heels that show signs of wear, or uneven wear on the soles, can mean that it is time for a new pair. Hi - top sneakers for children are also available in lots of cool colors, fabrics, and styles.

Hi-Top Sneakers by Brand
The very first athletic shoes, with rubber soles and canvas uppers, were developed in the 1830s by the Liverpool Rubber Company as beach shoes. Since the company was purchased by Dunlop Rubber in 1925, which itself closed in 1985, consumers had to look elsewhere for hi-top sneakers. Fortunately, in addition to Converse, several manufacturers of sneakers make hi-tops for both fun and for sport. The table below outlines some basic information about the most prominent companies that produce these kinds of sneakers.

| Brand | Details |
| --- | --- |
| | Adidas was founded in Germany in 1948 by Adolf Dassler. Contrary to rumors about the company name being an acronym for "All Day I Dream About Sports," it actually comes from combining "Adi," a nickname for Adolf, with "Das" from Dassler. Adi was a bitter rival of his brother Rudolf, who established the Puma brand. |
| | Coach, Inc. initially began in New York City in 1941 as a manufacturer of fine leather goods, such as wallets and purses. Over the decades, however, Coach products expanded to include shoes, pens, clothing, and more. |
| | Converse All - Stars remain the definitive hi-top sneaker for playing basketball and for looking stylish in a wide variety of colors and styles. |
| | Like Converse, Keds were introduced by a rubber manufacturer, the U.S. Rubber Company, in the first decade of the 20th century. Keds are lightweight sneakers with rubber soles and canvas uppers, and are sold in many countries around the world. They are so popular in India that all sneakers are called "keds" there. |
| | Nike was founded as Blue Ribbon Sports in the Portland, OR area in 1964, and was renamed in 1973 after the Greek goddess of victory. The company is famous for its "swoosh" logo and for its line of high-performance basketball shoes called Air Jordan, after superstar sponsor Michael Jordan, and has designed and produced the shoes since 1985. |
| | Puma was founded in 1948 by Rudolf Dassler, a fierce competitor of his brother Adolf of Adidas fame. The brothers initially started a company in 1924 in their mother's laundry, and both had ties to the Nazi party, which is where their rivalry began. Puma pioneered soccer boots with screw-in cleats, and the company has sponsored Olympic runners since the 1940s. |
| | With the surge in the popularity of aerobic exercise in the 1980s, Reebok introduced the Freestyle, which was specifically designed for aerobics and was comprised of a gum sole and ankle-high leather uppers held snug with Velcro tabs. It became popular for use in walking, dancing, weightlifting, and cheerleading, and soon was worn for comfortable fashion as well. |
| | The Van Doren Rubber company started in 1966 in California, manufacturing deck shoes and selling them directly to the public. Skateboarders liked Vans' sticky soles and sturdy construction, and by the mid-1970s Vans were the requisite footwear for "sidewalk surfers." |

Shoppers who have particular brand loyalty can use the table above to find information about the top brands of hi-top sneakers, all of which can be easily purchased on eBay.

Finding Hi-Top Sneakers on eBay
While hi-top sneakers can be found in many department stores and shoe shops, websites like eBay can yield a greater variety of styles than can be found at brick and mortar stores, including classic and vintage hi-tops.
One of the advantages of hi-top sneakers for sport or fashion is that they come in a variety of unisex styles for those who do not want footwear that is too "manly" or too "girly." Of course, there are also huge selections of both Women's Hi - Tops and Men's Hi - Tops available for sale.
To find hi-top sneakers, start on the eBay homepage, go to the Fashion category, and select either Men's Shoes or Women's Shoes. You can refine your search by selecting the type of shoe that you are looking for (such as athletic, boots, etc.) or by filtering by size, by color, by brand, or by other factors. If you are looking for hi-tops for a particular sport or activity, select the Sporting Goods category, followed by selecting the sub-category that pertains to your interests (such as running, team sports, tennis, etc.)
The thousands of selections can be overwhelming, so a specific keyword search can help you hone in on what you are looking for. For instance, to find "hi - top sneakers with studs" or "vintage Converse hi - tops", type that phrase into the search bar at the top of the most eBay pages and you will see pages filled with options.
More suggestions for finding merchandise are available on eBay's Search Tips page, and eBay Stores will also help you to find products that are offered by affiliated merchants. It is also helpful to learn about the seller before you make a purchase. Look for the Top Rated seller ribbon, which is displayed by merchants who have a strong history on eBay. In addition, reading the feedback comments from other buyers can help you to learn about others' experiences with each seller, which can be important if a return is necessary. If you have more questions about a particular product, click on the Contact Seller link on the seller's profile page or the Ask a Question link on the item listing page to ask for more information. Most sellers reply quickly and are eager to help.

Conclusion
Hi-top sneakers are a truly American product, and have been popular for almost 100 years all over the world, everywhere from the basketball court to the street, and with everyone from athletes to fashionistas. Hi-tops can be found with specifications for serious sports, or with fashion details from the classic to the outrageous. They come in as many different styles as there are people who wear them, and anyone who wants a pair will almost certainly find a selection to suit their tastes.