I hope you are enjoying reading these Guides on Hermes source material as much as I am enjoying writing them. Internet research is really seriously addictive! Have a look at the first two guides on these links: Source Material I and Source Material II and even More Source Material!. My other Guides on Hermes Fakes can be found via this link. Clicking the YES button at the bottom there really does help more people to see these Guides.
PLEASE NOTE THAT EBAY IS LOSING THE PICTURES OUT OF SOME OF THESE GUIDES....
...but don't worry you can find them and MORE on www .facebook/Hermes.Scarf.Guides
(You just need to take the space out after the www to make the link work!)
So lets start today's journey at the Hermitage Museum in St.Petersburg, Russia where the golden treasures of the Scythians can be seen.
Les Cavaliers d'Or by Rybaltchenko....detail of Scythian gold torque from Koluba, currently housed at the Hermitage. All pieces in the design are at the Museum.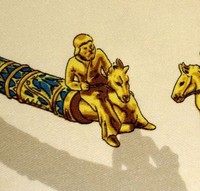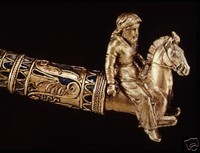 If Brussels is closer to home then you should be able to see The Census at Bethelem painted by Peter Bruegel the Elder in 1556. I say should because museums often loan out their classic works to other museums for special exhibitions. (Check with the museum first before booking your flights...yes, this is experience talking!)
L'Hiver by Ledoux is a merge of several Bruegel paintings.......and a close up detail ....the same Flemish village is used in many Bruegel paintings.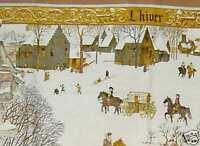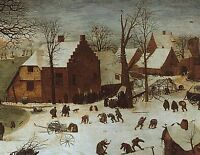 Ludovius Magnus by Francoise de la Perriere uses another famous painting of Louis XIV, a renown horseman and famous pupil of Antoine de Pluvinel (who wrote L'Instruction du Roy en l'Exercice de Monter a Cheval = Teaching the King how to ride a Horse) at his Academie d'Equitation near Place des Pyramides.


(I always thought that Louis was riding a unicorn until I put my glasses on and looked a little more closely......it really is a riding crop!)
Another trip to Paris, to the Gardens at Giverny is definitely called for, to see Claude Monet's Japanese Bridge and Lilly pond........
Giverny by Laurence Bourthoumieux ....... and Monet's painting. The bridge and pond still look much as they did then.


Finally Venice must be on your list of places to visit. St Mark's Square, the Bascilla and the Doge's Palace are all quite unforgettable.
Trophees de Venice by Julie Abadie..... and the original four horses now inside St Mark's Bascilla.... the ones on the outside are replicas.


The origin artists who produced these life size gilded copper statues are unknown but probably Greek. They came to Venice in 1204, taken from Constantinople during the Fourth Crusade as spoils of war. Napoleon had them in 1797 but they were returned to Venice by the new French government in 1815.
OK, that is it for another guide. I hope you have been spurred to do a little more research, or travelling of your own. Just remember that the Internet IS addictive.... and go take a break! Clicked the YES button yet?. Thanks.