Hermes produced Bolduc au Carre designed by Caty Latham in 2007. This apparantly simple design was a gift to the fakers who have been flooding the market ever since, prices starting around 30USD. They are not easy to recognise, particlarly if you have no reference to compare. So here it is.
Please click on the YES button below if you have found this Guide useful as it will help more people to see it. Have a look at some of my other Guides by following the links in the Fake Index and avoid paying designer prices for cheap fakes. It is hard to keep up with the proliferation of fakes, so assume that you are looking at a fake until the Seller convinces you otherwise. Look at what else they have sold. Have they sold several other scarves in the lists of fakes, or are they a house clearance specialist selling their first scarf. Both Sellers should be treated with equal caution.
Genuine FAKES..... pretty hard to see any difference..BUT.. notice the regular pattern..........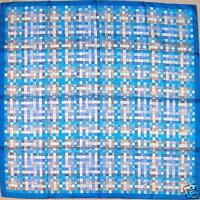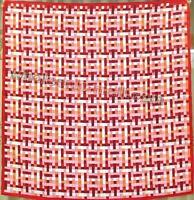 Look at the details......
Genuine labels...type right up to the edge...................... ............................. FAKE.. has crinkled wider border..........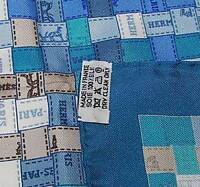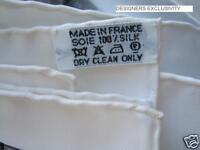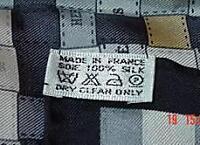 Genuine...................................... FAKE... thinner print and wrong type face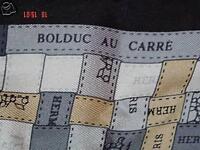 Genuine............... ........................FAKE..thinner print and wrong type face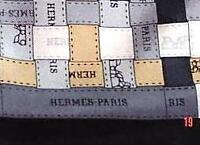 When you have the FAKE next to a genuine Bolduc au Carre you can see the differences. It is very difficult otherwise. The FAKES all seem to show a regular pattern in the full scarf pictures, which is not the case with the genuine scarves. So:
1) Assume it is FAKE until you convince yourself by looking at the details.
2) Look at the Seller. Only buy this scarf from a Seller who has sold many other Hermes scarves of different designs that do not appear on the FAKE lists.
3) Do not buy this scarf from new Sellers or from outside your home country.
4) Treat the Far East with EXTREME CAUTION. However there are very good Sellers in Japan, who I will happily recommend privately.
Do have a look at some of my other guides, particularly this Basic way to avoid FAKES Guide.
You can contact me through the Ebay email system, or leave your comments in my Guest Book. Now is the time to press the YES button. Thanks.