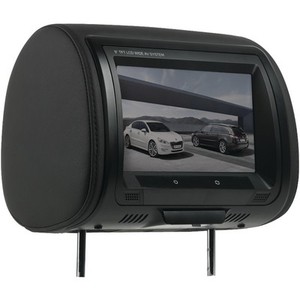 Americans spend a lot of time in their cars, with family road trips the most popular means of vacation travel. Despite the numerous depictions of family sing-a-longs shown in movies and television shows, the reality is that parents need to pay attention to the road, and children want to be entertained. Whereas a built-in DVD player is often standard in newer SUVs,, other, or older, automobile models have no such built-in entertainment. These cars have two options; they can either use portable DVD players which may be inconvenient, or they must be customized with car monitors for entertainment.
There are two types of car monitors with built-in DVD players: headrest and flip-down. As it sounds, the first is found in the rear of the front seat headrests; a flip-down monitor, on the other hand, is installed on the automobile's ceiling, with the screen aiming down for backseat viewing. A range of both devices is available at custom install shops and big-box electronic stores, as well as on the Internet at sites such as eBay..
One of the perks to having monitors installed is that the car DVD player audio is independent from the automobile's stereo speaker system, delivered via headphones to those in the backseat. Adults can continue to use the car stereo to play the music they want to hear, while the children are absorbed in their own mobile theater experience in back.
Headrest Monitors with Built-in DVD Players
Perhaps the simplest way to add a DVD video monitor to an automobile is to replace the standard headrests with headrest monitors.. Just as it sounds, a headrest monitor is a headrest with a screen in the rear, generally seven inches wide, that enables those in the backseats to watch videos while on car trips. The monitors are extremely easy to mount, and can be installed in almost any vehicle. Headrest DVD players are simply monitors with built-in video players.
An individual seeking to purchase a headrest monitor/DVD player has two choices. The universal model is easily added to any car, and comes in three standard colors: tan, gray, and black. Vehicle-specific replacement headrests are used to match a car's style with the most factory-like finish and fit. They are ideal for use in leased vehicles.
Headrest monitors are available without the DVD player, and can be installed in the existing headrest. Those with questions can usually find installation instructions and assistance by searching the Internet. Although fewer features and options are available, a headrest monitor and DVD player is significantly easier to install than its counterpart, the flip-down monitor.
Top brands of headrest DVD players and headrest monitors are RCA, Myron and Davis, and Vizualogic.
Features of Headrest Monitors with Built-in DVD Players
LCD screens, headphone jacks, and seven-inch displays are standard with headrest monitors. However, more high-end devices offer a range of features to enhance both usability and satisfaction.
A twin screen headrest DVD player has two monitors, as well as two players, giving the viewer the choice of playing either one movie on two screens, or a separate DVD on each. Other advanced features include the ability to play video games and CDs, display photographs and other images, and listen to audio via either headphones or an internal speaker system. If warranted, two remote controls allow pause and playback of each screen independently. Some models can broadcast TV content, as well.
Flip-Down Car Monitors with Built-in DVD Players
Flip down car DVD players come in two models: those with built-in players and those without. Obviously, the all-in-one player is more convenient, and easier to install, as the only connections are roof mounting and a power source.
Beyond merely delivering videos, however, many of these mobile devices also enable the streaming of CDs and MP3 players. Other models contain an SD card slot, which facilitates the projection of photographs on the device's screen.
Top flip-down brands include Pyle Audio, Boss Audio Systems, Zicom, Tview, and Quality Mobile Video.
Features of Flip-Down Car Monitors with Built-in Players
Flip-down monitors with built-in DVD players offer a range of different options, among them the screen specifications, device features, customer support, and product warranty.
Device Features
A built-in DVD player is the minimum one should look for when shopping for a flip-down car monitor. Many high-quality mobile DVD systems come with added features to expand their use and functionality. Two of the more common capabilities are the device's ability to play CDs and MP3s; slightly more advanced are FM and headphone transmitters. Input-wise, USB and audio/video inputs are a plus, as is an SD card slot. Finally, a unit with remote control will be easier for those in the backseat to operate.
Ease of Use
Ease of use applies to both installation and operation. Buyers don't want to spend unnecessarily for a complicated installation, especially when easily mounted flip-down players are widely available. The same goes for actually using the DVD player. If the simple act of playing DVDs is too complicated for a parent, or even a child, to operate, the unit won't be terribly useful, especially at those moments when it is most needed.
Screen Specifications
A screen that is somewhat blurry isn't going to satisfy mobile viewers. Therefore, a buyer should look for a high-definition flip-down monitor that delivers a crisp picture. Similarly, the size of the monitor is of some consideration. Ideally, it should be large enough to be clearly seen by viewers in back, without being so big that it obstructs the driver's view of either the road or the backseat passengers. A standard screen size is between 10 and 19 inches wide.
The screen resolution is another consideration, as is its contrast ratio. A thin film transistor liquid crystal display (TFT - LCD)) provides the greatest screen quality.
Customer Support and Warranty
It's true that a flip-down mobile DVD player should be easy to both operate and install. This does not mean, however, that such a complex device is altogether simple. Sometimes a purchaser will need help with the installation; other times, the playback may prove problematic. In these cases, it is important to have a reliable manufacturer to call for assistance. A buyer should look for a company with a proven track record for helpful and quick customer service.
Detailed, in-box instructions go a long way, too. Although preferable, not every model includes a user manual in the box; many manufacturers refer buyers to their website for detailed usage instructions. An FAQ section is also handy, especially when it comes in a printed form.
Telephone support is an added bonus, as it provides a buyer with real-time help should any issues come up. Many consumers also appreciate email support, which allows them to fully explain problems, even after business hours.
Manufacturer's Warranty
A manufacturer's warranty is also a good idea, should anything malfunction with the device. Some mobile players may break or damage DVDs, too, so these instances should also be covered by the warranty. Most flip-down monitors with built-in players come with some sort of manufacturer's warranty, with terms generally ranging from one to three years.
A Comparison of Headrest and Flip-Down Car Monitors with Built-in Players
The selection of either a headrest or flip-down monitor may depend on many factors, including the available space, the desire for extra features, and whether the car is leased or owned. Some of these are outlined below.
Factors to Consider

Headrest Monitor

Flip-Down Monitor

Visibility

No visibility issues for the driver

A balance must be struck between a satisfyingly large size for backseat viewers and a small enough monitor to avoid impairing the driver's line of vision

Additional available features

CD/MP3 player capability

Video game use

Headphones or external speaker systems

CD/MP3 player capability

SD card slot enables projection

FM/headphone transmitters

Ease of installation

As simple as replacing the driver or front-seat passenger's headrest

Requires a bit of time and effort, making the inclusion of a user's guide or instruction manual a welcome addition

Size of display

7 inches

10 to 19 inches

Number of monitors

1 to 2

1
If either model will fit buyers' needs, an evaluation of the above features, especially those that may be added on at a later date, may be a good idea. Ultimately, the choice comes down to both viewer and driver comfort.
Buying Headrest and Flip-Down Car Monitors with Built-in Players on eBay
With its tremendous inventory of car audio/video systems, including DVD monitors and players, eBay is a smart place to shop. There, you can perform a variety of searches based on your specific needs, such as "headrest car monitors,," "flip - down car monitors,," or "car DVD players.." Optional and expanded components are available, too, including flip - down visor monitors.. If you have already identified specific manufacturers or models, you can search by these, too. On eBay, familiar brands include Sony, JVC, Pioneer, and Kenwood.
When reviewing product options on eBay, you will want to make note of a few things. First, you have a choice between new and used models. Be aware that some of the latter may not be in their original packaging, or include original user guides. Whether new or pre-owned, some devices come with free shipping; check for return policies, which will differ by seller. With all of the options available, you are sure to find the right in-car monitor with built-in DVD player.
Conclusion
With Americans spending up to three hours per day in their cars, children and adolescents in the backseat have plenty of time to get bored. In-car DVD players have grown in popularity as a way to pass the time while riding around town, or even across the country. There are a variety of makes and models of these devices, with a range of available features and add-ons.
When purchasing a car monitor DVD system,, buyers are faced with two initial choices: headrest or flip-down monitors. Each product has its strengths, ranging from ease in installation and operation, to price, to additional features or capabilities. Headrest monitors prove easy to install, with both universal and automobile model-specific choices; the latter is especially suited to leased cars. In addition, some models of headrest players enable the viewing of a single DVD on both screens, or a separate DVD on each.
Flip-down monitors, on the other hand, are popular for their larger size and high-quality picture. Whereas headrest monitors average seven inches in width, flip-downs can range from 10 to 19 inches wide, and should be chosen based on viewer visibility and driver line of sight. Installation is a bit more complicated with flip-down monitors, and a lot more permanent, making them less geared toward leased vehicles.