Handkerchief Quilts
I have been making handkerchief quilts for over 12 years.
Handkerchiefs have been used in quilts for centuries. Many books on quilt history include quilts incorporating political handkerchiefs, from George Washington onward. Early children's handkerchiefs were also used to make quilts. In recent years, Sharon Newman's book "Handkerchief Quilts", followed by Pat Long Gardner's book of the same title, started a revival of interest in handkerchiefs in crafts. Many guides and collectors books are now available to help identify your handkerchiefs. Please see my companion guide of resources for more informaiton.

The hankies can become substitutes for pieced or appliqued blocks, like this one. This quilt is quick to make. The hankies are sewn to a white block to make the sizes uniform. They are then treated as quilt blocks. Simple sashing and borders are added.

Or, they can become the center of a wall quilt like this orchid hanky quilt, inspired from Gardner's book. It has a simple border of 2' squares, and two borders of black fabric.

Or, hankies can be part of a crazy quilt.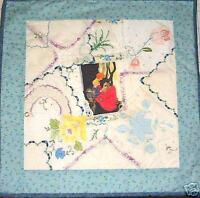 Cindy Brick's "Hanky Panky Quilts" inspired the above quilt. She layers hankies based on crazy quilting. This quilt includes a 1920s magazine cover scanned and printed onto fabric.

Recently I have been making handkerchief 'borders' for embroidered quilts based on vintage greeting cards.
The quilt above uses printed and white hankies overlaying a small floral print.

The embroidery pattern below was purchased, and is an Edwardian fashion. The sheer white hankies allow the printed fabric to show through. It is embellished with vintage jet buttons.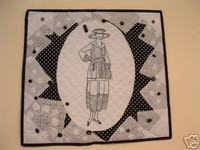 Even 'water color' effect piecing can enhance a special handkerchief.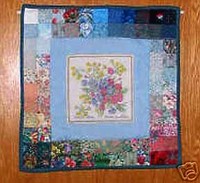 This modern Japenese hanky quilt has a wide border that draws the motifs outward into the foreground. The flowers are fused. The quilt is machine quilted.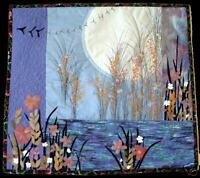 An heirloom hanky was paired with white hankies and photos on fabric; quilt was made for my mother-in-law as a Mother's Day gift.
A quilt show at the Coopersville Farm Museum (MI) included a wonderful all white hanky quilt, with 129 hankies layered and overlapped. It was embellished with doilies, lace, and buttons. The hankies included tatted edge hankies, drawn work, applique, and lace edged hankies.
An eBay purchase from some years ago shows a 1970s use of handkerchiefs. The handkerchiefs are layered on a sheet and embroidered in place. This 'summer quilt' has no batting.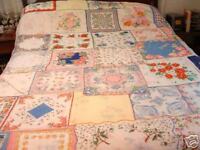 There are many new patterns using handkerchiefs on the market today. Hankies are turned into baskets and lady's skirts. But using the hankies folded into butterfly shapes is an old idea!

My favorite is my first handkerchief quilt, inspired by the cover quilt on Newman's book. It is the one that started it all. At that time I had just started my hanky collection, which has now reached to close to 1,000!

I do keep my mint and valuable hankies in my collection. But the common 'generic' florals are fair game for my crafting! Imprefect hankies are cut for crazy quilting style projects. I even keep some for personal use.
I hope you enjoyed seeing some ideas for your collection.!