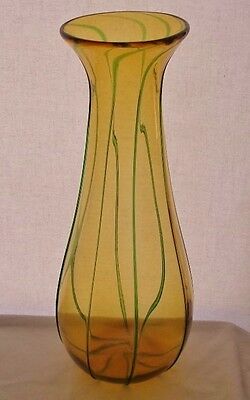 Pictured Directly above is a Huge Genuine Murano Vase Documented in the ARCHIMEDE SEGUSO Book by Leslie Pina
---
2005 - The Reason I wrote this Guide is to Help YOU Learn How to Recognize the Differences Between REAL MURANO GLASS and FAKE

Please do Not write to me to ask me to identify a piece, or pieces, for you. You take the initiative to learn how to do it. I have given you some tools (within this Guide) to teach yourself.


DON'T BE FOOLED BY SELLERS USING QUESTIONABLE SALES TACTICS -
BE CAREFUL!
MANY SELLERS OFFER FAKE ITALIAN or FAKE MURANO GLASS on eBay and this GLASS is NOT AUTHENTIC MURANO nor ITALIAN nor VENETIAN nor ROMAN GLASS nor from ITALY
HOW TO IDENTIFY FAKE MURANO GLASS
An important warning to buyers:
Sadly, there are numerous sellers on eBay who claim their items are something they are not. If you want junky, cheap pieces of FAKE Murano glass (including vases, paperweights, bowls, flowers, purse and handbag vases, candy, icicles, candle holders, hats, birds, clowns, animals, sailboats, perfume bottles, and much more), you will find plenty of these inferior items on eBay.
PLEASE READ:
Murano Glass is created in ONE PLACE ONLY - MURANO ITALY. Murano Glass is NOT made in other countries!
You will see sellers of fake Murano glass ( mostly made in China) writing ridiculous things about Murano glass being produced in other countries besides Italy. This is complete fantasy. For example - an American Glass Artist studies with a famous Murano Glass Master in Murano, Italy, learning his techniques, color combinations and forms. After studying with this Italian Glass Master, he returns to the United States and proceeds to make glass pieces employing the techniques, color combinations and forms he learned in Italy. Does he call his work Murano Glass? Of course not! He made these pieces in America, not in Italy - so his work is American - from the United States. His work is NOT Murano.
TO HELP YOU IDENTIFY FAKE MURANO ITEMS ON EBAY, HERE ARE SOME IMPORTANT CLUES AND CHARACTERISTICS TO LOOK FOR:
===> Many of these sellers use the exact same photo over and over in their listings. Look at the seller's previous listings and you will see the exact same photos used over and over and over! Obviously, these sellers are too lazy to photograph every item, they cannot have identical pieces to the photo/s they continue to post - so you will NOT receive the item/s in the photo/s
===> You will almost certainly NOT receive the item in the photo/s. This is similar to BAIT and SWITCH schemes. These sellers lure you in, making you think the item in the brilliant photo/s is the one you will be receiving. Remember that you will most probably NOT receive the actual item in the photo/s. Please read the fine print (if there is any), which may, or may not, disclose (often in a deceptive way) that you will receive another, substitute item that is not the one photographed.
===> Often, their shipping costs are extremely high - $14 or $20 or $25 or $28 or $30 or more. Since so many of their items sell for such little amounts of money (often just one penny to $10), these sellers make most of their profit on high shipping and handling amounts.
===> Some of these questionable sellers include a truly unbelievably high value in their titles - like $625 or $775 or $595, etc. - again, trying to fool you! These Chinese-made inferior pieces are often worth less than $5.00 - FIVE DOLLARS!
===> You may also see huge, staged (vibrant and gaudy) photos of these fake Murano items in their listings, and the photos may make them look far better than they do in real life. Plus - You will almost certainly NOT receive the item in the photos.
===> Another ploy is to use fake Italian or Roman or Venetian or Murano names or phrases, to make you think these Chinese pieces are made in Italy.
===> In fact, some sellers even display photos/pictures of Murano Italy which they have stolen from legitimate books or legitimate websites. This is Blatant Plagiarism and is meant to mislead you into thinking the items are from Italy.
===> Most of these sellers list these fake items under the category "ITALIAN GLASS"
===> They almost always include the word "MURANO" or "ITALIAN" or "VENETIAN" or "ITALY" in their Titles - trying to fool you.
All of the above tactics are against eBay rules!
===> You will also see some of these sellers offering multiples of the item listed - within the same listing. Please note that 5 of the same vases will almost certainly be those poorly made Chinese vessels - not Murano glass! A real Murano art glass item is one of a kind - not mass produced!
===> Some of these listings include a section about the history of Murano glass. Such blather is intended to make you think the item is from Italy when, in reality, it is not -- the item is usually made in China. Unfortunately, this practice shows that some sellers purposely choose to take advantage of buyers, by offering misrepresented items at prices that are, actually, too good to be true.
===> Did you ever notice that, and wonder why, so many of these questionable sellers are offering the exact same items? These vessels and figurines are not from Italy! Murano artists do not make the same piece over and over - every piece would be unique, not alike.
===> In Bargain and Discount Shops all over the United States, you can find many of these MADE in CHINA fake Murano Italian items for prices starting at $3.99, or less. These mass-made, cheap, poor quality items are NOT made in Italy.
===> Some of these questionable sellers even print up, or obtain Fake Murano labels / stickers that they then apply to these Made in China items. This practice is used to fool you.
===> Read everything on a seller's listing page. Once in a great while you will see a sentence at/near the end of the listing (and usually in very tiny print) stating either (1) that the item is not made in Italy, or (2) that it is made in China (sometimes in very poor English - with misspellings). Deceptive sellers also claim that glass made in Asia, or other places, is real Murano glass. This is untrue. Murano glass is ONLY made in Murano Italy. Read Everything!
===> Sometimes a seller will offer one or two real Murano items along with 5O to many hundreds of pieces of fake Murano glass. - Be Careful!
===> Check the seller's feedback record carefully --- You should read each seller's feedback. If you see negative and neutral and withdrawn feedbacks with phrases like --- "lots of flaws "- "not from Italy" - "seller says it is out of stock" (it has not arrived from China yet) - "ugly item" - "defective" - "very poor quality" - "does not look at all like item in photo" - "has 'Made in China' sticker" - "definitely not Murano" - "junky glass" - "inferior product" --- all these are more clues to BEWARE.
===> Also be aware of many dishonest sellers with multiple names/stores on ebay. Some sellers who are suspended from eBay - start again with a Brand New Name and Store. Read the listings carefully and be aware of similarities in language and so-called rules in these listings of fake Murano glass.
===> Finally, remember this -- if you do get the item and realize or find it is not real Murano, and even if you are able to convince the seller to take back the item and give you a refund, the seller will usually only refund the actual $0.01 or $0.99 sales price --NOT any of the shipping costs, and you will still have to pay to ship the item back to the seller. Thus, at the end of the day, you will have paid for shipping from the seller and then back to the seller, only to get a $0.01 or $0.99 refund. This is why it is important that you not be taken-in by a "low price" but, instead, consider all the information available to you from the sellers' item descriptions, photos, shipping costs, disclaimers, and feedbacks.
===> Also be aware of dishonest sellers who, once they have received dozens of negative feedbacks or are suspended from eBay, open another eBay store with a new name. Please note that some of these sellers sell on multiple eBay sites with various names. You can almost always find great similarities or exact replications (in descriptions, photos and/or payment instructions) among these stores, so don't be tricked by their deceptive tactics.
===
Everyone is looking for a bargain on eBay - but it is highly unlikely that you will be able to find an Authentic Murano piece for a penny or 99 cents or even $69!
Please be aware that some deceptive sellers ask even higher prices for fake Murano glass.
Be Careful --- Don't be duped by sellers who use highly questionable practices
Most fish themed art glass (PAPERWEIGHTS and VASES) on ebay are NOT made in Murano Italy - These poor quality pieces are made in China
IT TAKES EXPERIENCE TO TELL THE DIFFERENCE BETWEEN REAL MURANO ITEMS AND BAD REPRODUCTIONS
Real Murano Glass is Expertly Executed - with Fine Details, Superb Lines and Elegant Quality Glass. Pieces from China are often crudely made, lacking finesse, sometimes lopsided, and have numerous noticeable flaws and gross imperfections.
CLOSELY EXAMINING AND HANDLING MANY PIECES WILL HELP YOU IDENTIFY REAL ITEMS FROM FAKE ITEMS. EVENTUALLY YOU SHOULD BE ABLE TO SEE THE GREAT DIFFERENCES BETWEEN THEM - EVEN IN PHOTOS.

If you are willing to invest the time to hold and carefully examine many, many items (both quality items and poorly made items) - you can eventually develop an instinctual sense of evaluation. With experience, you can learn how to discern the differences between high quality and low quality. Then, when you discover a high quality item - it will delight you.
Check out my Guide below to Further Identify Fake Murano Glass:
http://reviews.ebay.com/Fake-MURANO-Glass-READ-b4-You-BID-Know-REAL-from-PHONY_W0QQugidZ10000000000700426
PLEASE KNOW THAT THERE ARE ALSO MANY AUTHENTIC MURANO ART GLASS ITEMS ON EBAY - AND HONEST SELLERS WHO OFFER REAL MURANO PIECES AT REALISTIC PRICES.
For Example: YOU CAN FIND WONDERFUL VINTAGE MURANO ITEMS LIKE THESE BEAUTIES BELOW: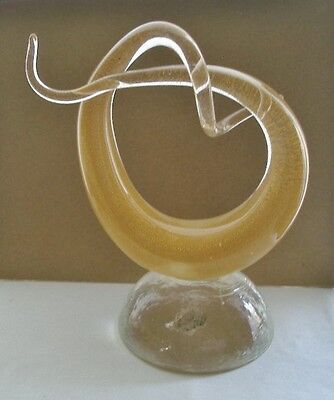 Murano Sculpture

Iridescent Blue Footed Vase with Silver

Fantastic Murano Paperweight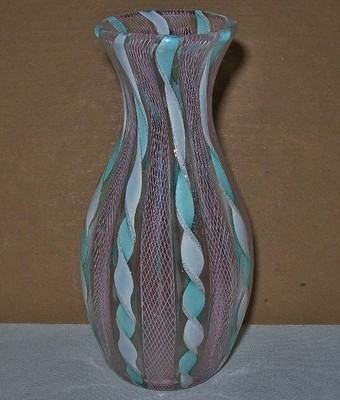 Fascinating Zanfirico Murano Vase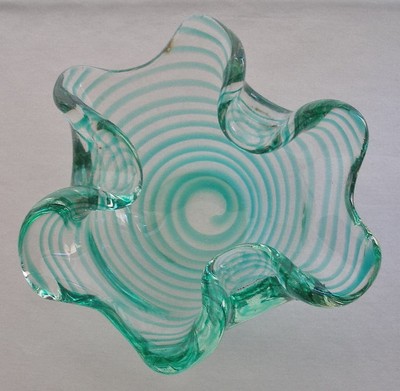 Stunning Murano Vessel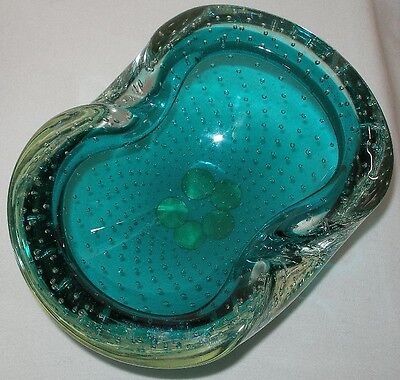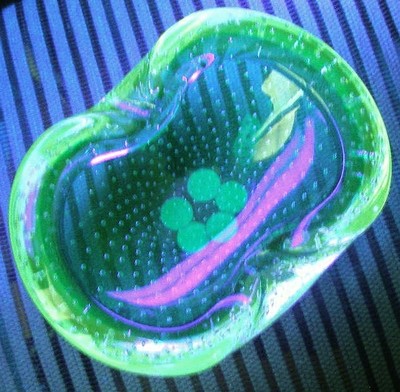 The 2 Photos directly above show the same Uranium laden Murano Bowl:
1st photo shows it in natural light and 2nd photo shows it under a black light
Click on Link Below to See My Authentic Murano Glass:
I have the largest and most diverse selection of Authentic Vintage Murano Glass on eBay
A KNOWLEDGEABLE BUYER IS A SMART BUYER
Copyright 2005 2006 2007 2008 2009 2010 2011 2012 2013 2014 2015 2016 2017 The Winged Phoenix
Do Not Plagiarize Guides
PLEASE NOTE: Copying any part of this Guide and using it in yours is PLAGIARISM and against eBay rules:
"eBay Guideline: No Copying Allowed! Contrary to popular belief, the fact that material is posted on the world wide web does not mean it is in the "public domain" or otherwise free to be taken, copied or used by others... Copying, modifying and possibly linking to content created by others could expose you to legal liability."
Those who violate eBay rules and The Digital Millennium Copyright Act will be subject to enforcement by eBay and other authorities.