In early 2002, rock star Gwen Stefani and handbag company Lesportsac collaborated to create the first of a series of handbag collections that would literally 'rock' the fashion world, and in the process make Gwen Stefani an even richer girl than she already was. The same could be said for Lesportsac, a brand previously associated with 90 year old women living in Boca Raton and Long Island. Gwen's super-charged goth aesthetic, cultivated through years of rocking with some of the coolest looking people on the planet--and, it must be added, designing several of her own costumes herself--instantly skytocketed the brand to a height it had never seen. Suddenly celebs like Carmen Electra, Pamela Anderson, Paris Hilton, and Halle Berry began stashing their $4k Hermes bags under their respective beds in favor of the truly 'sporty' new collection of--what?!--LESPORTSAC bags.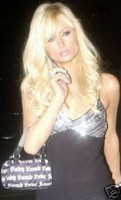 ('Waddup Paris' . . . "Not much.. New York is getting SO old man.. but this bag Gwen told me to hold up in front of the cameras is just SO HOT! I think I might, like, actually wear it tomorrow too!")
*
L.A.M.B. purses and accessories, ranging from heart-shaped wallets to backpacks to gigantic trunk-sized duffles, caused a true fashion frenzy: almost instantly they were seen swinging from the wrists of the fashion-conscious across the globe, from the suburbs of America (where the bags were sold in virtually every Macy's in the country) to the way-too-cool-for-school shop rats in the harajuku district of Tokyo. They were even featured in their introductory month in the FRONT windows of the Bloomingdales store on 59th and Lexington in New York--an amazing triumph for Lesportsac, considering the windows are usually reserved for brands like Fendi, Chanel, and Louis Vuitton. Though several 'patterns' were introduced--among them 'Rasta in Teak' and 'Rasta in Black', each adorned with rastafarian stripes running down the center and featuring a weird, strangely fashionable leopard-print lining-the pattern that REALLY caught the attention of the fashion press, the celebs, and the execs at Bloomingdales, was the now famous 'gothic' pattern which continues to define the L.A.M.B. brand Gwen carried with her after she packed her proverbial bag and dumped Lesportsac for greener ($$) pastures.
The print (seen on Paris, wearing the Baby Barrel above) defined the brand itself: L.A.M.B. stands for 'Love Angel Music Baby', a cryptic message scripted in a bold, white, NYTimes-style gothic front on the midnight black canvass of each wallet, wristlet, and bag in the collection. The phrase was followed by the less cryptic, but still, er, pretty cryptic, question: "Where did my lamb go?" Each item, including those in the Rasta pattern, was also decorated with a little something that just might be a Gwen (or Lesportsac?) original: a dangling, very conspicious 'lamb' charm, made of sparkling or brushed metal, depending on the style of the item.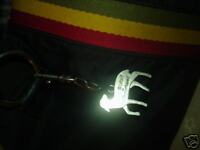 Here's a brushed 'gunmetal' version of the charm, dangling from a 1st Edition Rasta Black Tattoo Tote--one of the most popular and practical styles in the collection, invented by Gwen herself and no longer being made by Lesportsac. How sad, losing a girl like Gwen :(
*
The CHARM served to define the brand, crystallize the somewhat, er, crpytic message into an instantly recognizable 'icon', and, I declare, CREATED a fashion trend that continues to be copied by more 'respected' design houses, from Prada (who cleverly called their 'charm' a 'trick' and proceeded to charge more for the item than Gwen charged for some of her most expensive bags), to Marc Jacobs (the I'm-so-uncool cross-continential megastar who has coopted more looks and styles than Madonna, but unlike the latter, has yet to admit it.. and the list goes on.. see for yourself at Louis Vuitton, D&G, or anywhere overpriced leather goods are sold. The point is, ye ol' Lesportsac, teemed with uber-clueless Gwen Stefani, created a fashion trend that continues to inspire designers in the highest echelons of the fashion world. If it wasn't a 'first' (I'm not a fashion historian, but I have NO DOUBT it wasn't (sorry, couldn't resist), it WAS most certainly the most INFLUENTIAL such fashion 're-invention' in years. Accessorizing your accessory: what a concept? It's happening everywhere now, and we have Gwen and Lesportsac (or maybe just Gwen?) to thank for it. The trend solidified the brand, sent sales into the stratosphere, and remained a staple of the L.A.M.B. line as it passed through four more seasons. Among the patterns that followed: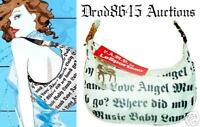 A decidedly more feminine flip-flop on the 1st edition goth print, as brilliant white nylon suddenly serves backdrop to the black WDMLB (anagram for 'Where Did My Lamb Go') print. Very hot 2nd edition small 'Hella Hobo' featured.
Here we see a larger-text version of the WDMLG print screened onto black, nylon; the print, aptly called 'Mega,' was made in white and red also: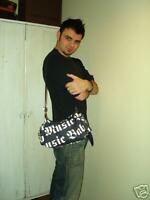 Above, the popular 'Streetwise' messenger bag, worn by rich girls and Mo's/Metrosexuals/Harajuku Boys the world over.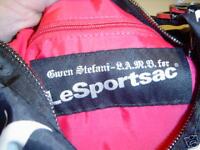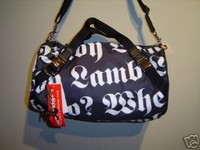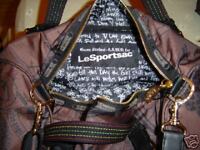 (L to R: The L.A.M.B. logo patch, stitched in various colors and styles in each L.A.M.B. bag; the Large Barrel in Black Mega print with Silver hardware, 3rd edition; Large Barrel in 'Icon Teak' print with inside 'note' written by Gwen herself! wicked cool bag, also 3rd edition)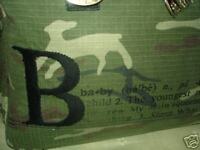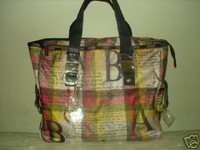 (L to R: from Gwen's 4th and final edition, the super-coveted LAMBI CAMI print, on the lovely and functional 'Tattoo Tote', with a close-up of a leaping piece of 'lamboflage.' This is perhaps the most desirable print on the most desirable bag in the collection--you'll turn MAJOR heads wearing this Baby! The LAMBI is the ONLY print in the entire collection (other than the mysterious 5th season 'Black' series, never released to the public) made of COTTON instead of the tradition rip-stop nylon. This, along with stitching details and CROCHETED lettering, give the bag a beautiful, weathered look-very cool and a MAJOR move for Lesportsac, who had never even ATTEMPTED to make a cotton bag, let alone one with leather, grommets, and CROCHET details! Next, another Tattoo Tote, this one in Donegal Ribbon, also from Gwen's final collection. Donegal is a wild and beautiful print made in the traditional ripstop nylon-pictures just don't do it justice. Now, the final photo in our tour, the AMAZING 'Icon Staff' print on the Streetwise bag in white-all I can say is WOW! This bag is a dazzler. The print is available on many bags, but looks SUPER on big bags like the Streetwise or Tattoo, where the mythical lamb shapes, like constellations in a white sky, take full and dramatic shape. Can you tell I like this bag? From Gwen's 3rd edition).
Well, that's all for now folks.. I'll update this as I see fit. There are literally dozens of styles and prints for your delectation, almost all of them available on ebay.. You won't see them in stores, that's for sure, because Gwen ended her contract with Lesportsac in 2004. Now she's created two lines, the already very popular and pricey (you guessed it) L.A.M.B. line of clothing for women and the lower-priced 'Harajuku Lovers' line, inspired by the young Japanese girls Gwen seems unable to stop fetishizing. She's actually created an entourage of four 'harajuku girls' who travel with her everywhere, are not ALLOWED to speak anything but Japanese in public, do cute things like bow down to her in videos, giggle like a gaggle of pre-pubescent geishas, are actually 'named' Love, Angel, Music, Baby.. love ya Gwen, but.. I won't go there). Gwen also sneaked into the windows of Bloomies with her funky new sneaks, not to mention the most coveted spot of the 2005 NYC fashion show lineup-the VERY last spot, known as the infamous 'J-Lo' spot, because, well, J-Lo nabbed it last year. L.A.M.B. was a, well, interesting show, featuring giant junk cars pumping faux carbon dioxide into the audience as models stumbled out one by one, then onto the runway.. all in strange piratical attire co-designed by a hot young designer on the block, Zaldy. Incidentally, he's my neighbor, and went to my school! Now that's too cool for school. Speaking of which, I gotta do some homework!
Thanks for reading! And please, check out my auctions! I LOVE Gwen and often have a SUPER KAWAII, 100% GUARANTEED AUTHENTIC selection of LAMB, Coach, Vuitton, Marc Jacobs, and other great up for auction. Come check it out.. and let me know if there's some rare piece you're looking for. I've acquired a ARMY CREST TATTOO TOTE directly from the production facility--it's too hot for words! E-mail me for pics or questions.. shortly I'll be listing it on ebay!
Written with LV! Don