About Inuit Stone Carvings
The Internet in general offers a range of Inuit art sellers and retailers. It is important to know when you are purchasing art that you are investing in a quality authentic work. There are a number of things to watch out for when considering your investment.
Buying an authentic piece of soapstone or serpentine carving is a wonderful way to begin or add to your collection of sculpture and figures at a relatively modest cost. The figures we offer are vintage from the 1950's through present and are an exciting art form that has long been recognized as a highly collectible and profitable investment. These works from our Canadian native first nations artists will not over time depreciate in value but only grow more valuable. Why not own and protect a solid and valuable piece of North American heritage.
Know Your Stone
Inuit Eskimo Native Canadian stone carvings and figures come in a variety of stone types, regions, sizes, color, quality, and aging back as far as their nomadic area when they created works to adorn their habitat and as children's toys. It was not until the 1950's that people realized they were carving beautiful works of art and they were encouraged to do so.
Serpentine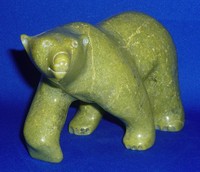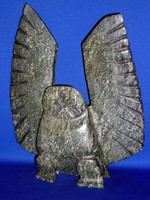 The stone found in Baffin Island is metamorphic rock - has a composition similar to jade and is known as Steatite or Serpentine. Its varying color (ranging from light to dark green, to brown and black) is derived from the veining and inclusion of minerals such as iron and quartzite and is considered a semi-precious metal. Serpentine holds much value in a collection
Sedimentary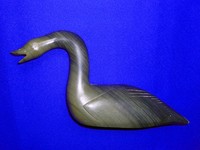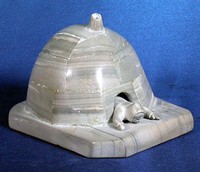 Sanikiluaq is a long thin island group found in Hudson Bay. Sanikiluaq is part of the new territory of Nunivut. The stone there is sedimentary, formed from layers of sediment compressing. All stone found in Sanikiluaq are layered, some more subtly than others. A dark patch in the stone indicates it is metamorphosing. Most of the rock is limestone, which is generally lime green in color, but Charcoal grey and black pieces can also be found as a result of carbon in the stone. The Keewatin region is on the western edge of Hudson Bay north of Churchill.
Basalt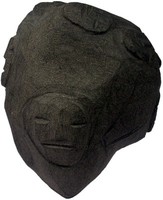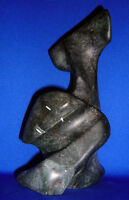 Baker Lake, Rankin Inlet and Arviat are the major communities in this area. The entire region is part of the new territory of Nunavut, a self-governing Inuit region in northern Canada.
Of particular note in this distinctive stone; this area was very mountainous before the glacial age and the stone found here is igneous volcanic rock known as Basalt often hundreds of thousands of years old. A very hard stone to work with and as such a fine polish is almost never achieved. Basalt is frequently identified with a large number of vintage works.
Soapstone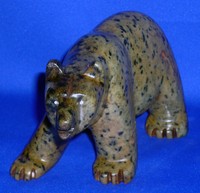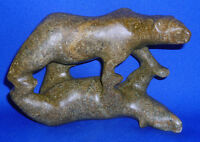 (also known as steatite) is a metamorphic rock,. It may largely be composed of the mineral talc and is thus rich in magnesium. It has been a medium for carving in cultures around the world for thousands of years. Soapstone found in areas of the Canadian Arctic largely varies in color and density. All variations of soapstone are reasonably soft and a skillful artist is able to hone an immaculate smooth finish. Although often times beautifully and intricately carved soapstone requires additional care in handling so as not to damage the softer variations especially.
Imported Stone
Alabaster and soapstone imported from other countries such as Brazil, Italy and United States (Arizona) are sometimes used in Inuit sculpture.
Damaged Carvings
Considering the many decades stone carvings have been collected and traded over great distances it is not surprising to see especially in softer and older stone some damage which can range from minor to very significant. Damage is the one thing overall that no matter how valuable the piece may have been could affect the value greatly to the negative.
Minor - Pock marks may occur over time and careless handling but are very commonly seen and easy to mistake for natural inclusions in older stone especially. This damage is superficial and may not affect the price greatly. Older works with a few pock marks are still a worthy investment.
Major - It has happened now and again that in shipping or mishandling a work is broken into more than one piece and has been "repaired" sometimes so skillfully that you would not know the difference one way or the other. While the piece may look just as good as new the piece will never be as structurally sound as it was once whole. Some may be tempted to sell such a work as if no damage occurred. It is always within the best interest of the entire collecting community that the seller be honest of such circumstances and offer a reasonable discount and ensure that any repair has been executed masterfully.
Certified Authenticity

To protect yourself from fakes or reproductions, always look for works that have been certified by the Canadian government with the COA Igloo tag which assures you it has been made by Inuit artisans. In addition there are Galleries/Resellers who are educated and well respected within the collecting community and by the northern Coops who are credited to produce their own official igloo tags bearing the galleries logo and additional relevant information. Each piece is individually carved, so seeing two identical pieces on a shelf or in a photo is an obvious clue that it must be a reproduction as there are no two AUTHENTIC pieces that are identical. In addition to the Canada igloo sticker and tag shown in photo, some pieces are also signed with symbolic characters called syllabics which represent the Inuit people's traditional written language, Inuktitut. The tag also gives you information about the age and the community where the artist lived. Cape Dorset, Pangnirtung, Ivujivik, Naujat Repulse Bay, Clyde River, George River - these are a few of the communities where artists carve their stone figures. For more information on the artists, communities and culture surrounding this art form please visit us online to request specific information.
Your Resource in ABoriginArt Galleries
AboriginArt is the premiere online Inuit Art / Eskimo Art Gallery. We specialize specifically in vintage/contemporary Inuit stone, ivory sculpture and limited edition prints. Over 1900 Inuit works of art on display by over 400 Inuit Artists. Each item has been chosen for a combination of quality, subject matter, form and artist.
There are over 1000 prints on display, perhaps the largest on-line selection of Inuit prints in the world, including the Cape Dorset Annual Print Collections
We have recently added impressive First Nation Art to inventory and will continue to expand with frequent additions. Northwest Coast Art available now completing the array of highly sought after Canadian Native Art.
As an Internet based Inuit Art Gallery we don't have the high overheads associated with a retail space so you save 25% or more on the same quality Inuit Art. We hold special exhibits and promotions designed to keep you up to date with the latest we have to offer and save you money. We encourage you to sign up to receive our newsletter and never miss an opportunity to invest for less. Site updated daily!
Use coupon code EB2012 and save 10% on all purchases which are not already on sale.
Save even more with our frequent buyer rewards program. Learn more by visiting our main site, details here aboriginart site
Here also is a link to our Ebay selling page:
aboriginart store
We offer much more than mentioned in this article visit our site inuit.net today to learn more!
If you have found this guide useful, please take a moment and rate it as helpful. A high number of ratings will move it closer to the top of the search results, making it easier for collectors to find. Thank you