Ford Field in Detroit
Are you lucky enough to be heading to Ford Field in Detroit to see the NFL Detroit Lions play football this season? If you are a Lions fan or rooting for the opponent, you will be impressed with the venue for this NFL team.
Opened for the 2002 season, Ford Field in downtown Detroit Michigan is an impressive modern day facility where you will find a fantastic view no matter where your seat location. 65,000 seats await you at this stare of the art venue which combines the rich history of downtown Detroit with all the conveniences you will need for a great day at a football game. The Detroit Lions home opener in 2002 against the Green Bay Packers (a long standing division rival) brought the Lions back to downtown Detroit. Since 1974 they had played at Pontiac Silverdome in Pontiac, Michigan.
On February 5th, 2006 Ford Field hosted the NFL Super Bowl. This was a proud moment for the Detroit Lions, the Ford Field and the downtown Detroit area.
There are basically 3 levels of seating in Ford Field.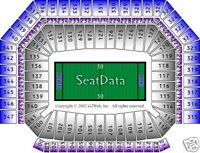 Like any stadium, the lower level is the closest to the ground while level two and level three are higher. The players enter the stadium through "the tunnel", which is between sections 100 and 141. Sections 100 through 112 is considered the Home side, while sections 122 to 132 are the Visitors side.
Restrooms and consession stands are located all around the facility and within easy reach from any seating section. A variety of entrances to the building provide for great crowd control and eliminate standing lines.
Still looking for tickets? You can find a great selection of Lions tickets on eBay at Dream-Adventures. Enjoy the game, (we will) and Let's Go Lions!