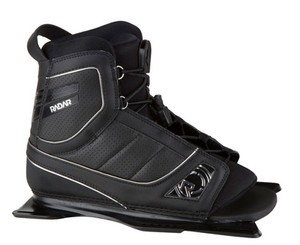 Waterskiing is a great family activity for hot summer days, and a challenging sport for those who love the water. Unlike some other water sports, waterskiing does not require a huge initial investment when it comes to equipment. One doesn't have to spend a fortune on expensive equipment in order to get on the water. This guide provides information on choosing all the necessary gear that one needs in order to go waterskiing, as well as information on how to buy water ski gear online.

Water Skis
There are four basic kinds of water skis. The first two in this list are the most popular, and most commonly purchased.

| Type of Ski | Description |
| --- | --- |
| | These have wide tips for better control. As such, they are a popular choice for beginners. They are called "combination" skis because one of the skis has a double binding for use as a slalom ski. |
| | Slalom skiers stand sideways on a single ski. These skis are designed for sharp turns at high speeds. For recreational purposes, a buyer should look for a wider tail and a flat bottom that will make it easier to ride straight. |
| | These skis are specifically designed for jumping off ramps. They are made from special lightweight materials and are wider and longer than other types of skis. |
| | Trick skis are short and wide and do not have fins. This makes them harder to control but easier to slide, spin, and jump. Trick skis are for intermediate to advanced skiers. |
Correct Sizing for Water Skis
Correct sizing is very important, because the length of the ski has everything to do with ease of control and the speed the skier will travel at. Longer skis are easier to control but slower. Shorter skis are fast but harder to control. Find the correct sizing using the chart below. When in doubt, choose the longer ski.


| Weight of Skier | Ski Length (in inches) | Ski Width (in inches) |
| --- | --- | --- |
| 30-80 lbs | 40-52 | 5-6 |
| 80-150 lbs | 66-67 | 6.5 |
| 150-200 lbs | 68 | 6.5 |
| over 200 lbs | 69-72 | 7-8 |
Water Ski Design
As with all equipment, there is a tradeoff between speed, turning ability, and control. Each characteristic of a water ski's design gives it more in one area and less in another. Here are the basics of water ski design.

| Ski Element | Advantage | Disadvantage |
| --- | --- | --- |
| Fin | Easy turning and maneuvering | Not good for doing tricks |
| High flex | Easy to turn | Slower |
| Sharp beveled edge | Fast | Harder to control |
| Rocker (curvature from tip to tail) | More turning ability | Less acceleration |
In addition, there are two basic designs for the bottom on water skis. A "narrow tunnel" bottom is designed for skiers who stand straight when skiing, placing their weight on the back of the ski. A "concave bottom" is designed for skiers who ski with their weight forward and their knees bent.

Water Ski Ropes
Water ski ropes are slightly elastic, unlike wakeboarding ropes. The rope stretches in order to absorb the shock of crossing the boat's wake and also provides flexibility in turning and accelerating. The standard rope is 70-feet in length and generally made of polypropylene. Some ropes come marked in differently colored sections every ten -feet to make shortening the rope easier. This is important for competitive slalom skier, but not essential for the recreational skier. Still, most ropes come marked in 8 to 11 sections.

Water Ski Handles
Handles can come either attached to the rope or detached. Professional ropes and handles are detachable. The handle adds 5-feet to the rope length. Professional handles are stronger and lighter than recreational handles, but they do not float. Recreational handles are made of rubber or plastic, and so they do float. Water ski handles come in different diameters for different hand sizes and even in different shapes. Buyers can choose between straight and elliptical handles based on comfort.

Boots and Bindings for Water Skis
The binding is the part of the ski that holds the skier's foot to the ski. A good boot or binding should provide a tight fit for more control and at the same time, slip off easily in case of a fall. Skis usually come with bindings, but if they don't provide a secure fit, other bindings can be installed. If multiple skiers will be using the same ski, look for adjustable bindings to accommodate different sizes feet.
Slalom skis can be double-booted or single-booted. A boot covers the whole foot and is more secure, but can be difficult to put on or slip off. Single-booted skis have a complete boot in front and a rear toe piece at the back for the rear foot. A rear toe piece is a binding that the foot can slip into easily and does not cover the entire foot like a boot. While it is easy to slip in and out of, the rear toe piece does not allow for the precise control that a boot offers.

Life Jackets for Waterskiing
Another essential piece of water ski gear is the life jacket,, or life vest. Regardless of age and experience, water skiers should use Coast Guard-approved safety equipment in case of a fall. A water ski vest not only helps the skier stay afloat, but also protects the rib cage and cushions the torso in case of a "wipe-out." Preferably, the vest should have bright colors to improve visibility.

Other Water Ski Accessories
Other water ski accessories include helmets, gloves, eyewear and sunscreen. Helmets protect much more than the skier's head. Besides providing protection against knocks and bumps, a good helmet protects against wind chill, sore eyes, perforated ear drums, and sunburn. When shopping for headgear, look for helmets that have a secure fit, round shape that will enter the water cleanly. The headgear should be made of lightweight materials, and offer unrestricted vision. The headgear should also be specifically made for watersports. Professional headgear, like GATH helmets,, can easily be found online.
Gloves
Gloves are also a useful accessory to have. They protect the hands (most notably the palms) from abrasions and improve the grip on the handle. Buyers can choose between fingerless or full-finger gloves in a range of sizes.
Sunglasses
Sunglasses protect the eyes from UV rays and reduce glare from the water. Manufacturers such as Bollé, Oakley, and Bluewater Optics make sunglasses specially designed for watersports.

Buying Water Ski Gear on eBay
All kinds of waterskiing gear, new and used, can be found online, on eBay. Sites like eBay offer a greater selection than brick and mortar stores and as long as the buyer follows some common sense rules, offer secure buying options as well. To find water ski gear on eBay, simply start at eBay ' s homepage and enter the search term "water skis." Choose the category "Water Sports&" from the menu on the left-hand side of the search results page. Then choose the subcategory "Wakeboarding and Waterskiing&" from the second set of search results. This subcategory contains almost all the gear you will need, including skis, ropes, handles, and bindings. Lifejackets and safety gear, as well as fins, gloves, and other accessories can be found in the larger category of Water Sports.
Using the same menu on the left hand side, you can refine your search to show only listings by top-rated eBay sellers. This feature of eBay rewards sellers who offer prompt and reliable service and gives buyers an added measure of confidence in making purchases on eBay. You can be sure that a "Top-Rated Seller" has a history of client satisfaction.
A search can also be refined by location, shipping options, price, and condition. These factors can help you quickly narrow down the listings to the ones which are truly of interest. The search can also be refined to show only those listings which are within a certain distance of your zipcode. This is a good way to buy things that you might want to look at or try out first, like helmets or life vests. Alternatively, eBay Classifieds are a good way to find local listings.
If you do not immediately find the item you are looking for, a search can be saved using My eBay.. You will then be notified by email when the item becomes available. In the unlikely event that an item arrives damaged or the wrong item is shipped, the eBay Buyer Protection program covers the purchase price and original shipping cost. It's a good idea to become familiar with the terms of the program before making a purchase.

Conclusion
A water skier needs just a few essential pieces of gear to get started with this fun and challenging sport. There are several types of skis for different styles of skiing, from slalom skis to trick skis. A beginner should start with a good pair of combination skis which offer the most options and control. Some aspects to consider when buying skis are the length, width, bevel, rocker, and the flex.
Skis come with various kinds of bindings or boots. It's important to find a binding which offers a tight grip on the foot and still slips off easily in case of a fall. Other water ski gear includes the tow rope and handle. Accessories like safety helmets and life jackets are essential to enjoying this water sport safely.
Buying online offers the advantage of a wide selection and competitive pricing. Searches on eBay can be refined based on a variety of characteristics, making shopping online quick, easy and efficient. Amateurs, professionals, and recreational water skiers can all use eBay to find the right gear waterskiing gear for their needs.