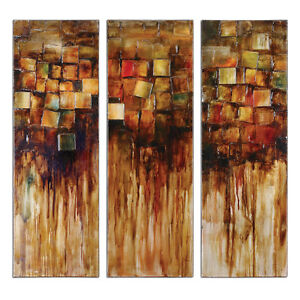 Paintings, drawings, sculptures, and photography can add color, texture, and warmth to any home. Any one of these types of art can instantaneously warm a space up and transform it into a home. Choosing the type of artwork that looks best for a specific buyer's home will depend on the mood or on the theme of the home's decor, including wall color and furniture. Many times, artwork can supply a finishing touch. While vibrant colors can bring excitement to a room, neutral colors are typically more calming. By coordinating artwork with the home's decor, decorators can better determine which type of artwork compliments the color and scale of the home. Whether searching for artwork for the modern, formal, traditional, vintage, American country, or coastal style home, there is no shortage of forms of art from which to choose, and this guide will examine which types of art are best for these various kinds of homes.
Popular Types of Artwork
There are many different types of art that can bring a room to life. Collages, sculptures, paintings, drawings, ceramics, and glasswork are all examples of the types of art that many homeowners enjoy displaying in their homes. By adding a few pieces from this list, any homeowner's space can be turned into the perfect home. Decorative artwork such as these also accents the walls of a home, while creating a welcoming environment and adding style to their space.
Interior Decoration Themes and Motifs
Interior decorating combines furniture, colors, fabrics, textures, and styles that are carefully selected to craft a specific look in one's home. With the perfect placement and proper proportion of artwork, decorators can transform a home's ambiance as well. A home's theme and style should appeal to those living in the home and provide functionality for their lifestyle. Different styles appeal to different people, with some of the most popular styles being the contemporary, formal, transitional, vintage, American country, and coastal styles.
Contemporary Style
Those looking to decorate their homes in the contemporary style should stick to artwork that gives a welcoming and comfortable feel to the room, without cluttering it. Simple textures, organic shapes, and clean lines can help define contemporary style decorating along with neutral colors accented by a bright and bold color, such as red. If the walls of the home are painted in a bright color, neutral artwork such as a black and white or sepia painting or photograph should complement it. Decorators should utilize matte black, natural wood, or metal finish frames for artwork.
Contemporary style art is all about lines and spacing. Strong geometric shapes should be incorporated into the decor. Abstract art can play the part perfectly in a contemporary style home. The bare space on the wall and the spacing between the artwork is just as significant as the artwork itself. It is important to remember that in modern art, less is more, and each individual piece should stand out and make a statement. Spotlights are also often used to showcase special pieces.
Formal Style
Symmetry of artwork is essential in creating the perfect atmosphere in a formal style home. All artwork should be kept on a straight axis around the abode and is often found in perfect pairs. In a formal style interior, decorators should focus on finding the perfect piece to will draw attention in and create a focal point in the room. Decorative painting techniques can up play the vacant wall above a fireplace or imitate the look of a home's wallpapered walls.
Traditional Style
Traditional style home interiors should have a comfortable and classic feel. Designers should stick to artwork that is orderly, calm, and predictable, staying away from pieces that are wild and abstract. A mix of both vertical and horizontal lines should be accompanied by gentle curves. Peach and tan mid-range tones should be enhanced by bronze and gold accents. Still life and beautiful landscape oil paintings, gilt decorated frames, sculptures, and orderly pairs of artwork can give the home a proper traditional feeling. Traditional art can often be culturally significant such as pottery and masks which were once used for ceremonies and decoration, and that stem from indigenous cultures.
Vintage Style
For homes that are composed of antiques, vintage style artwork makes for the perfect decor. Vintage photo frames and mirrors complement the classic look and add an antique touch. Decoupage items and silhouette artwork places an emphasis on outlines and paper cutouts and give a vintage feel to a home. The key to decorating with vintage art is consistency and limitations. Decorators should focus on one main piece that transforms the overall feel of a room.
American Country Style
An American country style home should have decorative artwork that sets a relaxed mood. These pieces should have a modern yet refurbished look, such as repainted wooden frames to hang portraits. The antique look paired with an updated paint job provides the perfect country feel. Large quilts make excellent wall hangings and add to the country decor, as do barn stars, which have been popular decorative images in country style homes for centuries. Common motifs include pastoral themes, the American flag, and primitive hand painted still-life pictures in bright colors on wood. The smooth brush strokes of watercolor drawings show off the hard work that went into the painting and is artwork that a country style home would be proud to display. Folk art and crafts, especially wood crafts, are often featured and can be accessorized with hand crafted baskets and candles.
Coastal Style
Coastal style decor centers on bringing the ocean and beach environment into a home to create a relaxed and comfortable living experience. A coastal style home is best decorated in nautical decor, providing a beachy feel to the space. Recycled wood with a painted finish of white or ivory make for the perfect piece. Decorators can also use mosaic glass in seaside hues to frame the interior walls along with a row of paintings depicting island scenery or a seashell mirror. Special effect painting techniques such as a delicately sponged blue sky are often crafted to reflect a coastal style along with hand painted seaside murals on accent walls.
Hanging Art in Problem Spaces
When decorating a home, there are often problem areas that can pose special decorating challenges. These areas can be spaces that seem too large, too small, too narrow, or too devoid of character. By utilizing creative art placement, decorators can open up a room and provide design solutions to these types of problems. The problem-solving decorating techniques described below are a great way to fill those empty and awkward spaces.
| Problem Space | Solution |
| --- | --- |
| Expanding a small room | The key to making a small room feel bigger is to hang a large landscape print with a faraway horizon. This helps to create the illusion of more space. Another way to expand a small room is through the use of large mirrors. |
| Broadening a narrow room | Painting one wall a darker color than the others is one way to broaden a narrow room. Hanging an eye-capturing print on that wall and hanging a custom framed mirror on the opposite wall creates what is called reflective art. This type of artwork will make the room appear wider. |
| Heightening a low ceiling | The key in heightening a low ceiling is to hang artwork with strong vertical lines to give the illusion of a heightened ceiling. In addition, choosing prints that are taller rather than wider will add to the sense of height. |
| Giving space to a cramped room | The use of prints with an outdoorsy feel and bright colors can give space to a cramped room and make it feel more open. |
| Lengthening a room | Hanging artwork with strong horizontal lines can create the illusion of length in a room. Landscape prints that are wider rather than longer, such as panoramic vistas, are useful when needing to lengthen a room. |
| Rooms without windows | In rooms that do not contain windows, choose artwork that portrays landscapes, windows, and doorways. This creates the illusion of added light and space to a room. |
By using decorative artwork practices such as these, decorators can warp the walls of their home through optical illusion with the right pieces. Artwork can expand a space both visually and emotionally, while adding personality and interest to a home.
Buying Artwork for Your Home on eBay
While artwork for your home can be purchased through art dealers and antique stores, online sites like eBay often offer the widest range of products in various categories, artwork being among them. When beginning to shop for artwork on eBay, start on the homepage. In order to find all related item listings on the site, type "artwork" into the search bar on the homepage. This will allow you to browse all of the search results and to narrow the listings by factors that include price and condition.
You also have the option of following the formatted categorical steps that eBay has provided for its customers. When navigating the site, buyers can search theCollectibles & Art category and navigate tothe Art subcategory. From there, buyers can then further narrow their search by deciding whether to purchase their artwork from any of three different categories: Art from Dealers & Resellers, Direct from the Artist, or Wholesale Lots.
You should always feel like you are purchasing an item with confidence and should thoroughly read all artwork listings before making a final decision. It is important to make careful note of the price as well as any additional shipping costs. Ask the seller to see pictures of the artwork if none are made available and carefully examine any pictures of the artwork for signs of wear and tear, cracks, or other abnormalities. This ensures that the seller is disclosing the quality of the piece to you before purchase. Sellers can be contacted either through the Ask a Question link on the listing page or through the Contact Member link on their profile page.
You should also be sure to check any seller's feedback rating by using eBay's feedback rating system before finalizing a purchase. These ratings are determined by information provided from past buyers and often give an accurate sense of the seller's reputation. Consistent positive feedback shows that the seller is truthful in their listings, which can help buyers feel comfortable and confident throughout the purchasing process.
Conclusion
A decorator can turn an empty space into a warm and welcoming home through many methods, including through the addition of artwork. Any paintings, sculptures, and drawings that are displayed in a home should complement the home's decor and bring life to the room, and many of these types of artwork can be found on websites such as eBay. Depending on the style of a home, whether it is modern, formal, traditional, vintage, American country, or coastal, there will be a style of artwork that can supply the perfect touch to the home's theme and motif.