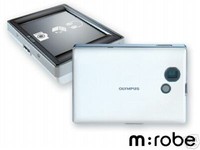 THE LATEST IN MOBILE ENTERTAINMENT
The MR-500i is more than just a music player. It lets you take pictures, edit them and mix them with your music. Be your own VJ and make your own music clips. Or just add some feeling to your snapshots. This HDD music & image player brings music and images together in a completely new way. All with a gentle touch. Simply glide your finger across the m:robe's liquid crystal screen to hear the music you want, capture great images or enhance them both with an array of special effects. A host of unique and creative features and yet it still fits in the palm of your hand.
Music and photos anytime, anywhere
Store up to 5,000 songs and 20,000* photos and take them anywhere with you. With its built-in camera, the MR-500i lets you capture all of those unmissable moments. Operation is easy: simply touch the extra large 9.4cm LCD screen to view, capture or even delete them images.
Remix music with your photos
Choose your favourite tunes and photos and add special-effects templates to create your very personal 'Remix Cubes' – an artful and unique format to m:robe. All at your fingertips Even with its dazzling array of features, the m:robe is easy to operate. Just touch the m:robe's high-resolution, 9.4cm TFT LCD screen to interact with its intuitive operating system. No matter how much data you store, you can quickly find and retrieve your tunes using keyword, date and category searches.
The m:robe brand derives its name from the fact that m:robe products can be carried anywhere, anytime, allowing users to "robe" themselves in their favorite music wherever they go. It will be aggressively promoted by Olympus as a new brand of HDD music player. White is used as the signature color for m:robe products to evoke the timeless beauty of white porcelainware that sets off the beauty of the items it contains. The m:robe also features touch-screen / touchpad operation and a user-friendly GUI that provides visual and emotional feedback in response to user input.

MR-500i is positioned as the flagship of the m:robe series, and incorporates a 20GB hard disk drive that allows both music and images to be carried with the user. In addition to being an HDD music player that allows users to enjoy music playback, it is equipped with a 3.7-inch VGA monitor, a graphical image calendar function, and a camera function that turns the large LCD monitor into a viewfinder that lets users capture images simply by touching the screen. Under the concept of "REMIX YOUR IMAGES," it also features a Remix Play mode that allows users to freely create a fusion of music and images, by combining their favorite music and images with a variety of visual effect templates to easily edit and play original image content.
Design Concept
The m:robe products reflect a rigorous commitment to design excellence. They are designed to harmonize with their surroundings, and to project an image of cleanliness, gentleness, and simplicity. Their white signature color reflects the timeless beauty of white porcelainware, which, rather than making a strong style statement of its own, tends to draw attention to the beauty of the flowers or foods that it contains. In the same way, m:robe products are designed to be like "white porcelain vessels" that enhance the beauty of the images and music they hold.
Main Features
1. Remix Play Mode Support
MR-500i features a Remix Play mode that allows various effects to be applied to images so that they can be enjoyed in conjunction with music playback. Remix Play mode is composed of three elements: music data, multiple image data, and visual effect templates. These can be freely combined and stored as "Remix Cubes." Remix Cubes can easily be created with the included m:trip computer application software or the remix-enabled m:robe MR-500i.
2. A New Shooting Style
In addition to displaying digital photos transferred to it from a PC, MR-500i incorporates a camera unit for image capture. It also offers a new shooting style that allows users to capture the world they see on the large LCD monitor/viewfinder simply by touching the screen. A Viewer function enables captured images to be organized into albums, displayed in calendar format, and viewed as slideshows.
3. Touch-Screen GUI
A touch-screen GUI allows intuitive operation. By moving a finger up or down on the screen, users can perform actions such as track selection and volume adjustment.
4. Versatile Search Functions
Music and images can easily be searched by date, playback history, or user-assigned keyword. You can search music by album, artist, genre, composer, year of release, or playback history. Images can be viewed in thumbnail, album, or calendar format, making it even easier to find the ones you want.
5. Dedicated m:trip Application Included
An m:robe dedicated PC software called m:trip is included with MR-500i. The software can be used to manage m:robe file transfers, convert CD music files to WMA format, and create Remix Cubes for Remix Play mode. It also allows music, image and Remix Cube data to be synchronously transferred to an m:robe MR-500i simply by placing the unit in its dedicated cradle.
6. Built-In High-Capacity 20GB Hard Disk Drive
A high-capacity 20GB hard disk is built into MR-500i, allowing up to approximately 5,000 music selections or 20,000 images to be carried.
7. Built-In 3.7-Inch TFT Color LCD
The 3.7-inch, high-definition LCD offers VGA (640 horizontal x 480 vertical) quality with 260,000 colors, and can be used to view photos, CD jacket art, and song lyrics.
8. Versatile Preset Equalizer
16 equalizer settings are provided for different genres and places where users are listening. Users can set and save their favorites, and easily fine-tune sound quality to suit their preference.
9. Remote Control
Playback, stop, volume, fast forward/reverse, and song title and artist name display can be operated by remote control. A convenient 'Favorites' button makes it easy to add the currently selected track to your Favorites list.
10. White Signature Color and Unified Design
Both m:robe models feature a white signature color and unified design. Like white porcelainware, they have a timeless beauty that sets off the beauty of the items they contain. Together with i:robe series digital solution brand products for easier and more enjoyable digital photography, they define a unified world of their own.
Other Features
1. Support for MP3 / WMA File Playback
Supported file formats include the popular MP3 format, as well as WMA formats including variable bit rate WMA.

2. USB 2.0 Interface
Data transfer to a PC is possible via the dedicated cradle and a USB cable. Hi-Speed USB 2.0 is supported. In addition, support for storage class USB allows the m:robe to be used as an external data storage device simply by connecting it to a PC
3. AV Output (when using cradle)
AV output via the dedicated cradle allows Remix Play to be enjoyed on a standard TV, and music to be played back through amplifier-equipped speakers.
4. PictBridge Support
PictBridge standard support allows direct printing to any PictBridge-enabled printer.