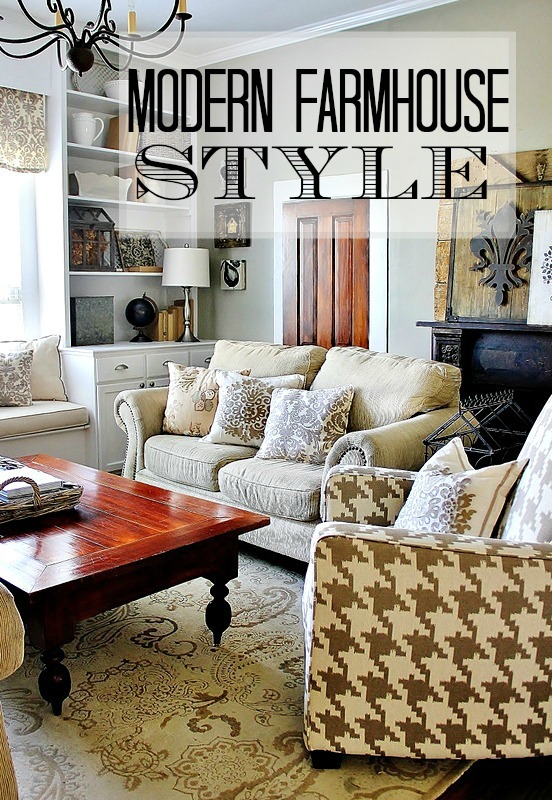 Modern farmhouse is unique. In the words of Donny and Marie....modern farmhouse style is a little bit country and a little bit rock 'n roll.
Modern farmhouse is a design style that is both timeless and current. It's a little bit of a nod to the rustic roots of the farmhouse combined with a modern accessories and classic design styles.
And here's few suggestions on how to get the look.
Over-sized Accessories
One of the easiest ways to add a little modern farmhouse style is with over-sized accessories like these
wooden signs
. Here an entire gallery wall of wooden signs adds personality and character to a blank wall.
Combine signs with over-sized
vintage mirrors
and
simple canvases
to create a look that's warm and welcoming.
Layering Textures
Layer your textures and surfaces to create the modern farmhouse look. Begin with an over-scaled piece like this giant abacus and place it against a bookcase or over a mantel to create visual interest.
Then add in a wreath or smaller canvas to create layers of texture and pattern. Finish off the look with vintage accessories and metal accents.
Neutral With Pops of Color
Modern farmhouse style features a neutral pallet with layers of cream and white and gray and khaki. Then color is layered in depending on the season.
In this modern farmhouse living room, the khaki of the couch and gray of the walls is offset by the
brilliant pop of seasonal color
with the fall decor.
Add in the
rich tones of natural wood
and different shapes and sizes of
wicker baskets
to complete the look.
Adding Organic Elements
One of the basic decorating components of the modern farmhouse look is bringing the outside in. Whether it's twigs from the yard or seasonal foliage or rustic barn wood,
organic elements
help to layer in the modern farmhouse look.
Create a wreath from twigs or add branches to a centerpiece or even swag fresh magnolia at the front door. Adding organic elements brings a freshness and whimsy to your farmhouse decor.
Creating the modern farmhouse look is easy. Simply decorate with over-sized accessories, layer in texture, create a neutral pallet with pops of color and decorate with organic elements to create a look that's a little bit country and a whole lot rock and roll.