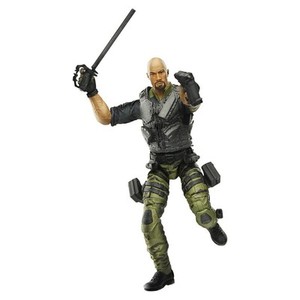 For over four decades, GI Joe and his battle-scarred buddies have defended the world while enthralling generations of aspiring soldiers. These action figures were popular enough to spawn their own cartoon television show and more recently two live-action movies. Children continue to enjoy collecting and playing with these action figures. Adults who played with these action figures as children have grown up to be enthusiastic collectors.
Before starting their own collection of GI Joes, buyers will need to research the history of the company that manufactures GI Joes to learn about the different types released over the years. Freshmen collectors will also need to learn the terminology used by sellers and collectors in the GI Joe trade. This will make the buying and collecting of GI Joes much easier. A good place to turn to in the search for GI Joes is an online marketplace like eBay.

Learn About GI Joe History
When Hasbro released GI Joe in 1964, they invented the action figure. Response was positive and immediate. As sales skyrocketed the company introduced a wide array of related products. Seventy-five different GI Joe-related items were produced in the early years to showcase this cultural icon as a toy soldier, sailor, Marine, and pilot. Before long Hasbro also introduced Mercury Space Capsules, a Deep Sea Diver, a footlocker, a Green Beret, Soldiers of the World, and even a GI Joe Nurse, which was quickly withdrawn, making GI Joe Nurse one of the rarest GI Joe collectibles today. The original Joe series was on the market until 1976. The Real American Hero line hit stores in 1982. Other key milestones in GI Joe history include:
1960s
1964: Hasbro introduces GI Joe, an 11 1/2-inch action figure with 21 moving parts.

1969: GI Joe enters the Navy, Marines, Air Force, and several other military organizations around the world.
1970s
1970: The GI Joe Adventure Team, made up of Joe and four allies, is introduced, and Joe gets a new flocked haircut.
1976: New recruits to the GI Joe line include Eagle Eye, the superhuman Bulletman (the first superhuman team member), and even a group of aliens known as The Intruders.
1977: GI Joe goes interplanetary in the form of a new 8-inch space-exploring Super Joe.
1980s
1982: The new 3 3/4-inch size Real American Hero line is introduced with 11 fully poseable action figures (including two bad guys) employing weapons, uniforms, and vehicles of the future.
1988: The futuristic Battle Force 2000 hits the market with the Phantom X-19 Stealth Fighter Vehicle, Tiger Force vehicle line, and other cutting-edge weaponry.
1990s
1991: The planet gets a new defender when the GI Joe Eco-Warriors take on the villainous forces of Cobra.

1992: 12-inch GI Joe is back as part of the Hall of Fame collection along with Duke, Stalker, Cobra Commander, Snake-Eyes, and other old favorites, and Joe joins the Drug Elimination Force.
1995: Sgt. Savage is introduced.
1996: The Soldiers of Kaos, Anarchy, and Ruin (SKAR) take on the new 6-inch GI Joe Extreme.
1997: GI Jane, a 12-inch helicopter pilot and the first female action figure since 1967's ill-fated GI Joe Nurse, hits the shelves.
2000s
2000: Speaking seven Navajo phrases, the WWII-era Navajo Code Talker is one of several new talking GI Joe action figures.
2001: The first Hispanic GI Joe joins the ranks, and the 60th anniversary of Pearl Harbor is commemorated with a special four-figure series.
Learning about major events in Hasbro's history can help a collector identify rare pieces and determine which action figures are more valuable than others.
Collect GI Joe Action Figures
Before a collector start compiling a large inventory of GI Joe action figures, it would be wise to learn about the different types of GI Joes and their individual features. While some people may wish to collect any GI Joe memorabilia they can get their hands on, others may wish to focus their collections on a specific type or theme. There are several factors to consider when a collector assembles his or her collection of GI Joe memorabilia. These factors include physical features as well as specific types of GI Joe action figures.
Size
Many collectors seek the largest 12-inch GI Joes. Others search for 11 1/2-inch, 8-inch, 6-inch, 4 1/2-inch, and 3 3/4-inch GI Joe action figures. The 11 ½-inch and 12-inch GI Joe action figures were among the first to be released and among the most popular with collectors. The first GI Joes produced were made to be about the same size as a Barbie doll.
Condition
Look for minimal cracks and wear and tear in vintage GI Joe action figures. Original packaging is another premium asset. GI Joe action figures that show little wear and tear or that come in original packaging will be worth more than others. Figures that have sustained a substantial amount of damage are used mainly for parts to repair other GI Joe figures.
Vintage Sets
Complete GI Joe sets, especially older sets, are particularly valuable. An example of a complete vintage set that would be worth quite a bit is the fully outfitted Green Beret from 1966.
Accessories and Sets
GI Joe accessories like helmets, cloth first aid kits, cloth caps, and cloth cartridge belts, often fetch stellar prices. Vintage accessories and clothing will often be worth more than contemporary accessories. The 1967 GI Joe Fighter Pilot outfit alone is reportedly worth more than $6,200.
Rarity
The Japanese Imperial Soldier of 1966, 1967's Marine Jungle Fighter Accessory Set, and the Magnum Power Accessory Set (1976) are among the rarest of GI Joe memorabilia. The most sought-after is probably GI Joe Nurse. Because the GI Joe Nurse was not on the shelves for very long, there are only a limited number currently available. A mint-in-box GI Joe Nurse can be worth as much as $6,000.
Other Collectibles to Consider
Several varieties of GI Joe action figures have been released over the years. Some were more popular than others, but all represent an important part of GI Joe history. Among the rarest and most unusual GI Joe curios are:
Custom GI Joe Figures
Custom-made action figures are most often created from parts and clothing of different GI Joes. These action figures are not made by Hasbro, but rather constructed by GI Joe collectors.
Eagle Eye GI Joe
Eagle Eye GI Joes feature eyes that move back and forth. A lever was placed on the back of the action figure's head, and when a person moved the lever the eyes would move. This feature first became available in 1976.
Kung-Fu Grip GI Joe
Kung-Fu grip GI Joes from 1974 are equipped with flexible and grippable hands. These action figures had hands that were made from softer plastic so that they could more easily grip objects.
Early GI Joe
Early GI Joes have small, barely detailed feet and painted hair. Very early GI Joe action figures are stamped with a trademark symbol. It wasn't until 1966 that the patent was granted and the symbol changed to a registered trademark for 1967 GI Joes.
Super-Articulated GI Joe
Super-articulated GI Joes are highly poseable figures from 2001. These were considered to be an improved version of the Classic GI Joes.
Vendor-Supplied Product
These are pre-finished factory samples created to test fitness and tooling. These were not released on a large scale, so they were not widely available. Their limited numbers make them valuable to collectors.
The annual GI Joe convention is a fun, family-friendly opportunity to buy, sell, and learn more about these popular collectibles.



Caring for a GI Joe Collection
Once collectors have built up their inventory of GI Joe action figures, it is important that they find a way to properly store them. This not only protects the action figures themselves, but it also protects the collector's investment. This is especially important for loose figures, which are at a greater risk for sustaining damage. Several compartmentalized cases are available to hold and separate the action figures. This also helps the collector organize their inventory.
It is also important to be sure that the GI Joe collection is stored in the proper conditions. Action figures and their packaging should be kept out of direct sunlight. This can cause discoloration in the paint, and the heat can cause the plastic to warp or break down. It is also important to keep the collection away from excessive moisture to prevent the growth of mold or mildew.

Learn the GI Joe Lingo
GI Joe collectors and sellers use acronyms to describe the condition GI Joe action figures and specific models. These acronyms make it easier to communicate with each other and list specific features in the item description. Learning the various acronyms can help a buyer scan through item listings quickly. Some of the most commonly used acronyms are listed in the table below.

| Acronym | Definition |
| --- | --- |
| AM | Action Man |
| AT | Adventure Team |
| CC | Classic Collection (1996-1999) |
| CNP | Complete, No Package |
| HOF | Hall of Fame |
| HTF | Hard to Find |
| MIB | Mint in Box |
| MIMB | Mint in Mint Box |
| MIP | Mint in Package |
| NRFB | Never Removed from Box |
| NRFP | Never Removed from Package |
| RAH | Real American Hero |
| SA Joe | Super-articulated GI Joes that premiered late in 2001. |
| SOTW | Soldiers of the World |

Find GI Joe Action Figures on eBay
Once you know what type of GI Joe action figure you want, go to the Toys & Hobbies category, and then navigate to Action Figures, Military & Adventure, and GI Joe to start searching for item listings on eBay. Since there are likely thousands of GI Joe listings at any given time, it may be easier to find what you're looking for by employing some of the search features offered by eBay.
Categories
Narrowing down the categories is useful for those that are not entirely sure what they are looking for, but have a general idea. There is a categories list on the left side of every search page. You are able to filter out the listings that you are not interested in. The categories list will help you narrow down your listings by item type. You'll find links for 3 3/4-inch Figures and Accessories, 8-inch Figures and Accessories, 12-inch Figures and Accessories, Mixed Lots, and Other.
Once you have narrowed down by category, you will be able to narrow the listings further by selecting different subcategories. Also, you are able to narrow down by the item's condition, price, seller, buying format, etc.
Advanced Search
Shoppers and collectors that know exactly what they want can narrow down the listings faster by using the Advanced Search feature. You will be able to search eBay listing titles for specific words. For example, if you want to find a Navajo Code Talker, type "Navajo Code Talker" (without quotation marks) into the search box. You will then click the option to Search Title and Description to expand your results. You will also be able to search within a certain category, exclude words from the search, and narrow the listings down by price and buying format.
If you can't find exactly what you want, try shopping eBay Stores. Several stores specialize in the sale of toys, action figures, and GI Joes. You can also tell the eBay Community what you want by creating a post on Want It Now. Someone may have the item you are looking for, but may not have a listing on eBay for it yet. Lastly, you can save a search on My eBay and eBay will email you when a match becomes available.

Buy GI Joe Action Figures With Confidence
Buying items from eBay is a simple process. Whenever shoppers buy things on the Internet it is important to exercise some caution to ensure a positive experience. Before making your purchase, make sure you know exactly what you're buying, research your seller, and understand how eBay and PayPal protect you.
Know Your Purchase
It is important that you carefully read the details in item listings. This is where the seller provides the details of the item, and you can find out more about the item's condition, and why it is priced the way that it is. Also, be sure that you know what the various acronyms listed earlier mean, so that you can understand the seller's description. If you are unsure of what the acronyms mean or if you have some additional questions about the item, then be sure to ask the seller through the Contact Member link on the seller's profile.
When you are looking at the price of an item, be sure to figure delivery costs into your final price. Also, be sure that you know how much an item is worth before placing the bid. Often, if the item's price seems too good to be true, then it probably is. If you spend a lot of money or are purchasing an item that is very valuable, make sure the seller will insure the item when it ships.
Know Your Seller
Some sellers have a reputation of providing prompt and friendly service, while others may work a little slower. Be sure to research your seller so you feel positive and secure about every transaction. When researching, look at the seller's feedback, how many transactions they have completed, and what previous buyers had to say about them.
Buyer Protection
In the unlikely event that you don't receive your item or it is not as described, eBay Buyer Protection will cover your purchase price plus original shipping. This program only covers purchases made through the eBay site. Don't send payment via an instant wire transfer. This can be risky if the buyer does not know the seller.

Conclusion
Collecting GI Joe action figures can be a way to collect a piece of American cultural history while recreating memories of childhood. GI Joes have been one of the most popular toys for boys for more than 40 years. Building a collection requires learning about Hasbro's history and the different types of GI Joes. With the huge selection of GI Joe action figures and accessories to be found on eBay, collectors are sure to find what they're looking for. By learning effective search techniques, and buying from reputable sellers, buyers will be able to continue to confidently collect GI Joe action figures online.