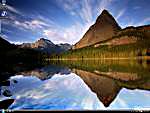 This guide will show you where to go to get the new, free Microsoft Windows Vista.
V for viruses, I for intruders, S for spyware, T for trojans, and A for adware. That spells VISTA! Microsoft is working on the security issues so hopefully we can have something that is more stable than xp.

I have seen windows vista selling for as much as $100 here on ebay. But why pay when you can have it for free? Yes you can get free windows vista by going to microsoft's website and downloading it or pay $3 for a dvd +shipping. This is the same version that is selling on ebay so don't be fooled into paying when you can get microsoft windows vista for free!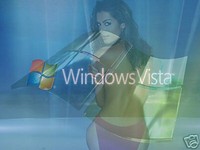 Go to the microsoft website at http://members.ebay.com/ws/eBayISAPI.dll?ViewUserPage&userid=sweettooth999494 from my favorite links because ebay will not let me post anything else besides ebay pages where you will find options on getting your free Windows Vista software. You can get it free by downloading the software which is about 2.6GB for the 32 bit edition and 3.7GB for the 64 bit edition. They have the release candidate 1 (RC1) which is supposed to be more stable than the BETA 2 and could possibly be the new windows. I downloaded both editions because I have high speed internet. You will have to burn the iso image onto a dvd using nero software or any other burning software that supports disk images. Those of you using dial up will probably have to order the dvd's. These DVD's are low cost because you just pay for production costs and shipment.
I used the dvd on my brothers computer and he has the requirements for the ultimate edition. I was sad because there were no drivers for my wireless pci connection. I could not get the drivers to work probably because they were designed for windows xp. I wanted to keep windows vista on the computer but my brother needs the internet so I had to switch the hard drives. My overall impression was good. I think this was because of the new cool look. There are a few more features but it seemed like the same operating system as xp. The system was stable but it could not get an internet connection.

Microsoft provides this software free of charge probably because it wants to iron out all the kinks in the software and get some input from all of us. The software is set to expire in Jan or June of 2007. I hvae heard different dates when this will expire but most likely it will when windows vista comes out for retail purchase.
So go to this website at microsoft dot com / windowsvista / getready / preview dot mspx or click on the link in my about me page ( http://members.ebay.com/ws/eBayISAPI.dll?ViewUserPage&userid=sweettooth999494 ), check it out, download it, get the dvd's, try it out, give some input to microsoft, have fun, and enjoy the new cool windows vista.
If you have found this guide helpful please vote for it.