Franciscan Desert Rose is one of the most popular dinnerware patterns and is highly collectible. When listing or buying Desert Rose on eBay, it is important to understand and specify the dates of the pieces. I cannot find references detailed the exact chronology of the marks appearing on cups and small pieces, so I have tried to place those where I think they belong, based on cup and saucer pairs I have found in intact estate sets and correlating the type and size of the decorators' marks.
Useful References:
Ebay will not let me include external links, but the first comment contains a link to a very nice guide.
Quick Summary
1941-1958
Pieces were stamped and marked with black ink. Larger pieces (plates, bowls, etc) have the word "California" somewhere on the stamp.
1958 - 1976
Pieces were stamped with the "TV Screen" Logo that looks like a rounded rectangle. Brown ink was used through the 1960s. Black ink indicates a pieces from the early 1970s.
1976 - 1984
Pieces were stamped in black ink with the word "Franciscan" and the trademark "Flying F".
1985-2003
Production moved to England. Pieces are marked "Made in England"
2004 - present
Production was moved to China. Pieces often have the "pink flower" backstamp.
Detailed Examples
1941-1947 - Black "Francisan Ware" stamped in a circle. "Made in California USA" in the center of circle. May or may not have "Hand Decorated" outside of the circle. The earliest pieces have were signed by the decorator scratching their marks into the piece. Later pieces may have the decorator's number stamped in black ink.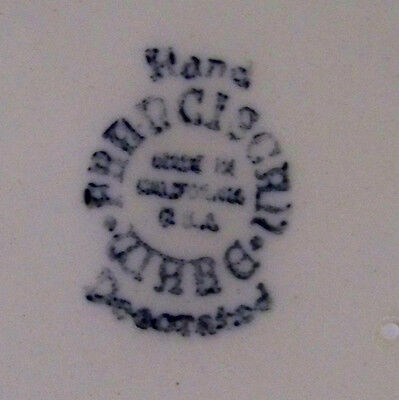 Cups and Small Pieces: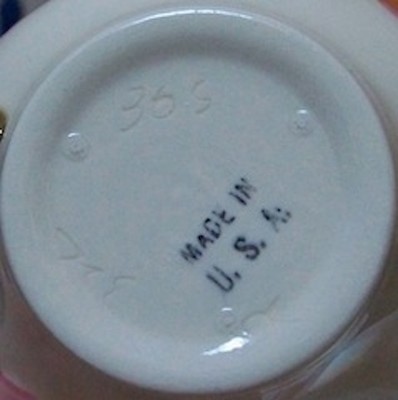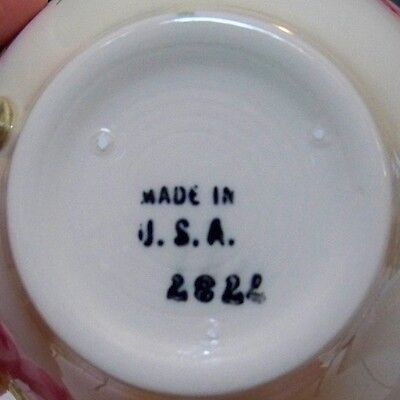 1947-1949
Same as the previous marks, except the Decorator's Number appears below the word "Decorated" on large pieces
1949-1953
Black "Franciscan Arch" mark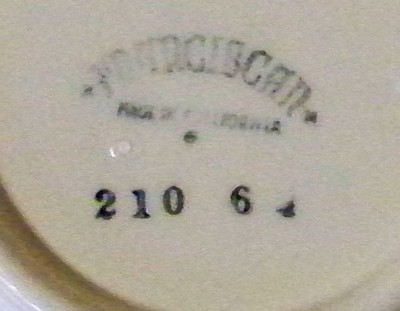 1953-1958
Black "Hand Decorated-Oven Safe" mark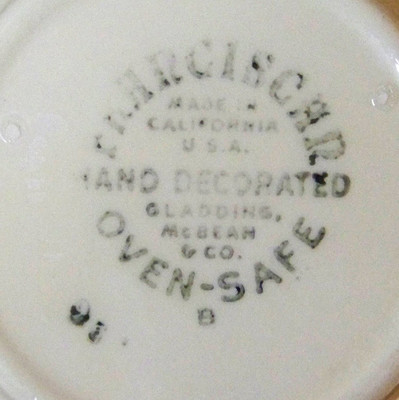 Cups and Small Pieces: Note the smallest font size.
1958-1962
Brown Gladding McBean "TV screen" logo
Cups and Small Pieces:
1962
Transition "TV Screen" Logo - used during the merger of GladdingMcBean and Interpace
1963 - 1970
Brown Interpace "TV Screen" Logo
Cups and Small Pieces: brown numbers
1971-1976
Black Interpace "TV Screen" logo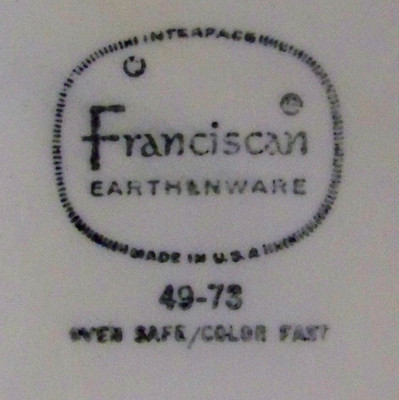 Cups and small pieces: black numbers
1976-1984
Anything with an "Interpace" mark was 1978 or earlier. Franciscan was acquired by Wedgewood in 1979.
"Franciscan Dinnerware" Marks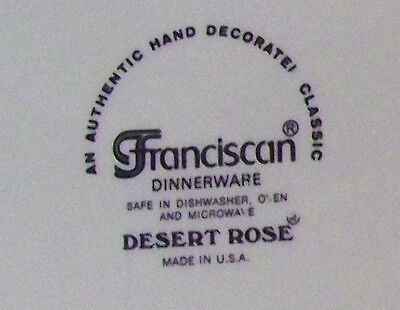 Interpace Half Moon Mark (1978)
"Microwave Safe" mark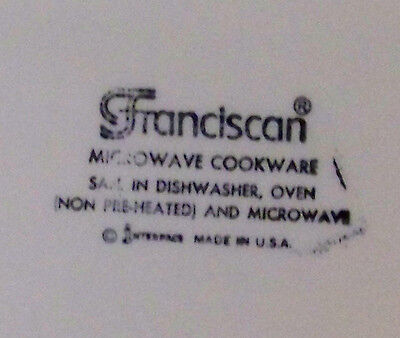 "Flying F" mark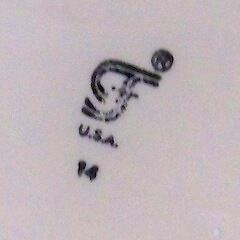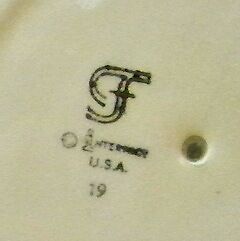 Cups and small pieces: Flying F or black numbers
1985-2003 - Made in England
Pieces are embossed with "Made in England" on the back of the piece.
2003-present - Made in China