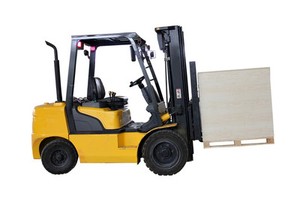 Forklifts are one of the workhorses of modern industry. They come in a variety of types and sizes to keep operations at warehouses, distribution centers, manufacturing plants, and lumber yards running smoothly. Other businesses also use forklifts to unload deliveries for an hour or two each day. Know your choices and business requirements so that you can find forklifts that not only perform well, but meet your specific needs.
This buying guide provides information regarding the types of forklifts available on the market today, as well as important aspects and features of the forklift market to help you make the best decision for your situation. Learn whether you need an internal combustion forklift, an electric forklift, what type of tires your forklift needs, whether or not you will need certain attachments to accommodate your daily usage, and more.
Forklift Features
Much like automobiles, forklift pricing varies widely by brand, and pricing does not always correlate to overall quality and reliability. Prices can vary depending on geography, your specific needs, and the seller. Top-tier brands typically cost more and offer advanced technology, higher tolerance of abuse and harsh environments, and greater long-term reliability.
Before you start looking at forklift trucks or talking to dealers, determine exactly what you need your forklifts to do. As with any large piece of equipment, safe use should be your top priority. Make sure you review all the safety instructions for the forklift you buy before using it.
Forklift Capacity: Knowing Typical Load Weight and Size
In order to select the best forklift for your work situation, determine the typical load weight and size the forklift will be used for. Forklift trucks are rated according to how much weight they can lift, starting at 3,000 lbs and going up to 35,000 lbs and more. While 3,000-lb, 5,000-lb, and 8,000-lb models make up the bulk of the market, 5,000-lb forklifts are the industry standard. The size of your typical load will determine the capacity you need. Forklift capacity is usually based on a 24-inch load center, meaning that the distance from the center of gravity to the sides of the load is 24 inches. The easiest way to think about this is that a forklift can only lift its maximum weight if the load is a 4-foot cube. If your loads are unusually long or high, the forklift will not be able to safely lift as much.
Knowing the typical dimensions and weight of your loads will allow you to work with sellers to determine the exact capacity you need. Also consider variation in your loads. If you constantly produce identical pallets of products, you know exactly what capacity you need; however, in a more mixed environment or one where the load size changes over time, buy a truck with more capacity than you need currently to make sure it gets the job done now and in the future.
Forklift Height: How High Do You Need to Lift a Load?
If you primarily use forklifts to load and unload trucks, you may not need much height. If your warehouse has shelves that are 30 feet high, your forklift will need to reach them. Unlike load capacity, your height needs are unlikely to change over time, barring new construction or major renovations. Buy for the height you need now. In a warehouse setting, the size of the lift truck may be an issue as well. Standard lift trucks need aisles that are 11 feet wide or larger to be able to operate and turn around. For aisles that are eight feet to 10 feet wide, you will need a narrow aisle (NA) forklift; for aisles down to six feet wide, you will need a very narrow aisle (VNA) truck. NA and VNA forklifts have forks that are turned at a right angle so they can drive straight down the aisle but pick up loads to the side.
Forklift Tires: Where Will You Use Your Forklift?
Forklifts should have tires appropriate for the location or environment. Knowing the different types of forklift tires available on the market will ensure that the forklift can accomplish its specific job in the necessary location.
Cushion Tires: Cushion tires are made of solid rubber and work best for internal applications. Electric forklifts designed for interior work typically have cushion tires.
Pneumatic Tires: Pneumatic tires are inflated with compressed air and cost more than cushion tires and also make a better choice for outdoor work. For heavy-duty lifting outdoors on uneven terrain, gasoline- or diesel-fueled forklifts are most commonly found with pneumatic tires.
Solid Pneumatic Tires: Solid pneumatic tires are ideal for outdoor environments where there is a high risk of popping regular pneumatic tires, such as lumber yards or recycling centers where glass or nails can be scattered. Solid pneumatic tires combine the solid-rubber construction of cushion tires with the rough terrain capabilities of pneumatic tires and typically cost more.

New versus Used Forklifts
Many dealers offer both new forklifts and used forklifts, so you can compare prices easily. Buying used forklifts can save you quite a bit of money up front, usually costing around half the price of a new forklift. As a general rule, businesses that use forklifts for more than four hours each day should invest in new forklifts. With this much use, the operating and maintenance costs for used equipment can quickly cancel out the initial savings gained. If the forklift will be used only a couple of hours per day, you can probably benefit from buying a used forklift.
When a dealer gets a used forklift back at the end of a lease, they usually recondition it with a new paint job, new tires, a thorough engine tune-up, and any other mechanical repairs that need to be made, so you can feel reasonably confident in the condition of the truck. As-is forklifts can save you even more money, but may have original paint and worn tires. Used forklifts may experience more downtime and repairs. Make sure to ask about the difference in service plans between new and used models. Once you decide on a forklift, try to stick with one brand for your other forklift purchases. This will allow you to go to one dealer for all your warranty and repair needs and operators will only need to learn to handle one type of forklift. Since not every manufacturer makes every type of forklift, you may still need to buy multiple specialized machines.

Types of Forklifts: Electric versus Internal Combustion Engine
There are two main types of forklifts: Electric forklifts powered solely by an on-board battery and internal combustion (IC) forklifts, which use a traditional engine that runs on one of several types of fuel. In most cases, an electric forklift will be more expensive than an identically rated IC lift. Operating costs per hour are critical to determining the real cost of your forklift. This includes the cost of fuel, maintenance, and supplies like oil, batteries, and filters.
Electric Forklifts
Electric forklifts are well suited for indoor use and on well-paved parking lots, but they cannot be used in the rain. They are powered by large, heavy lead-acid batteries, the same kind found in a car but considerably bigger and more powerful. Electric forklifts have several advantages over their IC counterparts.
Zero Emissions: Electric forklifts produce zero emissions, which is an important consideration if you plan to use your forklift indoors. Of the internal combustion models, only propane-fueled lifts can be used indoors, and they require very good ventilation. Gas and diesel-powered models cannot be used inside at all.
Low Fuel Cost: Although electric forklifts have a higher initial cost than internal combustion forklifts (new electric forklifts can cost 20% to 40% more than similarly rated IC forklifts), they have a lower cost per hour of operation. The price of gas and diesel fuels makes IC forklifts more expensive hourly than rechargeable, battery-powered electric forklifts.
Quieter Operation: Electric forklifts produce less noise than IC forklifts, which is a plus for indoor usage.
Long Lifespan: Because electric forklifts have fewer moving parts and are often used in cleaner environments than IC forklifts, they also tend to have a longer lifespan.
Electric forklifts have no fuel storage requirements and the batteries typically provide enough power for one standard eight-hour shift, which translates into five or six hours of constant usage. Keep battery downtime in mind when purchasing an electric forklift, and know that charging a forklift battery takes eight hours, plus eight hours of cooling time before it can be used. Due to this slow charging speed, if you need forklifts for two or three continuous shift operations, you will have to buy extra batteries so you can charge the next one. A battery charging station will also be necessary. Chargers should be located in a dry, ventilated, and temperature-controlled location. If you have multiple batteries, you will also need special cranes to change them.
Internal Combustion Forklifts
Internal combustion (IC) forklifts can handle the largest loads and are the only choice if you require greater than 15,000 lbs capacity. They typically stand up to certain types of abuse better than electric forklifts. Specifically, when using a forklift to push or tow loads, rather than lifting and driving, IC forklifts usually have better acceleration and top speeds. IC forklifts also have a lower initial price point but cost more per hour to run than electric forklifts. Forklifts with internal combustion engines run on a variety of fuels, including gasoline, diesel fuel, liquid propane gas (LPG), and compressed natural gas (CNG).
For indoor/outdoor use, duel fuel systems are available that let you switch between LPG and gasoline. You can refuel IC forklifts on the fly: simply fill them up at a gas pump or load new LPG canisters and forklifts are ready to continue working in no time. Of the types of IC engines, fuel costs generally are highest for gasoline and lowest for diesel, with LPG in the middle. Fuel costs vary considerably from state to state, so you should investigate this cost in your area before deciding which option is best. With some IC forklifts, you will have to buy refueling equipment. For example, gasoline and diesel fuel require storage tanks and pumps. LPG requires only space for spare tank storage, which is usually managed by a propane vendor. The choice between gas, diesel, and propane is often made based on existing vehicles and equipment.
The wave of the future in forklift power is fuel cells. Hydrogen fuel cells have the advantages of electric power (zero emissions and quiet operation) plus the ability to be refueled as quickly as diesel or gasoline engines with no recharging time. Experimental fuel cell forklifts are already in use, and may start to be more widely available in coming years.

Forklift Attachments, Comfort, and Safety
Once you know what forklift features and which fuel type are best for your situation, consider safety features, comfort, attachments, and extras. The following criteria are often features that buyers may not consider immediately in their purchase but will add both comfort and functionality to the machine, making it a high-quality addition to the workplace. None of the following are absolutely necessary (aside from the legally regulated safety features, and employee training). However, this list should be considered before making a purchase to ensure that the forklift you are considering will be capable of the specific jobs you have in mind.
Safety Features: Most forklifts come standard with safety features such as back-up beepers, flashing amber lights, and headlights. State regulations vary; always keep them in mind when you shop.
Ergonomics: They may seem like luxuries, but adjustable seats and comfortable controls can reduce the risk of repetitive stress injuries and make for a more productive workforce.
Attachments: You can tailor your forklift to better handle specific types of materials. There are specific tools to pick up rolls of cable or steel, tongs for handling 55-gallon drums, flat panels for lifting items that are not on pallets, and more. Most attachments are standardized so they can be used on any forklift, so if you only occasionally need to move odd-shaped loads, you may be able to buy one attachment and use it with any of your lift trucks. Attachments like adjustable forks and spool handlers reduce load capacity. Every forklift should have a capacity plate attached to it detailing its capabilities in its current configuration.
Sideshift: Sideshift is a popular option that allows an operator to move a load to the left or right without moving the truck, allowing more precise load placement. Sideshift can reduce load capacity, so again, be sure to check capacity plates.
Tilt Mast: The ability to tilt the mast and forks forward and back greatly simplifies loading the truck on uneven ground. Tilting the mast back slightly also provides greater stability when moving a loaded truck.
Service Plans: With an expense of this magnitude, it only makes sense to purchase adequate protection for it. The majority of forklift buyers choose a preventative maintenance (PM) plan. These PM plans cover oil and filter changes, transmission servicing, and general check-ups at regularly scheduled intervals. For an additional cost, you can purchase a full maintenance plan that covers any breakdowns or needed repairs. For a new forklift, it is unlikely that you will need this type of coverage. You will likely have very few breakdowns in the first couple of years. On older equipment, it may be a useful insurance plan. Unless you have an in-house mechanic to perform these maintenance tasks after every couple of hundred hours of operation, it makes sense to lean on the dealer's expertise.
Employee Training: The Occupational Safety and Health Administration (OSHA) has very specific rules about forklift operator training and licensing. Operators must pass classroom training and a driving test before being licensed, and they must be re-certified every three years. Many dealers provide training at their location for a small number of operators, or dealers may organize a class at your location if you have enough trainees. Check with OSHA about its rules and requirements.

Finding and Buying Forklifts on eBay
Once you know what type of forklift you want, go to the Business & Industrial category portal and click the Forklifts & Other Lifts link beneath Industrial Supply. On eBay you can use the filters on the left-hand sidebar to narrow your selection by load capacity, make, power source, and condition. You can also search eBay listing titles for specific words. For example, if you want to find an electric forklift with sideshift, type "electric forklift sideshift" (without quotation marks) into the search box. Click "search title and description" to expand your results. Visit eBay ' s Search Commands page for more tips on searching with keywords. If you can not find exactly what you want, try shopping eBay Stores. Remember, you can always tell the eBay Community what you want by creating a post on Want It Now, or save a search on My eBay, and eBay will email you when a match becomes available.
Buying Forklifts on eBay With Confidence
A number of forklifts listed on eBay in the Business & Industrial category will likely interest you. When trying to select the right forklift, get to know exactly what you are buying, research the seller, and understand how eBay and PayPal protect you. Know your purchase ahead of time.
Many sellers put a lot of time into creating their listings, making an effort to ensure they include all the information buyers need. Carefully read the details in listings for the forklift(s) you consider buying and carefully review available photos. Before placing a bid or buying an item, be sure to:
Get Your Questions Answered: If you still have questions after reading the listing and reviewing the photos, contact the seller using the "Ask seller a question" link in the seller information box in the top right corner of every forklift listing. Request additional photos if you want to see the forklift from a particular angle that is not shown in the photos. If you have more questions than you can address in email, get the seller's phone number and schedule a call. Some forklift sellers even include their phone number so you can call them directly. Just remember that you need to actually bid and buy on eBay in order to be covered by eBay and PayPal protection programs.
Get Delivery Details: Calculate and include delivery costs into your final price. This may simply include the cost of driving across the city or state if the forklift is nearby, or it may mean working with a shipping company that can transport the forklift from across the country. To learn more about shipping costs, ask the seller or visit the eBay Freight Resource Center.
Complete Your Transaction on eBay: Always complete your transaction on eBay (with a bid, Buy It Now, or Best Offer). Transactions conducted outside of eBay are not covered by eBay and PayPal protection programs.
Know Your Payment Options: Never pay for your eBay item using instant cash wire transfer services such as Western Union or MoneyGram. These payment methods are unsafe when paying someone you do not know. Instead, pay with PayPal for amounts less than $2,000 (including deposits), a money order, or direct bank-to-bank fund transfer. You can also finance your forklift purchase through Equipment Financing for eBay, provided by Direct Capital Corporation.

Conclusion
Purchasing your first forklift can seem a little intimidating. With a wide variety of options available on the market, it is sometimes difficult to know where to begin. Knowing more about forklift types and features will help narrow the field of available forklifts to just a few options that will be right for your job and specific situation. By doing your research,and being thorough about every step of the process, from researching specifications to the actual purchase, you will ensure that you are making a solid and lasting choice that will benefit your workplace for years to come.