Ford Capri Mk 1 Cars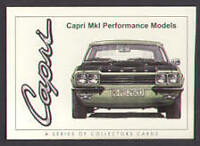 This is one of many illustrated classic Ford car guides I've created for the community. I hope you enjoy it. If you wish to find out more about the classic Ford Capri Mk1 art featured in this guide please click here.
Introduced as "the car you always promised yourself", the Capri was seen as the European equivalent of the Mustang. Sporty and affordable, its sales markedly outstripped even the most optimistic predictions of Ford's marketing experts. An impressive record in international motor sports helped to further the Capri's image, and in the present day, the Capri holds a well earned place in Ford's stable of respected classics.
Capri 3000 GT 1969-1973
Ford introduced the much-hyped Capri in the Spring of 1969. The flagship was the V6-engined 3000 GT. Fitted with and up-rated version of Ford's Mk4 Zodiac Essex V6 engine, it gave almost unparalleled performance for the price and thus began a tradition that was to run until 1982.
Capri Perana V8 1970-1972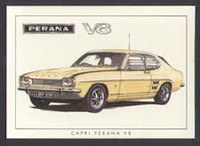 A V8-engined Capri developed by Basil Green Motors, based in Johannesburg, South Africa. Officially backed by Ford SA and marketed through its country-wide dealer chain, Peranas started life as 3000Es and interestingly the engine transplant, giving two extra cylinders added only 14lbs (6.4kg) over the standard V6. With the V8 mounted well back in the newly fabricated chassis, weight distribution was a reasonably 53/47 front to back and performance was spectacular. One magazine recorded 0-60 in 6.1 seconds and 143mph!
Capri 3000E 1971-1972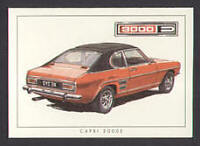 Ford launched the 3000 E (E for Executive) at the 1970 Geneva Motor Show. The £1,541 flagship carried all the usual XLR options, plus the then fashionable vinyl roof, the first cloth seat inserts to be offered in British Capris and now a radio as standard. In October 1971 the previously lazy V6 was worked over to give an extra 9lb/ft of torque and 10bhp. It made the 3000E and 3000GT, according to Ford's PR men, "the fastest production line cars ever to be marketed by Ford in Britain".
Capri 3000 GXL 1972-1974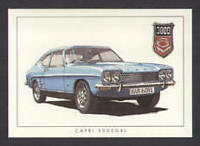 Ford announced a major facelift for the Mk 1 Capri in 1972. All cars now received big headlamps, bonnet bulges, new-style wheels, and a new style facia (which was carried forward to the Mk2 hatchback in 1974). An engine reshuffle saw the old-style 1600GT Kent dropped in favour of the OHC Pinto engine for the first time. The Capri 3000E gave way to a new four-headlamp 3000GXL. Although not rebadged, these were really Mk 1 ½ models. Ford produced nearly 199,000 Capris in 1972.
Capri Broadspeed Turbo Bullit 1973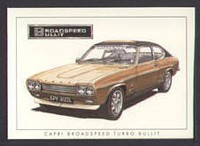 Ralph Broad, whose name needs very little introduction to fast Ford fans, introduced the "Turbo Built" in 1973. Based on the 3000GXL, this conversion was undertaken at Broadspeed's Southam, Warwickshire workshop, and was only ever available as a complete package. A genuine 140mph Capri, the turbocharger also provided stunning acceleration, with little, if any "turbo-lag".
Capri RS 3100 1973-1974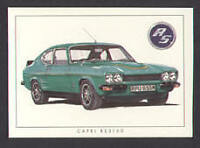 November 1973 saw the introduction of the limited edition Capri RS3100 - like the 3000GT, but with a 148bhp, 3.1-litre engine and large rear ducktail spoiler. As a homologation special, Ford officially needed to build 1,000 of these cars to be compliant with Group 2 regulations, though it is likely that only 250 were assembled before the energy crisis took effect.
Thank you for reading my guide and I hope you found it interesting!