Perhaps you've seen them in the magazine pictures, you know, the paparazzi shots of celebrities with their babies, and you just had to have a pair like them for your little star. Or maybe you don't know who Apple Martin is; you're just naturally-minded and choose apparel for your child from a developmental perspective. In either case, your search will undoubtedly lead you here— to the wonderful world of soft-soled baby shoes. Adorable and off-beat; natural and foot-friendly, these darling shoes are the perfect choice for parents of all walks.
TYPES OF SOFT-SOLED SHOES
Soft-soled shoes come in many shapes and styles, from slippers to dress shoes. You can expect to find the perfect look for your unique taste, whether it's plain, ornate, casual, dressy, sporty, or urban.
Typically, the more mobile a child is, the harder that child will be on the sole of the shoe, and therefore, the more durable that sole must be. Soft-soled shoes use leather and other innovative materials that don't compromise flexibility for durability.
SOFT-SOLED SHOES FOR PROPER FOOT DEVELOPMENT
Contrary to what our mothers were taught decades ago, babies do not require ankle or arch support as they are learning to walk. Quite the opposite. The ideal for these toddlers is bare feet. This allows the muscles unrestricted range of motion as they learn to balance and move in new ways. It is also prevents warping of soft foot bones. Those who live in nations that go barefoot as a way of life typically have stronger, more flexible feet, and suffer from virtually none of the common problems that shoe-wearing cultures experience, like flat feet or pigeon toes.
Since tender feet do require protection from weather and injury, especially when outdoors, going barefoot is not always practical. According to pediatric orthopedists, the best shoe is the one that most closely simulates barefoot conditions.
That's what makes soft-soled shoes such a brilliant invention! Their...
Flat foundation,
Flexible sole,
Breathable construction,
Lightweight design, and
Gently conforming upper
...imitate bare feet and allow baby to safely explore with feet that are blissfully oblivious to the fact that they are sheltered in shoes.
In fact, that's how you know you've put a good pair of shoes on your baby: the baby acts no differently with the shoe on than off. If the shoe impairs baby's mobility in any way, take it off. There is no such thing as "breaking in" baby shoes. They should simulate bare feet. Period.
SIZING
Because the making of soft shoes is a cottage industry the world over, sizing methods can vary greatly from brand to brand. Some brands label their shoes simply by the age intended. Others use European sizing, while some invent their own sizing system, unique to their brand. This can cause frustration if you aren't armed with the proper sizing information.
For your convenience, each brand's sizing information is included with its product description below. Nonetheless, the savvy eBay shopper will ask the seller for the interior measurement of the shoe, from toe to heel, and compare that to the exact measurement of the child's foot, allowing ½ inch of free space for proper fit.
In addition to using different sizing methods, available sizes also vary from brand to brand. Some companies focus only on the wee ones, up to two years old, as this represents the tender learning-to-walk stage of foot development. Others also see the importance of soft-soles during the learning-to-run-and-jump years, so make their line available to children through the preschool years. And some brands do not offer shoes in the smallest of sizes, reserving their product for when baby begins to cruise.
A word about converting European sizing to US sizing
Please take European to US size conversions in this guide as only an estimate for reference purposes. An exact one-to-one correspondence between the sizes doesn't exist.
European sizing uses a system called "Paris Points." Multiplying the child's foot (not shoe) measurement, in centimeters, by 1.5 yields her Paris Points, or Euro size. So, if your child's foot measures 12 cm, multiply that by 1.5, and she should be in a Euro size 18 shoe. Use a metric ruler to measure your child's foot, or take the math fun one step further and convert from inches: one inch equals 2.5 cm.
How to measure your child's foot
Have your child stand with his back against the wall; heel touching the wall
Place a piece of paper under the foot, flush to the wall
Make a mark at the end of your child's longest toe
Remove paper and measure from end of paper to mark
If you are figuring European sizes, there is no need to add free space, since the Euro size is based on the foot, not shoe, measurement. However, be sure to double check with the seller's provided interior shoe measurement; in this case, remember to add that pediatrician-recommended ½ inch of free space.
Always ask the seller to measure interior of the shoe!
SHOE SAMPLER
The selection of soft soles on eBay can be dizzying. Here's a guided tour of a few of my favorites:
Retail Price: $38 for baby slippers to $73 for Mary Janes
About the Shoe:
Handmade in Texas
Natural crepe rubber soles
Soft leather upper molds to the shape of the child's foot, not vice versa
Lined with cotton and pigskin to add breathability and durability
Sizing: US sizes 1-12 (infant/toddler), 1-3 (youth)
Care Instructions: None officially provided. Wipe clean.
My 2 Cents:
These are the Rolls Royce of soft-soled shoes – beautifully styled and with a price tag to match; therefore, resale demand is extremely high.
The styling epitomizes the ideal soft-soled shoe: an almost quadrangled, perfectly flat sole, and very soft, pliable leather that truly conforms to baby's foot.
Retail price: about $50
About the Shoe:
Sewn by the designer, Slawomir Piwowarczyk and his family in Poland on antique sewing machines
Inside seams are smooth for child's comfort
Top of shoe is soft and just above ankle
Upper is made from thin leather for breathability and flexibility
Dyes are non-toxic and applied only to the outside, so no dyes contact foot
Wide sole is made of flexible, non-slip rubber
Shoe laces pull tight easily with one hand using toggle; no tying required
Bright yellow sole continues up the back of the shoe to keep heel in place
All shoes are same design with bright yellow laces except navy shoes, which have navy laces
Sizing: European sizes 18-28 (approximately US toddler sizes 3-12, see measuring information above)
Euro 18 ~ US size 3
Euro 19 ~ US size 4
Euro 20 ~ US size 5
Euro 21 ~ US size 5.5
Euro 22 ~ US size 6
Euro 23 ~ US size 7
Euro 24 ~ US size 8
Euro 25 ~ US size 9
Euro 26 ~ US size 10
Euro 27 ~ US size 11
Euro 28 ~ US size 12
Care Instructions: None officially provided. Wipe clean.
My 2 Cents:
Some people object to the flashy styling of the bright yellow laces and soles, but I think it's part of their charm. To me, these are the old-fashioned baby shoe transported into the 21st century.
Waiting for a pair of these to show up on eBay is like watching for a falling star: requires lots of time, patience, and perseverance, but when you finally catch a glimpse of one, it's well worth the wait. Add it to your Favorite Searches, post to Want it Now, and thrill to the beauty when you you're lucky enough to spot one.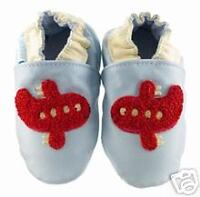 Retail Price: $24 to $26
About the Shoe:
All shoes are in the slip-on, elasticized ankle, bootie style
Recommended for indoor and light outdoor use only
Upper is "lamb touch" leather
Sole is skid-resistant suede
Sizing: Sized by age range: 0-6 months through 3-4 years (approximate US sizes 1-12)
0-6 mos ~ US size 1-2
6-12 mos ~ US size 3-4
12-18 mos ~ US size 5-6
18-24 mos ~ US size 7-8
2-3 yrs ~ US size 9-10
3-4 yrs ~ US size 11-12
Care Instructions: Machine washable; tumble dry low; hand wash with mild detergent for extended use
My 2 Cents:
These are great for the infant crowd; the chenille patches used for decoration are an excellent tactile stimulant.
They aren't as durable as some of the other brands, so not practical for bigger kids or outdoors.

Retail Price: shoes $29, boots $39
About the Shoe:
Hand-stitched
Originally designed by parents Angela and Brad for daughter Caroline
Pronounced "peedy - peds"
Soles are made of one layer of foam sandwiched between two layers of leather
All soles are black for practicality's sake
Lined with pigskin for breathability
Shoes are not bootie style, but look more like classic loafers, Mary Janes, and athletic shoes
Sizing: 4 sizes, XS to L, in regular and wide widths
XS ~ 0-6 mos ~ US size 0-3.5
S ~ 6-12 mos ~ US size 4-5
M ~ 12-18 mos ~ US size 5.5-6.5
L ~ 18-24 mos ~ US size 7-8
Care Instructions: Simply use a baby wipe or damp cloth.
My 2 Cents:
Very reasonable retail price for shoes with some of the best styling on the soft-soled market.
They do run large. I don't know many 18-24 month old babies who wear size 8; my 36 month old is still in Pedipeds' large. Ask the seller to measure the interior of the shoe!
Two distinct product lines: First Feet and Next Steps
Retail Price: $25-$30
About the First Feet Collection: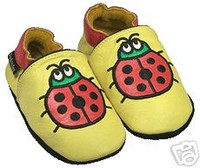 Bootie styled shoes with elasticized ankles
Flexible, durable rubber sole
About the Next Steps Collection: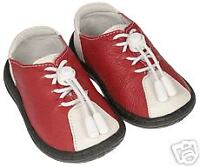 More traditional-type shoes, but with funky styling
Leather Upper with velcro closures or toggle-pull laces
Same flexible, durable rubber sole
Sizing: First Feet Small through X-Large; Next Steps Large through XXXL
Small ~ 0-6 mos ~ US size 0-2.5
Medium ~ 6-12 mos ~ US size 2.5-3.5
Large ~ 12-18 mos ~ US size 3.5-5.5
X-Large ~ 18-24 mos ~ US size 5.5-7
XXL ~ 2-3 yrs ~ US size 7-8.5
XXXL ~ 3-4 yrs ~ US size 8.5-10.5
Care Instructions: Simply wipe them clean with a warm wet cloth and some mild soap
My 2 Cents:
In the fall of 2005, Pedoodles had some quality control issues with the stitching that holds the upper to the sole, so it might be wise to ask the seller when the shoes were made.
Also, the Next Steps line does have the slightest hint of arch shaping, which is not a perfect replication of bare feet. Despite these facts, my daughter's 2 pairs of Next Steps are among my favorite shoes for her.
Three distinct product lines: Cover My Foot; I'm Walking Barefoot; and Running Jumping Barefoot
Retail Price:
Cover My Foot: $25-$30
I'm Walking Barefoot: $39
Running Jumping Barefoot: $44
Cover My Foot Features: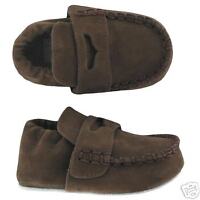 Suede bottom offers traction and warmth on indoor cold floors
Not intended for outdoor use
Has a clear "Visu Fit" window in sole to monitor fit
I'm Walking Barefoot Features: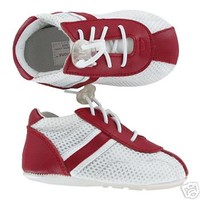 Thin Rubber Bottom
Designed for both indoor and outdoor use
Also has clear "Visu Fit" window in sole to monitor fit
Running Jumping Barefoot Features:
Same as I'm Walking Barefoot, plus
Larger sizes to take children all the way through preschool years
Sole is approximately 6 times as thick, but still imitates barefoot
Sizing: Cover My Foot Euro 16-25; I'm Walking Barefoot Euro 18-25; Running Jumping Barefoot Euro 22-30
Euro 16 ~ US Size 2
Euro 17 ~ US Size 2.75
Euro 18 ~ US Size 3.5
Euro 19 ~ US Size 4.25
Euro 20 ~ US Size 5
Euro 21 ~ US Size 5.75
Euro 22 ~ US Size 6.5
Euro 23 ~ US Size 7.25
Euro 24 ~ US Size 8
Euro 25 ~ US Size 8.75
Euro 26 ~ US Size 9.5
Euro 27 ~ US Size 10.25
Euro 28 ~ US Size 11
Euro 29 ~ US Size 11.75
Euro 30 ~ US Size 12.5
Care Instructions: Machine washable on cold with mild detergent. Stuffing a sock in the shoe while washing will help keep its shape. Tumble dry low. Pink, red, and purple nubuck shoes should not be washed, as they will bleed and fade.
My 2 Cents:
There's just something very comfy and reassuring about this company. Great shoes; great styles; great innovations.
The Visu Fit window is so much better than pressing on the child's toes to figure out if the shoe still fits!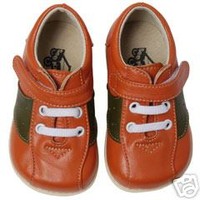 Retail Price: $32-$35 shoes $38-$45 boots
About the Shoe:
Fairly new product line that hit retail stores in 2004.
Developed for Kai by his mom and dad in Seattle, Washington.
Uppers made of soft leather with pigskin lining and padded collars
Soles made of thermoplastic rubber: flexible, durable, and waterproof
Sizing: US 3-9
Care Instructions: Mild detergent with a damp rag.
My 2 Cents:
It is obvious that the parents who invented this shoe created it for a boy in the Pacific Northwest – FINALLY, a shoe company that has boy styles just as darling as the girl styles, and a soft-soled shoe that can withstand all the puddle stomping a boy will give it!
If a shoe is judged solely on its styling and durability, then See Kai Run has to be one of the front-runners of all the soft-soled brands. An all-around great shoe.
Well now, off you go. Take your lil' one's piggies to market, and don't forget to bring that tape measure with you!