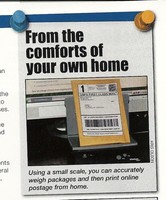 Image from United States Postal Service Western Area Update Vol. 10 No. 4, Fall 2011, page 9.
The easiest way to send letter-sized envelopes with Delivery Confirmation is to send them as a First-Class Parcel. Just insert some light-weight corrogated cardboard in side and Write DO NOT BEND on the outside of the bubble mailer. As long as the envelope is more than 1/4 inch thick and rigid, it can be sent as as a First-Class Parcel with Delivery Confirmation. Currently (December 2011), it would cost $1.75 (including $0.19 Delivery Confirmation) to mail up to 3.0-ounce envelope when printing shipping labels from your computer. At the retail counter, you will not be able to get delivery confirmation for a regular letter-sized envelope or a large flat envelope. You can get delivery confirmation with a first-class parcel or roll (cylinder shipping tube). The best thing to do is use a small bubble envelope. I get mine from justpoundsandounces - $37.50 for a box 500 (this includes S+H).
Mailing Standards of the United States Postal Service
Domestic Mail Manual
401 Physical Standards
2.0 Additional Physical Standards by Class of Mail
2.3 First-Class Package Service Parcels
2.3.2 Additional Physical Standards
[10-3-11] The address side of the parcel must be large enough to contain all delivery and return address, endorsement, postage, and label elements. First-Class Package Service parcels are eligible for Delivery Confirmation and Signature Confirmation services. A First-Class Package Service parcel is:
a. A mailpiece that exceeds any one of the maximum dimensions for a flat (large envelope).
b. A flat-size mailpiece, regardless of thickness, that is rigid or nonrectangular.
c. A flat-size mailpiece that is not uniformly thick (has bumps, protrusions, or other irregularities that cause the thickness to vary more than 1/4 inch).
2.0 Physical Standards for Flats
2.1 General Definition of Flat-Size Mail
Flat-size mail is:
a. More than 11-1/2 inches long, or more than 6-1/8 inches high, or more than 1/4 inch thick.
b. Not more than 15 inches long, or more than 12 inches high, or more than 3/4 inch thick.
c. Flexible
http://reviews.ebay.com/What-can-I-ship-using-MEDIA-MAIL_W0QQugidZ10000000000692983
I hope that you have found this guide helpful.