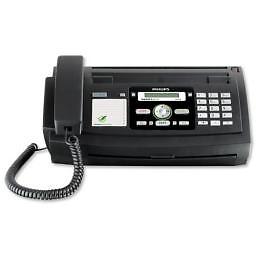 Fax machines provide an easy way to send documents over phone lines. Faxing is faster than regular mail and more affordable than overnight delivery. Even with the proliferation of email, businesses find fax machines indispensable for immediately sharing contracts, proofs, and other written documents. When buying a fax machine for your business on eBay, know which features you need.

Select Fax Machine Technology
The faxing process is fairly straightforward: a fax machine scans each outgoing page and converts the images into a series of light and dark dots. This pattern is then translated into audio tones and sent over regular phone lines. The receiving fax machine "hears" the tones, pieces the grid together, and prints the total compilation of dots to produce black and white copies of the original pages. Color faxing is also possible, but fairly rare. While a standard for color faxing has been adopted, many manufacturers don't use it yet. The only reliable way to fax in color right now is to fax between two color fax machines from the same manufacturer. In coming years, the standards should settle down and both laser and inkjet color fax machines should become available.
The two main types of modern fax machines — inkjet fax machines and laser fax machines — print on plain paper instead of the thermal paper used by older models, making curled, waxy, hard-to-read and quick-to-fade scraps of faxes a thing of the past. Fax machine prices vary quite a bit. At the low end, you can find thermal transfer fax machines and inkjet fax machines suitable for home offices. True business-grade fax machines can better withstand the daily stress many businesses put on their fax machines and make a better choice for businesses that depend on fax machines for important documents.
Inkjet fax machines: Inkjet fax machines produce relatively crisp text at a low cost and make a good choice if you receive less than 30 faxes daily. For heavier usage requirements and faster print speeds, consider a laser fax machine instead.
Laser fax machines: Heavy-duty fax machines use a laser or light emitting diode (LED) printing engine, the same basic technology as laser printers. These laser fax machines use toner to quickly produce high-quality images on plain paper. Laser/LED printing is quite reliable, with few service needs beyond toner and paper. Be aware, though, that laser fax machines typically cost more than thermal transfer fax machines and inkjet fax machines.
Thermal transfer fax machines: In order to print, thermal transfer technology uses heat to transfer ink from a ribbon onto a page of plain paper. Thermal transfer fax machines are fairly reliable, inexpensive, and more common in the home-office market than true business fax machines. They can have a number of drawbacks, including mediocre print quality and noisy operation.
Be sure to consider the ongoing cost of toner or ink by determining overall cost per copy. For example, an inkjet cartridge may cost $20 and produce 400 pages, while a laser toner cartridge could cost $150 but produce 5,000 pages, making it a much better deal.

Evaluate Key Fax Machine Features
Expect feature-rich fax machines to cost more than basic fax machines. Faster machines with multiple paper trays, broadcast capabilities, and more memory for receiving faxes and storing numbers will push you towards the higher end of the scale. If you routinely send the same fax to multiple recipients, look for a machine with good support for broadcasting. This feature will let you scan the fax once, then send it out to all the recipients you enter.
Look at fax sending speeds
Fax machines with higher sending speeds, though typically more expensive, will often pay for themselves in reduced phone charges, which can be a significant part of the overall cost of sending faxes. The majority of fax machines these days transmit at a top speed of 36.6 kilobits per second (kbps). This equals a send time for a single page of about six to 10 seconds. Some low-end models are only capable of 14.4 kpbs, which is still faster than the standard 9.6 kpbs of years ago. Regardless of their top speeds, any two fax machines can communicate. However, they can only connect at the maximum speed of the slower machine.
Assess data compression protocols
Simply put, data compression protocols reduce the time it takes to send a page by describing it with a minimum amount of data. Virtually all fax machines are equipped with a basic compression protocol called Modified Huffman (MH). Machines equipped with the more advanced Modified Read (MR) or Modified Modified Read (MMR) protocols can send documents as much as 25 percent faster. Some machines use proprietary compression protocols to increase the speed of transmission even further. You should know, however, that these protocols only work when sending to or from same-brand models. Unless you frequently fax between two offices with the same type of machine, you won't noticeably reduce your overall sending costs with such brand-specific compression systems.
Consider your memory needs
Memory enables commercial fax machines to store incoming or outgoing pages internally. The amount of memory required to hold a page depends on the density of the image, but in general, you can expect 512 kilobytes to hold 20 to 25 pages. If the standard memory isn't sufficient, most commercial fax machine models accept additional memory cards. There are three common types of memory features:
Out-of-paper reception: This is one of the most useful memory features because it saves incoming faxes in memory if the machine runs out of paper.
Quick scan: With quick scan, you can scan a page into memory before beginning a transmission. That means you don't have to wait at the machine until it finishes sending the original.
Dual scan: This capability uses memory to let you send and receive faxes at the same time. For example, you can scan an outgoing fax into memory while a fax is being received. The scanned fax is then sent directly from memory when the phone line becomes free.
Know your paper-handling options
What size pages you fax most often? The vast majority of fax machines are built to handle standard 8.5" x 11" paper. If you need to send and receive legal size or 11" x 17" documents, make the fax machines you consider support those sizes. Firms that receive faxes on legal-sized paper should look for a machine with two paper drawers that allow legal- and letter-sized faxes to be printed on appropriately sized pages without switching paper trays. Some fax machines print the pages of incoming faxes last page first. Buy a fax machine with this feature if you don't mind reshuffling the pages into the correct order before reading.
Many fax machines can be connected to a computer to serve as a printer and/or a computer scanner. Almost all can be used as "convenience copiers" – they don't offer the full range of features or the speed of a dedicated copier, but for a couple of copies, they can save you a trip down the hall. If you use your fax machine as a printer for mailing purposes, check if you can print onto envelopes or labels from the fax machine you're considering buying.
Sending unsolicited advertising faxes is a form of spam – and it's illegal. Make sure you only fax offers to customers and prospects who have requested them. On the flip side, if you receive annoying spam faxes, fax machines that save incoming messages for printing later can be useful. Just preview the fax before you print it and delete spam without printing. Fax machines tend to be very reliable with a typical lifespan of five years, especially if you receive fewer than 50 pages a day. Remember to periodically clean the scanning window as well as any dust filters within the machine. Although fax machines can come with service contracts that cover or partially cover the cost of repairs or replacement parts, most eBay sellers do not offer service contracts with their items.

Find Fax Machines on eBay
Once you know what type of fax machine you want, go to the Business & Industrial category portal, click the Fax Machines & Supplies link below Office, Printing & Shipping, and start searching for items on eBay.
Categories: The Categories list on the left side of each page will help you narrow down your listings by item type. To start, choose between Fax Machines and Fax Toner & Supplies. As you dig deeper into the site, you'll be able to narrow your choices further by brand or subcategory.
Keyword search: Search eBay listing titles for specific words. For example, if you want to find a laser fax machine that handles legal-size paper, type "laser fax legal" (without quotation marks) into the Search box. Click "Search title and description" to expand your results. Visit eBay's Search Commands page for more tips on searching with keywords.
If you can't find exactly what you want, try shopping eBay Stores, tell the eBay Community what you want by creating a post on Want It Now, or save a search on My eBay and eBay will email you when a match becomes available.

Buy Fax Machines With Confidence
Hundreds of fax machines listed on eBay in the Business & Industrial category will likely interest you. When trying to select the right fax machine, get to know exactly what you're buying, research the seller, and understand how eBay and PayPal protect you.
Know your purchase
Many sellers put a lot of time into creating their listings, making an effort to ensure they include all the information buyers need. Carefully read the details in listings for the fax machines you consider buying and carefully review available photos. Before placing a bid or buying an item, be sure to:
Have all your questions answered: If you still have questions after reading the listing and reviewing the photos, contact the seller using the Ask seller a question link in the "Seller information" box in the top right corner of every listing. Also request additional photos if you want to see the fax machine from a particular angle that isn't shown in the photos included in the listing. If you have more questions than you can address in email, get the seller's phone number and give him/her a call. Some sellers even include their phone number so you can call them directly. Just remember that you need to actually bid and buy on eBay in order to be covered by eBay and PayPal protection programs (see "Buyer protection" below for more details).
Get delivery details: Calculate and include delivery costs into your final price.
Complete your transaction on eBay: Always complete your transaction on eBay (with a bid, Buy It Now, or Best Offer). Transactions conducted outside of eBay are not covered by eBay and PayPal protection programs (see "Buyer protection" below for more details).
Know your payment options: Never pay for your eBay item using instant cash wire transfer services such as Western Union or MoneyGram. These payment methods are unsafe when paying someone you do not know. Instead, pay with PayPal for amounts less than $2,000 (including deposits), a money order, or direct bank-to-bank fund transfer.
Track items with eBay Toolbar: Use the free eBay Toolbar to track items you bid on and watch. It includes Account Guard, a feature that indicates when you're visiting a verified eBay or PayPal website and warns you when you enter your eBay password into an unverified site, even if it looks like eBay or PayPal.
Know your seller
Just as important as researching your fax machine purchase is getting to know the seller. Take time to research the seller so that you can feel positive and secure about every transaction. Key things to look for when evaluating a seller are:
Positive Feedback: What is the seller's Feedback rating? How many transactions have they completed? What percentage of positive responses do they have? What do buyers and sellers say in their Feedback? Did the seller receive praise?
Sales history: Find out how long the seller has been a registered eBay user and look at the types of items a seller typically offers.
Terms and conditions: What are the terms and conditions of the sale? Are the terms agreeable to you? Sellers typically set terms and conditions, but you should make sure you agree with them. If not, find another seller/fax machine or contact the seller to find out if he/she is open to your suggestions.
Good communication: Once you've initiated communications with the seller, how is he/she communicating with you? Is the seller courteous and professional? Is the seller responsive? Once you bid, communicate with the seller through My Messages in My eBay. All legitimate Second Chance Offer messages will come through My Messages and not to your email address alone. Always contact the seller before accepting a Second Chance Offer, and never respond to any request to send money via Western Union or other instant cash transfer service.
Buyer protection
In the unlikely event that you don't receive your item or it is not as described, eBay Buyer Protection will cover your purchase price plus original shipping. Learn more.