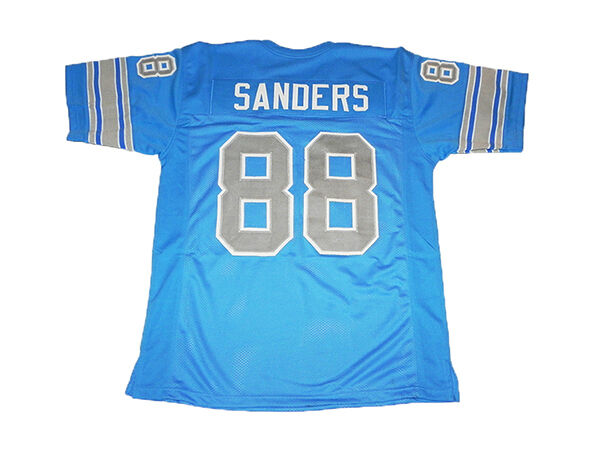 Some Father's Day gifts almost buy themselves, especially when Dad has been hinting about what he wants. However, more often than not, those hints can be vague or full of falsehoods disguised as niceties. After all, he may say that he'll love whatever he gets, but is that really true? If Dad is a Detroit Lions fan, getting him the best gift for Father's Day doesn't have to be a hassle. If budget isn't an issue, consider buying tickets to a game. Then, for a more budget-friendly option or for season ticket holders, it's time to take a look at authorized apparel. Dad might also like Lions memorabilia.
Game Tickets
Tickets are a great gift for any sports fan, but football season in Michigan can get downright cold. Why limit Dad to going to a game there?
Somewhere Warm
The game against the Arizona Cardinals in Glendale is sure to include much more pleasant weather than most games in Detroit. Additionally, any upcoming Lions game in a warmer climate will most likely be a highly welcome change as the weather gets colder back at home.
A Train Ride to the Windy City
Any Detroit Lions fan is sure to enjoy watching the team clash with the Chicago Bears at Soldier Field. The whole family can go on the train ride together and have dinner before or after the game or just enjoy the sites of the city before heading home.
Lambeau Field
If Dad is the type to let the game keep him warm, send him toLambeau Field to see the Lions meet the Green Bay Packers. Sometimes the gift is all about the memories it creates. Adult children might even plan to spend the day with him so they can make some memories together, even if the games isn't played on Father's Day.
Authorized Detroit Lion Apparel
Football season may be months away, but that doesn't mean Dad can't display his Lions pride right now. NFL licensed apparel is a fun gift for any Detroit fan. The options are varied and can cost as little as $8. Options include sunglasses, jerseys, t-shirts, and even ear buds. Don't forget a camera for recording the game in high definition.
Sunglasses
When considering NFL licensed sunglasses, the first question should be whether Dad prefers aviators or wrap sunglasses. Aviator sunglasses were popular in the mid-1980s after Tom Cruise wore them in the movie Top Gun, but wrap sunglasses have been gaining popularity as well.
Team Jerseys
Team jerseys are another gift option for Detroit Lions fans. These oversized nylon shirts are styled to look like the players' uniforms. For the best Father's Day gift, choose a jersey bearing the number of Dad's favorite player. If it's available, an autographed jersey can make the gift even more meaningful.
T-Shirts
Detroit Lions t-shirts are a practical yet fun gift option for Dad. These light-weight shirts may be too cool to wear to the games in the fall, but they are good for mowing the lawn or hanging out on the deck all summer long.
Ear Buds
Team logo ear buds. If Dad is considering a family trip this summer, or just needs to be able to express his love of the Lions while working out, ear buds with the Lions' logo can make a nice Father's Day present.
If none of these options is right for Dad, don't give up. The NFL also licenses hats, sweatshirts, jackets, and more. The choices are practically endless.
Memorabilia
For dedicated fans, team memorabilia can make an exciting Father's Day gift. This Father's Day gift will remind Dad of something he loves – the perfect game or the perfect game spent with his family.
Buy a Father's Day Gift for a Detroit Lions Fan on eBay
eBay has a huge selection of Father's Day gifts for the devoted Detroit Lions fan. To find Detroit Lions items, go to eBay.com and choose the Sporting Goods category. From that page, select the Team Sports tab, and then choose Football. Put Detroit Lions in the search field.Alternatively, start on the eBay home page and choose the Collectibles & Art category. From there, choose the sports Memorabilia tab. Shoppers can find gifts under any tab, but Fan Apparel & Souvenirs is a good place to start.
First and Goal
Choosing the perfect Father's Day gift for a Detroit Lions fan is easy no matter what the budget. Buy Dad tickets to an away game or gift a new sweatshirt or Lions memento. Choosing a sports-related gift for a sports fan means Dad really will love what he gets.