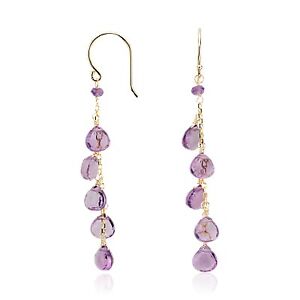 Jewelry can help you express your personal style, update last year's wardrobe, and bring life to a drab outfit. To accomplish your fashion goals, know what is hot in jewelry trends and watch what jewelry celebrities wear. Celebrities generally wear the most fashionable pieces and are excellent sources for ideas. Fashion jewelry refers to bold, statement pieces that stand out in a wardrobe, rather than plain chains and other simple jewelry. Fashion jewelry can be found in various department stores, in thrift shops, and even on auction sites like eBay. Wherever you decide to purchase your accessories, know what to look for by following trends and celebrities.


Discover the Most Recent Jewelry Trends
Trends come and go, but quality jewelry withstands the test of time. Even if a popular jewelry fashion retires for a season, it never fails to come back. When it does, you'll have a piece of jewelry that fits the season's current styles. Follow fashion magazines and blogs to see what celebrities are wearing and what designers are featuring in their runway shows. This will keep you linked to current trends. However, you may want to consider jewelry that is timeless so you get more use out of your pieces. Some jewelry styles that never entirely fade from the fashion scene include nature pieces, dark stones, dangle earrings, and pearls.

For more tips on how to choose the right jewelry, check out this video:


Jewelry Inspired by Nature
Look for leaf jewelry, including silver leaf earrings, jeweled leaf brooches, and gold leaf necklaces, as well as acorns carved out of agate or amber. Butterfly jewelry, especially butterfly brooches, continue to soar to the top of most must-have jewelry lists. Mariah Carey, known for her love of butterfly jewelry, is certainly doing her part to keep butterflies popular.
Dark, Moody Stones
Dark jewelry is dramatic and chic. Search for stones that have an earthy, exotic look, such as black onyx, black jade, Australian black opals, black pearls, and black diamonds. These pieces are a dramatic departure from light-colored stones.
Dangle Earrings
Dangle earrings are a classic that always look modern. Long, diamond dangle earrings can look dramatic on a night out, while demure, gold dangle earrings work nicely for day. Pearl dangle earrings give you all-day classic glamour, but save those extra-long shoulder sweepers for evening. To properly display dangle earrings, arrange your hair in an up-do or back in a ponytail.
Piles of Pearls
Pearls are versatile and can make you look classy or trendy. For a chic Grace Kelly look, wear a single, short strand of pearls. For a more dramatic look, wear various types of pearls in different lengths. Mix strands of pink pearls, black pearls, and freshwater pearls for variety.
Follow Celebrity Jewelry Trends
Many jewelry trends start on the red carpet. Paying attention to the jewelry celebrities wear via fashion blogs, magazines, and social media outlets keeps you in touch with what kind of jewelry is popular at the moment and also which fashion pieces withstand the test of time.
Dress Up With Diamonds
Marilyn Monroe once claimed that diamonds are a girl's best friend, and red carpet regulars couldn't agree more. Diamonds of every style and hue, such as modern, vintage, white, yellow, pink, and blue diamonds continue to dominate at Hollywood award shows, with everyone from Angelina Jolie to Oprah wearing them. Of course, very few people can afford to be dripping in diamonds. Cubic zirconium is an inexpensive, everyday alternative to real diamonds, and it looks authentic.
Draw Attention to Your Face
Celebrities often wear earrings, necklaces, and hair ornaments to events, knowing photographers often take pictures of them from the neck up. Celebrities want to put their fashion jewelry where it shows and draw attention to their faces. When Viola Davis appeared at the 2012 Academy Awards, she was right on trend with a pair of green dangle earrings and no necklace. Making your face stand out is always in style.
Embrace Bangle Bracelets
Stars continue to wear bangle bracelets when they're out and about. Try wearing an arm full of skinny, gold bangle bracelets with a single, wide jade bangle bracelet for a splash of color. For a more bohemian look, wear bangles that are made of wood or bamboo.
Give Jewelry a Dual Personality
The public eye frequently focuses on celebrities, so some of them don't like to be seen in the same jewelry too often. These celebrities think of ways to mix their jewelry up and make it look different. You can do the same to get more mileage out of your accessories. For example, you could:
Put vintage brooches on a ribbon and use it as a headband instead of only wearing brooches on your lapel.
Sweep your hair up into a bun and wrap the base of it with a string of pearls for a fresh look.
Place a brooch on a chain to turn it into a necklace.
Dress your handbag up for an evening out by adorning it with a brooch or a necklace around one of the handles.
Where to Buy Fashion Jewelry
Thrift stores, online retailers, craft vendors, and department stores are all options for buying fashion jewelry. If you want something unique or one-of-a-kind, consider purchasing from an antique store or craft vendor. Both will have an assortment of rare or vintage accessories. To find more mainstream choices to round out your wardrobe, visit a department store.
Find Fashion Jewelry on eBay
Once you know what fashion jewelry pieces you want, go to eBay's Jewelry & Watches portal and take a look around. With such a large selection, you may have to do some digging to find jewelry that suits your unique tastes. Depending on the seller, you may even be able to get a discount for buying more than one of their items.
Categories: The Jewelry & Watches portal holds links to all the major jewelry categories on eBay, including bracelets, charms and charm bracelets, earrings, hair jewelry, men's jewelry, necklaces and pendants, pins, brooches, rings, sets, vintage, antique, watches, and more. Additional category lists on the left side of each listings page will help you narrow the search further by subcategory.
Fashion Jewelry Hub: Browse and be inspired by beautiful jewelry at the Fashion Jewelry Hub. One can view a large selection of fashion jewelry that includes body jewelry, bracelets, charms and charm bracelets, earrings, hair jewelry, necklaces, pendants, pins, brooches, rings, and more.
Product Filters: Certain categories within Fashion Jewelry have associated product filters. Choose options from the drop-down menus to narrow the listings. For example, the body jewelry finder allows you to search by condition, price, location, buying format, and seller.
Keyword Search: Search eBay listing titles for specific keywords. For example, if you want to find a cameo brooch, type "cameo brooch" (without quotation marks) into the search box. Click the "include description" box to expand your results. Visit eBay ' s Search Tips page for more advice on searching with keywords.
If you cannot find exactly what you want, shop eBay Stores,, tell the eBay community what you want by creating a post on Want It Now,, or save a search on My eBay, and eBay will email you when a match becomes available.
Buy Fashion Jewelry with Confidence
Before you purchase fashion jewelry on eBay, make sure you know exactly what you are buying, research your seller, and understand how eBay and PayPal can protect you. Following a few simple guidelines will make all the difference between a good or bad experience.
Know the Purchase
Carefully read the details in an item listing. Factor delivery costs into the final price. If you spend a lot of money, make sure the seller will insure the item when it ships. Buying insurance on expensive purchases can be a good investment. If something happens to your package during the shipping process, you will be protected. If you want more information about an item, ask by clicking the "Ask a question" link at the bottom of the listing.
Always complete your transaction with a bid, Buy It Now or Best Offer. Transactions conducted outside of eBay are not covered by eBay protection programs. Never pay for your eBay item using instant cash wire transfer services or personal check. These payment methods are unsafe when paying someone you do not know. In the unlikely event that you do not receive your item or it is not as described, eBay Buyer Protection will cover your purchase price plus the original cost of shipping. With this protection, you will not lose any money that goes toward a purchase you are not able to use.
Know the Seller
Research the seller so you feel positive and secure about every transaction. What is the seller's feedback rating? How many transactions have they completed? What percentage of positive responses do they have? What do buyers say in their feedback? Did the seller receive praise? Most top eBay sellers operate like retail stores and have return policies. Check to see if the seller offers a money-back guarantee with favorable terms and conditions. While many sellers list their items as-is and choose not to accept returns, you may find sellers who are more flexible. This works in your favor when you purchase jewelry or apparel from a brand you are not familiar with. If you have sizing issues, you may need to return or exchange your purchase.
Conclusion
Fashion jewelry can update your wardrobe in an instant. A sweater you have had for years can look new again simply by adding an ornate brooch or pin. Celebrities serve as inspiration for ideas of what kind of jewelry to wear and how to wear it. Accessories can be used for more than just the obvious. Place necklaces in your hair or even on your handbag to get more use out of them. Thrift stores and websites like eBay can carry uncommon fashion jewelry for a reasonable price. It is easier than ever to look stylish every day without breaking the bank.