spotting fake Ray ban on the internet and Ebay is fairly easy .
Few tips:
1/ A seller having only Ray ban for sale and having only RB3025 or RB2132 is HUGELY suspicious .
No official reseller supply by Luxottica would have only these 2 references . And an official reseller wouldn't have both , authentic and fake Ray Ban .
2/ All authentic Ray Ban have the full reference engraved on the left temple . All fake would have only something like that " RB3025 large" .You will never find
the full reference on a fake ... Too expensive to manufacture .
Full reference means the model (ie: RB3025) , the reference (ie: W3234) and the size (ie: 50[ ]40)
Photo of the left temple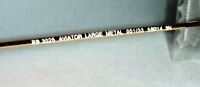 You cannot have this photo ... Forget , you are buying a fake .
3/ $30.00 for a real Ray Ban !!!!!!!!!!!!!! give me the address , i buy the whole stock .
4/ "made in Italy" seams paramount for most buyers ... Ray Ban are made in Italy and China . All fakes are engraved "made in Italy".
5/ the RB on the lenses , on the nose pad ... and so on , again , do not mean genuine ... All fakes got that.
6/ The way the listing have been post on Ebay gives you a very good indication .
New Ray Ban RB3025 black frame green lenses ..............................99.99% it's a fake
New Ray Ban RB3025 L2823 58mm ..............................................99.99% it's a genuine (as long as you can get the left temple's photo)
7/ The last one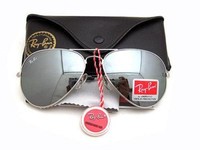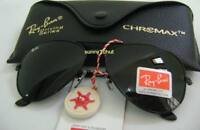 See the lovely red "medal" or the tag ? THESE ARE FAKES