There are many imitations of all kinds on eBay. In order to help all bidders to determine for themselves which is authentic, here is my guide on how spot fake Juicy Couture Bags & Carriers, what to look for when you're purchasing a Juicy Couture Bag, and information on buying from legitimate sellers.
FAKE SERIAL NUMBER--- All Juicy Couture handbags have a style number inside the pink tag, some people called it serial number. Before, the counterfeits did not have that style/serial number inside the pink tag. But unfortunately we found out the counterfeits now come with the style/serial number too. So how can we tell if the bag is authentic since the counterfeits now have the serial/style number too? Counterfeits usually have a small /tiny white sticker (serial number) inside the tag. The real serial/style number is not a small/tiny white sticker. What is the real style/serial number look like? I can't list everything, because juicy uses different serial/style number sticker for every season's product and every design. For example-Some of last year's leather bags have 2 sticker inside the pink tag, this year's leather bag only have one sticker and the sticker is bigger. Some of last year's bags come with clear serial/style number sticker, this year's products have white serial/style number sticker.
Another very important thing to remember: I have seen some seller say "all of our juicy items have their VERY OWN serial number inside the pink tag." This information is TOTALLY WRONG. Juicy Couture bag does not have their very own serial/style number inside the tag. The serial/style number is NOT unique. I will not list any more detail or photos of the serial/style number because the counterfeits maker or counterfeit seller might try to copy again once they see the photos. If you have questions, feel free to ask.
100% AUTHENTIC OR MONEY BACK--- Almost every seller claim they are product to be 100% AUTHENTIC or they will refund your money. I have seen some 100% fake Juicy counterfeits, but the seller still post a big 100% AUTHENTIC OR YOUR MONEY BACK GUARANTEED in their auction. 100% AUTHENTIC OR YOUR MONEY BACK really does not mean very much. No seller will say their item are counterfeits. PLEASE BEWARE!
IMITATIONS--- There are many sellers who try to imitate us. They do whatever they can to try to copy the BABY DOLL style: they copy our descrption (maybe change a few words here and there), they copy our photos or our own photo style, such as background, decoration in the photo. They copy our designs, such as glitter letters.
When you see that a seller makes you think "is that baby doll?" then BEWARE! We are the only BabyDoll. Usually sellers who try to imitate us aren't professionally trained. When you compare their work to our work (original), you will definitely see a difference. Funny part is, there aren't just imitations of high end name brands, nowadays there are imitations of our company BABY DOLL. Well.. we can think of it in a good way, maybe our company became so popular where people would like to imitate us so much! =)
Example: There is a seller who wants to imitate us so much that he/she posted a photo of a random store's interior in her/his listings, she/he claimed it's his/her store. She/he even copied our full store description and put it in her/his about me page. Anyone can put a random store picture and claim it to be their's. Our store photo has our store name BABY DOLL on it, we have our own woven label for our dog clothing line, we also have our price tag that says BABY DOLL on it. If you have any question about our boutique, please feel free to ask. By the way, this is the same seller who was using our glitter letters. (He/she took it off after we reported her/him)
WHOLESALERS---We ensure you that there are NO WHOLESALERS of JUICY COUTURE, only RETAILS. You have to be in business (not eBay) ideally a boutique, or proper shop to sell designer handbags.
WHERE DOES THE SELLER GET THEIR PRODUCT FROM?
WHERE IS THE SELLER LOCATED AT?
HOW DOES INTERNATIONAL SELLERS OFFER AUTHENTIC ITEMS AT SUCH LOW PRICE?
The Distributor is located in Los Angeles. I have seen many sellers from other states and I wonder how those sellers get the product from an LA Distributor. Even more odd, sellers from other countries are also offering Juicy Couture products, because Juicy Couture is a USA brand. They don't have a distributor in other country. If the seller from other countries buy merchandise from the LA Distributor and pay for EXPENSIVE international shipping and DUTY TAX. How are they still able to offer buyer such a low price?

PRIVATE FEEDBACK SELLER, FEEDBACK IS VERY IMPORTANT---
PRIVATE FEEDBACK SELLER, Be very cautious of sellers who keep their feedback private. Authentic sellers would have nothing to hide. Why would you want to hide positive feedback, right?
SELLER WHO DOES NOT HAVE 100% FEEDBACK, when seller does not have 100% positive feedback, read why they got the negative feedback. When you see seller has less than 300 feedback, but they already have 1 or 2 negative feedback, be very aware of that. Seller can always claim the bags are authentic, that they got it from the manufacturer, but why don't they have 100% feedback if their products are authentic?
SELLER HAS 100% FEEDBACK, Some seller only have 30 something feedback, they claimed "bid with confidence, 100% positive feedback", if the seller only have 1 feedback, it will still appear as 100% positive, so please check how many feedback does the seller have.
LOW BUY IT NOW PRICE--- Buyers who shop on eBay usually are trying to find a good deal. But if the retail price is $300, seller is selling it for $150 or less (item price and shipping price combined. when you are looking at the price on eBay, be sure you add the shipping charge into the total.) That doesn't sound right, does it? $150 deducted eBay fee, paypal fee, shipping charges, and seller still makes profit? For example, I have seen some seller sell a croc leather carrier for $175 and FREE SHIPPING. The croc leather carrier retail price is almost $400, $175 minus approx $15 eBay fee & paypal fee, and minus $10-15 shipping. The seller still makes profit? Again, you do the math, how much did the seller buy these carriers for and from where?
DESCRIPTION OF THE ITEM--- Read the full description, if the seller advertises that it is Authentic, they will know the product. For example, I have seen many sellers that sell pet carriers describe "fits 8-10lb" some even say "fit up to 15 lbs" for a small carrier. Why would the seller put false information? Maybe they have never even seen the carrier, which means they do not have the item on hand. Or they have no idea of what they are selling. A Juicy Couture small pet carrier (13x7x9)will not fit 15lb dogs. 8lb?...barely. 10lb?... I don't think so, unless the baby is extra short in length, but chunky. A seller who sells Authentic Juicy Couture doesn't even know the product? Would you believe that they are selling authentic Juicy Couture? So read the description. If you see anything that sounds odd, be careful!
JUICY COUTURE MADE IN CHINA & SERIAL NUMBER--- Most people are unaware that almost all Juicy Couture is made in China. The brand itself was made and in the good old USA, hence, the statement "Made in USA". However, the actual bags and carriers are manufactured in China. If this is too hard to believe, I encourage you to visit your nearest Nordstroms and check out the tags. You will see they all say "Made in China". Fact of the matter is, almost everything that is affordable in the United States are manufactured in China. Everything from name brand bags to shoes to even popular computer processors like Intel. However, the company itself is "Made in the USA". Unfortunately, the actual tag is not as much help in determining a Fake Juicy Couture Bag. However, your bag should definitely have a tag on it WITH a serial number. If the bag or carrier's tag has no serial number on it, then it's fake.

MARKINGS ON THE HARDWARE--- Almost All Authentic Juicy Couture Carriers have small metal knobs with Juicy Couture Engravings on them. If your bag has little metal knobs or feet at the bottom of the bag, check to see if there are little Juicy Couture markings on them. Unfortunately, some replicates do have all the markings. But if you see one that does not have the markings, then you know it's 100% fake.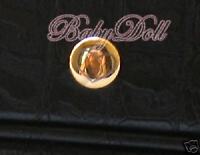 SHIP FROM OUTSIDE OF US--- Be sure to check the package to make sure it was actually shipped FROM the US--- Juicy Couture sold from outside the USA are probably not authentic (not to mention if something does go wrong you will probably have a hard time communicating with the seller so international sales are usually non refundable). While most Juicy Couture is manufactured in China, those manufacturers are under strict contracts. All Juicy Couture is shipped to distribution centers in the US. Also almost all counterfeit bags are made outside the USA so the odds of finding an authentic Juicy Couture Bag are better if it is from a US seller.
STOCK PICTURES, HANDLING TIME--- Beware of sellers who use stock pictures (not their own photos). Many sellers do not have the bag on hand, so they use stock pictures from web sites like Nieman Marcus, Nordstroms or even use other seller's photo. We have caught many seller's using our photos or descriptions. Sellers that do not have the bag on hand usually post a listing using other people's pictures. After you buy it and send payment, they use YOUR money to order it from some unknown wholesaler, and make a huge profit. Usually, the handling time stated in the auction is particularly lengthy.
WE HAVE ANOTHER TWO GUIDE OF
PHOTOS OF FAKE JUICY COUTURE HANDBAG PET CARRIER 1
PHOTOS OF FAKE JUICY COUTURE HANDBAG, PET CARRIER 2
Don't be afraid to ask questions about what you're buying. If you're not sure about something, an authentic seller should be happy to help you out. We answer hundreds of questions everyday replying to emails. Feel free to find out what you're bidding on. YOU ARE WELCOME TO CONTACT US WITH ANY QUESTIONS, NO PURCHASE NECESSARY =P