Ask the seller for the serial number that is usually stamped under the nose-bridge frame.
The serial number is very small, call Cartier at (800) 447-XXXX and tell them the number to make sure the glasses are as described.
UPDATE: Even scam artist are using this review to push their fakes. Cartier now has to verify through the Retail stores or sent to Cartier New York for verification.

NO MORE PHONE NUMBER!

All Cartier Eyeglass Frames and Sunglasses Frames are serial numbered, and can be verified at any Cartier Store also.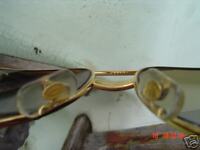 This is my pair of Santos and says 598863
The back side of the nose-bridge has Cartier in script, PARIS in block lettering. The next line has numbers that tell first the lens width in mm, the
Cartier interlocking C's logo last the nose-bridge width in mm. My Santos say, 59 (logo) 14.
This is fake. just look at the offset stamp. Has frame model number the logo then the nose-bridge width in mm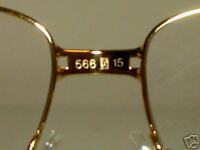 The numbers are Twice the size of normal. No Cartier and Paris on the nosebridge. Says 566 (logo) 15.
.Ask if they are glass lenses, not plastic. Polarized lens are new ( real DUMONT aviators) and are GLASS ( I tried them on at LensCrafters!).
Cartier marks one temple (left) with Cartier Made in Paris and the temple length.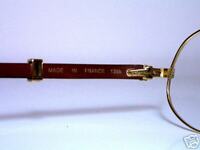 The right side with the millimeter measurement of the temple length only, like this Vintage Santos.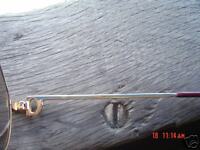 It says 135
This next picture is of a FAKE!!!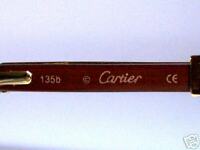 You can see this is the right temple. and has Cartier on it!
I've also noticed on Vintage Cartier metal frames the plastic on the temples are Burgundy colored.
Very important! Is the insert in the Temples... They are hand engraved!!! Gold Too!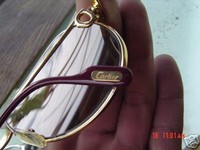 As you notice the temple insert is flush to the burgundy plastic.
And not a casting or stamped . .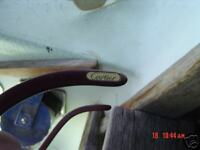 This is a Fake Bubinga wood Temple insert. Look how shoddy the craftsmanship. The insert sits indented to the surface. The Cartier name is shiny and RAISED, also the BACKGROUND is matted. Is it machine stamped? Might be Gold?
If you need more info or larger pictures. If I can make any points clearer to you I will be happy to write. I'm trying to get a macro lens to take Real close up pictures.
I have been ripped off so you don't have to!
I hope everyone else find of Cartier glasses are Genuine!
Thanks for reading this review!
Mikey