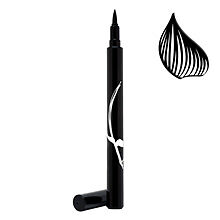 Few cosmetics can change the look of the eyes as completely as eyeliner. It can take a style from day to evening with a single brushstroke or add subtle, flattering definition to an otherwise bare face. From winged shapes that elongate the eyes to a thin rim of color that defines them, eyeliner is an essential tool for makeup artists. Applying eyeliner like a pro at home takes a little more practice, but it is a skill that everyone who wears makeup should perfect.
Eyeliner can go soft for the office or a casual daytime event. When it is applied at the base of the eyelashes, it creates the illusion of a thicker, darker lash line without mascara. For evening, eyeliner becomes bold, tilting or enlarging the eyes for dramatic effect. Knowing which types of eyeliner to buy to create these special effects and understanding how to apply them will widen any makeup repertoire.
Types of Eyeliner
Eyeliner comes in a variety of formats, each of which has its benefits and drawbacks. At its most basic, eyeliner consists of pigment particles suspended in a base of oil and wax. These simple formulations have been around as long as people have worn cosmetics. Although these oil-based liners are still available, silicone-based blends and new applicators have broadened the selection of eyeliners considerably.
Pencil
Pencil eyeliners are thin, waxy sticks of pigment encased in wood or paper. They are the most popular form of eyeliner, and they are one of the most affordable. Pencil eyeliners range from firm to soft; a firm pencil will draw a longer-lasting line, but a soft pencil is easier to apply without pulling at the delicate skin of the eyelids. Pencils also come in a wider variety of colors than most other eyeliner forms, so they are a good choice for experimenting with different hues.
Some pencils are marketed as kohl eyeliners. Kohl is an ancient product, but modern eyeliners that borrow the name do not contain the dangerous lead-based pigments in traditional kohl. Liners labeled as kohl pencils are typically soft and easy to smudge. Softer pencil lines blend easily, so this smudgy characteristic can be a benefit for certain eye looks. Shop for kohl liners to get a softer, denser line.
Many eyeliner wearers choose pencil eyeliner for everyday application for its ease of use and portability. Oil-based pencil liners blend easily and need no drying time, so they are also optimal for those who are not as practiced with eyeliners.
Pen
The pen eyeliner offers the ease of a pencil with the long-lasting, sharp line of a liquid eyeliner. They are a relatively recent invention and are not yet available in a broad array of colors. While these liners are considerably easier to apply and dry more quickly than liquid eyeliners, they do not achieve the color intensity of a traditional liquid liner.
Opt for a pen eyeliner to get the crisp lines of a liquid in a neater, more easily applied format. Some brands may require two coats to achieve a rich color, but because the product goes on easily and applies quickly, the extra step should not take long.
Liquid
Liquid eyeliner is long-lasting, highly pigmented, and dramatic. It is also a challenge to apply. Liquid liners go on like paint with a small brush or wand that is attached to the cap of the eyeliner tube. Other brands include a finely pointed or chisel-shaped felt tip similar to that on a marker instead of a traditional brush. These felt tips are somewhat easier to control than a brush, but they cannot achieve as fine a line. Some makeup artists prefer to use their own lining brushes for more control.
Liquid eyeliner leaves a sharply delineated mark regardless of the tool used. Once it dries, this line resists smudging or blending. However, liquid liner formulas can take some time to dry, and a single blink before the liner has set can create a mess. Liquid liner is for those who have practiced applying it neatly. It has an unmistakable crisp line that no other eyeliner formula can duplicate, and its longevity makes it a popular choice for evening and stage makeup.
Gel and Cream
The soft texture of a gel or cream eyeliner makes it easy to apply, but its intensely saturated color is similar to that of a liquid liner. Like liquids, gel and cream eyeliners are applied with a brush; however, their thicker texture is easier to apply without mistakes. Once it dries, gel eyeliner is highly resistant to smudging or fading, but it takes some time to set. Until it dries, gel liner is soft and smears easily.
Depending on how they are applied, creams and gels offer the easy blending of pencils or the crisp, sharp lines of liquids. Although they are versatile, gel eyeliners take practice to apply. They are also less portable than other types as they require a brush and a pot instead of a single container.
Powder
Powder-based eyeliners are easy to apply, but they are also the shortest-lived type of liner. Intense eyeshadow shades double as powder eyeliners when applied with a thin, flat brush. Most powder-based liners require a separate applicator.
Use powder eyeliner for subtle daytime looks or smudgy, smoky evening styles. To intensify a powder liner, apply it over a pencil or gel base. Powders will blur the crisp edges of liquid liners, but to create a smoky eye look, they are a valuable tool.
Eyeliner Options
Choosing a type of eyeliner is only the beginning. Once available only in black, eyeliners now come in a wide range of colors and finishes. These formulas promise smudge-proof and waterproof wear.
Colors
Although black remains the best-selling eyeliner color, it is far from the only choice. True black can look harsh on very fair skin tones; charcoal gray, dark plum, and chocolate brown look softer but no less dramatic. Brighter hues such as peacock blue and violet coordinate with brilliant eyeshadow for evening eye looks. White eyeliner goes along the inner edge of the lower lid to create a wide-eyed appearance.
Any product that is safe for eyes such as cream or powder eyeshadow can also be an eyeliner. Unusual shades of poppy orange, bright yellow, and true red can be a part of unusual or theatrical eyeliner looks. Avoid using lipstick or blush near the eyes. These products are not meant for use there and could cause irritation.
When choosing an eyeliner color, stay with neutrals and subdued tones for the office and save bright liners for evening. True neutrals complement any eye color and can be worn by anyone, but certain shades showcase eye colors beautifully. By surrounding eyes with a complementary hue, eye color becomes more vibrant.
| | |
| --- | --- |
| Dark brown | Dark eyes turn a deeper, richer shade of brown with black or navy blue eyeliner. |
| Light brown | Dark blue, green, and plum liners set off light brown and amber eyes. |
| Blue | Bronze and brown tones enrich the color of blue eyes. |
| Green | Green eyes become more intense with violet and purple hues. |
Another alluring look is a monochromatic makeup that matches the eye color instead of contrasting with it. Brown eyes look beautiful in any shade from chocolate to champagne, but blue and green eyes are more challenging to match precisely. Experiment with powder eyeliners that are easy to remove to find color combinations that work.
Formulas
Some eyeliners do more than add emphasis. Long-wearing and waterproof formulas make eyeliner indelible for hours. For those with sensitive eyes, the right liner keeps eyes comfortable all day.
Waterproof Eyeliner
Most eyeliners contain waxes and oils that make them naturally water-resistant, but new formulas are impervious to water, sweat, or anything but eye makeup remover. While a waterproof liner is an asset for a beach vacation, it may not be necessary for daily wear and can be challenging to remove completely each night.
Smudge-Resistant Eyeliner
Liquid and gel eyeliners that dry completely are more smudge-resistant than older formulas. Waxy or silicone-based pencil liners also resist smudging. Look for formulas that promise all-day wear for an eyeliner that will not slide into creases or run as easily.
Eyeliner for Sensitive Eyes
People with sensitive skin may want to look for cosmetics that contain no fragrances or unnecessary ingredients. Pencil eyeliners that consist of pigments in an oil and wax base are usually suitable for sensitive eyes. Some formulas are designed for those who wear contact lenses and want to minimize flaking or smearing.
Finish
Traditional eyeliner was matte or only mildly shiny, but modern eyeliners come in a variety of finishes to create special makeup looks. High-gloss liquid eyeliner adds drama with its precise edges and its patent-leather shine. Shimmering metallic liners in gold, silver, or copper can be used to line the entire eye or to add sparkle to the inner corners.
Buying Eyeliner on eBay
On the main eBay page, find the All Categories tab and hold the cursor over it to bring up a new menu. Locate the Health & Beauty section and find the Makeup tab on the left side of the page. This section contains a section labeled Eyes that includes everything from eyeshadow to Eyeliner in every format.
Conclusion
Eyeliner can bring about dramatic transformations or be a part of an understated, natural look. This versatile cosmetic requires some practice to apply well, but the time spent on experimenting with it will pay off with beautifully defined eyes. From soft, smoky kohl-rimmed eyes to crisply defined cat eyes, eyeliner is a makeup essential. Practice applying it and create any number of signature looks.