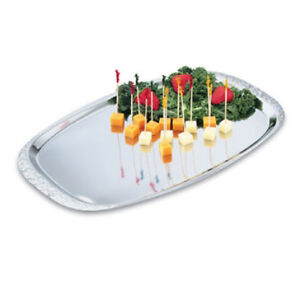 Catering is a fast-paced and exciting industry that is growing each year. Caterers of all types of events are in high demand. Whether someone is looking to run a small business out of a personal kitchen or open a large facility to cater to events with hundreds of people, a caterer need kitchen equipment and supplies to make the event a success. There is room for profit no matter how large the business is, but in order to be successful the caterer will need to understand what a caterer does, learn what is needed to operate a catering business, devise a concept for the business, and acquire all of the necessary supplies.
What is a Catering Business?
A catering business is a company that prepares and provides food for different types of events. A person will hire a caterer if they don't have the time or skills to put together the event themselves. Catering businesses come in different sizes, and some operate within a single venue while others will travel to different locations. Some caterers offer a strict menu while others are willing to work with the client to prepare the foods that they wish to serve at the event.
In addition to preparing the food, sometimes the catering business will also serve the food at the event. This means that the catering staff are not only trained in proper preparation and presentation of the food, but they are also trained in the proper ways to set the table and serve the food to the guests.
Types of Events That Need Caterers
Just about any event, large or small, that will be serving food can call upon the services of a caterer. Some catering businesses are equipped to handle parties of hundreds of people whereas others can only accommodate smaller parties. Events that commonly use caterers are weddings, birthday parties, anniversary parties, retirement parties, and awards banquets. Events, such as business luncheons, that are not being held in a restaurant may also hire a caterer.
Demand for Caterers
With so many different events requiring the services of a caterer, there is always a demand for catering businesses of all sizes. The demand for caterers has steadily increased as the demand for convenience meals and eating away from home has increased. It is considered to be the fastest growing segment of the food service industry in the U.S. The catering industry currently receives more than $7 billion per year in revenue and provides jobs to hundreds of thousands of people nationwide.
Startup Costs for a Catering Business
There are startup costs associated with starting a catering business, and how much those amount to depends on the size of the business. People can expect to invest between $1,000 and $80,000 for starting up a catering business. Caterers can save a lot of money on startup costs if they start small and use their own kitchens and equipment. The higher investment would include a separate facility with industrial equipment installed especially for preparing meals for events. The initial startup costs include the cost of table settings, tables, chairs, serving equipment, etc.
Renting Equipment and Hiring Temporary Workers
New businesses can further reduce their costs by renting equipment to use for the first few clients. Additionally, instead of hiring a full staff to work during the startup phase of the business, they can use a staffing agency to hire temporary workers on a per job basis. This ensures that the caterers can find experienced workers to help with the job and save time and money on training and salaries. Once the catering business has built up its reputation and begins bringing in a steady stream of business and revenue, the owners can begin investing in its own equipment, facilities, and full-time staff.
Developing a Concept for Your Catering Business
No matter how large or small a catering business is, it is not possible to master all types of foods. For this reason, the company should come up with a concept for the catering business and specialize in particular events and types of food. Coming up with a solid concept or idea for the business will make it easier to market the company and target specific clientele. The concept of a catering business includes the menu, the chef, and the food.
Menu
The menu for a catering business should complement the type of catering that the company wishes to provide. Different menus and types of food should be provided for business and industrial catering, social events, and mobile catering. Likewise, the catering business should specialize in a type of cuisine, such as gourmet, comfort food, ethnic food, etc. By focusing on a specific concept for the menu, the catering business will be able to market itself accordingly to draw attention from customers looking for that type of food and service.
Chef
Small catering businesses can get by with the owner being the chef. It is likely that people go into the catering business because they enjoy cooking and are proud of their cooking skills. In order for the business to grow and accommodate much larger parties and events, it may be necessary to hire a chef to help make the food and come up with menus. As the business grows, the owner will find that he or she has a lot of other tasks to attend to aside from preparing the food.
In addition to taking on the responsibilities of the kitchen so that the owner can focus on the business aspect, a chef will also help add to the reputation and credibility of the catering business. A chef's education and experience ensures that the food on the menu goes well together. The chef can also bring fresh ideas and creativity to the catering business. Additionally, the training and experience of the chef can be advertised to appeal to potential clients.
Food
The food is by far the most important aspect of a catering business. If the meal is bad, then it won't soon be forgotten. For a new business, a bad experience for a customer can be detrimental to the business' reputation. For this reason, the catering business should stick to menu items that it can prepare well and that can be stored properly during transport.
As stated previously, a caterer should specialize in a type of food or the types of events that it serves, but at the same time the caterer should be sure not to limit themselves too much. The caterer should offer variety in all elements of the food including the ingredients, preparation methods, mealtimes, and cooking styles.
| Element | Description |
| --- | --- |
| Ingredients | Food on the menu should include a variety of fruits, vegetables, and meats. Caterers should be aware of which ingredients are in season and adjust their menus accordingly. |
| Preparation Methods | Food should be prepared in a variety of methods to suit the client's tastes, including grilling, broiling, roasting, poaching, and frying. |
| Mealtimes | Instead of limiting food options to just one mealtime, caterers should consider providing a variety of menu options for breakfast, brunch, lunch, and dinner. |
| Cooking Styles | To appeal to a wider variety of clients, caterers should vary their cooking styles between both classic and contemporary styles. |
| Dietary Considerations | With the large number of people requiring a special diet due to health concerns and allergies, it is wise to provide a separate menu to address these concerns. Additionally, the caterer should be prepared to adapt recipes as needed. |
The greater variety that a catering company offers in its food and menu options, the greater the chance to earn revenue. With limited menu options, the company will not be able to grow and expand to meet the needs of a variety of clients. If the catering business cannot adjust the menu to meet dietary needs or provide a meal at a different time, then that client will choose another caterer to supply the food for their functions. In addition to providing a variety of foods, the catering business should have different menus with different budgets to accommodate clients working within different price ranges.
You will need to invest in some equipment and personnel when starting a catering business. The success of the business will rely on the quality of the food, and this is all dependent on the workers behind the scenes as well as the facilities that they work in. Since the presentation of the food is also essential, it is important that the catering business supplies all that is needed for serving the food.
Personnel
The staff in a catering business tend to work behind the scenes. When it comes to hiring staff to work for a catering company, it is important that potential employees be thoroughly screened. Having previous experience in the foodservice industry goes a long way in being successful in the high-stress environment of a catering business. Likewise, prior experience also reduces the cost and time that it takes to train new employees. Some of the roles within a catering business include manager, planner, food preparers, and food servers.
| Job | Description |
| --- | --- |
| Manager | A person in charge of the personnel who can ensure that they stay on task and can keep up with the fast pace of the catering business. |
| Planner | The person who puts together the event, works with the chef to come up with a menu, presents it to client, and ensures that all aspects of the catering event are covered. |
| Food Preparers | People who work in the kitchen to prepare the food. They should be trained in cooking and know the proper techniques for safely handling and preparing food. |
| Food Servers | People who are trained in the proper etiquette of serving food. They are responsible for bringing out the food to the guests, serving drinks, and clearing dishes from tables. |
In addition to finding personnel that have previous experience and training, it is important to check references. Timing is an essential component to successfully catering an event, so hiring workers that show up on time and can keep up with the pace is crucial.
Equipment
While kitchen facilities, such as stoves, ovens, and refrigerators, are needed for preparing the food, there are several other smaller items that are also needed. The caterer will need to provide table settings, serving equipment, buffet equipment, beverage stations, and equipment for off-site catering events.
| Area | Items Needed |
| --- | --- |
| Table Settings | Plates (dinner, bread, salad), glasses, wine glasses, silverware, tablecloths, napkins, salt and pepper shakers |
| Serving Equipment | Serving trays, bus tubs |
| Buffet Equipment | Food warmers and plates, fuel cells, tongs, spatulas, cutting boards and knives, rags for cleanup |
| Beverage Station | Coffee pots, pitchers for water and other beverages, corkscrew for wine, ice, straws, drink stirrers, cocktail napkins |
| Off-site | Insulated containers for food, garbage bags, food covers (plastic wrap, foil) |
A small catering company may be able to reduce its costs by asking the client to provide these supplies. Some clients are willing to do so because it gives them the freedom to decorate the event in their own personal style. Additionally, some venues will have some of these supplies available as well. The caterer should check with the client and the venue to see what they already have. As the business grows, the caterer should have all of these items on hand and ready for each event.
Shopping for Catering Equipment
Before taking on your first clients, you'll want to make sure that you have all of the necessary equipment to complete the job. You'll be able to find all of the items you need from restaurant equipment suppliers or online from sites like eBay. On eBay, you'll find a huge selection of new and used equipment for prices that are often much lower than retail.
Searching for Catering Equipment on eBay
To get started with your search for catering equipment on eBay, navigate to the Business and Industrial category. Then go to Restaurant and Catering to see what items are currently for sale. You can narrow down the options further by selecting categories such as Bar and Beverage Equipment, Commercial Kitchen Equipment, Tabletop and Serving, and more. As you select different categories you will be able to narrow down the listings even more based on subcategories on the left side of the page.
Buying Catering Equipment on eBay
When buying catering equipment on eBay, you'll be able to bid in an auction or use the Buy It Now option when offered. When bidding in an auction, you will place increasing bids on an item against other interested buyers. The person with the highest bid when the auction ends wins the item. With the Buy It Now option, the seller specifies a price and you are able to purchase the item at that price immediately.
eBay Buyer Protection
eBay recognizes that some people are a bit leery of buying things online. eBay gives customers peace of mind by backing all transactions with the Buyer Protection Program. If the item isn't as the seller described, then you'll be refunded the cost of the item and shipping charges.
Conclusion
With the increasing demand for caterers, those who wish to open a catering business are entering into a multibillion dollar industry with high potential for profits. Running a catering business requires more than just preparing food for events though. In order to start a catering business, interested people will need to learn about their roles as caterers, come up with a concept or plan for their business, acquire all of the necessary supplies, and start finding clients and events to serve. No matter if the catering business is operating from a state of the art facility or a personal kitchen, caterers will find a variety of catering equipment on eBay.