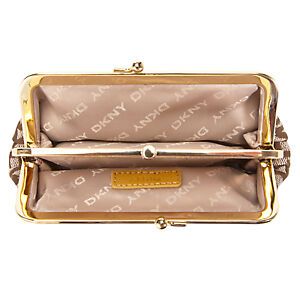 In decades past, a woman's purse spoke volumes about her personality, as well as her style. As decades have passed, style has been defined by trendsetting Hollywood celebrities rather than how a woman actually feels about the product. Some women have stayed true to themselves and kept their vintage styled purse in their wardrobes. When a woman is confident about herself, she does not feel the need to follow what everyone else is doing. She is free to carry whichever style handbag she likes. Many women love the look of a vintage purse. There are several different styles in vintage purses, such as varying sizes, adornments, and colors. Another key component is which length to purchase, as vintage purses come in clutch or shoulder bag styles. Once a woman knows which style of vintage purse she would like, there are many places for her to look. Women can find vintage purses at specialty handbag shops, Internet retailers, larger department stores, and online marketplaces like eBay.



Vintage Purse Styles and Lengths
The strap length, color, adornments, and material of the purse are the deciding factors in the type of vintage purse a woman will buy. Once these decisions have been made, buyers will have a better idea of the purse they wish to own.
Lengths of Straps on Vintage Purses
Once women decide they want a vintage purse, they should first consider the length of the straps. Vintage purses can be found in both clutch style and shoulder strap. Which style a woman purchases will depend on the reason she is buying the vintage purse. Whether for a special occasion or everyday use, women can find many styles available for purchase.
Clutch Style Vintage Purses
A clutch purse is a handheld bag with little or no strap. Women often carry a clutch when dressed up and heading out for a night on the town. Clutch purses come in several colors, materials, and brand names. While most women choose Coach or Louis Vuitton, there are other women that wish for the Chanel and Pierre Cardin bags of the 1960s and 1970s. Vintage clutch purses also come in several adornments, materials, and colors.
Vintage Shoulder Purses
Vintage shoulder purses evolved from the typical velvets and beads of the 1920s, to the leather and wool of the 1970s. The shoulder strap comes in several different length choices. They come short enough to fit just under the armpit, to the length of a messenger bag. As the decades passed, the fashion changed. Women should try to pinpoint which decade suits them best. A woman should know whether she is more of a beads and sequins person, or a plain or print woman. There are different styles to fit all types of needs.

Caring for a Vintage Purse
Vintage purses come in several different materials. The more popular materials are leather, lace, and velvet. Women can find a vintage purse to fit their style in whichever material they choose. Each material has its own unique cleaning and caring instructions to keep the purse looking beautiful while prolonging the life of the purse.
Leather Vintage Purses
Leather is a popular material for all purses, including vintage. With leather being so sturdy and versatile, a purse can last a long time. Buyers should waterproof and condition the leather vintage purse to help it maintain its shape and beauty. If the leather is deerskin, it does not need to be waterproofed, since this type of leather can get damp without losing its shape. When storing the leather handbag, keep it uncovered, on a cool, dark shelf. Covering the handbag with a bag can allow mildew to grow. To help the leather vintage purse keep its shape when not in use, stuff it with tissue paper to hold up the sides. Buyers should be sure to clean the leather when it gets dirty. For deerskin or patent leather, all buyers need are mild soap and a damp rag. For suede, erase the stain with a regular pink eraser or ground chalkboard chalk.
Velvet Vintage Purses
Velvet was a material that was used on purses frequently in the early twentieth century. Vintage velvet purses are a beautiful addition to any wardrobe. With its brilliantly soft texture, velvet can last for years when cared for properly. Since velvet purses are not carried everyday, there are certain cleaning steps that buyers can take to keep the purse looking like new. Velvet needs to be cleaned with a dry, soft bristled toothbrush. To ensure the proper pressure is being used when cleaning vintage velvet purses, make sure the bristles are only bending slightly.
If dry scrubbing isn't getting the purse clean, or if there is a stubborn stain that won't come out, mix some mild liquid soap in a jar with warm water until sudsy. Using only the suds, apply to the velvet purse and scrub with the toothbrush. After a few minutes of scrubbing with suds, stop and gently blot the vintage velvet purse dry. When the entire purse has been cleaned, let it dry for approximately 20 minutes before using.
Vintage Lace Purses
Lace was used in many ways when making vintage purses. It is a fine, open fabric that is usually made from silk, linen, or cotton. It is made by knitting, twisting, looping, or braiding the threads together in an open pattern. Lace is extremely delicate and should be handled with caution. Buyers should check inside the vintage purse to see if there is a care label that will tell them the fabric the purse is made from and how to launder it. When there is no label, treat the purse as though it were hand-made. Vintage lace purses that are made by hand should be washed in a sink or basin of lukewarm water and mild detergent.
Do not swish the purse around in the water; pat it instead. This will help get the detergent into the fibers to clean the purse gently. When finished, place the purse between two towels and press down to squeeze out the excess water. Continue this until all excess water is removed. Dry all vintage, hand-made lace purses by air. If the purse is machine made, buyers can put it in the washing machine in a mesh laundry bag to avoid snags and pulls on the fabric.

Vintage Purse Adornments
Vintage purses come with several types of adornment options. Purse adornments came in these varying styles to fit special occasions and everyday use. Buyers can choose to have a plain purse, or one that is covered in beads, sequins, or prints. Finding the right adornments, if any, is simple due to the vast number of vintage purses on the market.
Beaded Vintage Purses
Women bought these fancy beaded purses for special occasions. They come in many different colors, but the most popular were gold and silver. These beads usually cover the purse entirely, except for the strap area. The beads were made to be eye-catching, and to catch the light and make the purse shine.
Sequined Vintage Purses
Sequins used to be all the rage in earlier decades. If buyers are looking for the perfect vintage purse with a little flair, a sequined purse is the way to go. Sequined purses come in several different colors, which enable women to choose the correct purse for any occasion. These vintage purses were commonly used for special occasions and elegant nights out. They were made to sparkle in the moonlight and shimmer under bright indoor lights.

| Decade | Popular Materials | Featured Adornments | Popular Sizes |
| --- | --- | --- | --- |
| 1920s | Leather or mesh metal | Beads and iridescents | Wrist and clutch |
| 1930s | Leather, silk, and satin | None | Pochette, box-style, clutch, shoulder bag |
| 1940s | Wood, plastic, and synthetic fibers | None | Forearm strap |
| 1950s | Leather, tapestry, embroidery, and straw | Beads or mother of pearl | Boxy or clutch |
| 1960s | Plastic, cloth, knit wool, and Indian fabrics | Fringe, bells, embroidery, and paint | Forearm strap, shoulder bag, and messenger style |

Each decade offers buyers several options to choose from when buying vintage purses. If buyers know the shape or material they are looking for, they can try limiting their search to those decades that offer exactly what they are looking for.

Buying Vintage Purses on eBay
Buying a vintage purse on eBay is a very easy thing to do. There are a few different ways buyers can search, such as through the general search bar, through eBay's Advanced Search, or by browsing through the categories that vintage purses may be under.
Using eBay's Search Bar and Category Search
Buyers can type the item they are looking for into the search bar on the eBay homepage, such as "vintage purse." Using this option will return every listing on eBay that includes the words vintage purse in either the auction heading. Buyers can also try searching through the categories they think vintage purses can be found in. If buyers choose the category search option, they should start by looking in the Clothing, Shoes and Accessories category. From here, choose the Vintage Handbags category.
Utilizing My eBay
Once you register as an eBay member and purchase an item, you can use My eBay to track the status of your purchase(s). When you are in the My eBay section, it will list all your purchases and sales, along with each item's status. eBay members can customize the way they view their My eBay page depending on which page they want to see first upon entering My eBay, as well as choose the color scheme and how sections on the page are arranged.
If you do a lot of buying on eBay and you find either a seller or eBay Store you enjoy doing business with, you can save it to your Saved Sellers list. Upon logging in to eBay, you can click on this list to see everything your favorite sellers, or stores, have for sale.

Conclusion
Women have their own unique styles. If a woman enjoys vintage items, she can look into purchasing a vintage purse to have as part of her attire. eBay offers several types of styles, materials, adornments, colors, and lengths for women to customize their ideal purse. Each decade had its own unique purse styles. The styles included clutches, shoulder bags, forearm straps, pochette, boxy, and cloth. Vintage purses also include several types of adornments, including sequins, beading, prints, fringe, and painted. From the roaring '20s to the hippie '60s, styles and colors evolved with the time.
Women should keep in mind the amount of work that will go into cleaning the purses they buy. Different materials and adornments take varying steps to get the purse cleaned and ready for use. The vintage purse has become a fashion statement. It is now used for both everyday wear and special occasions. Women can customize their purses to fit their own unique ideals. Whatever her style, a woman can search the millions of listings on eBay to find the perfect vintage purse.