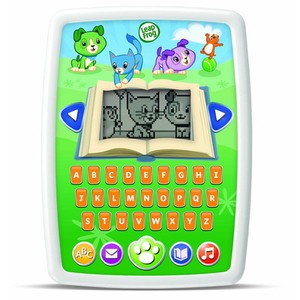 Educational toys area a great way to help children boost academic skills, creativity, and confidence, all while having fun. Today's toy designers are finding more ways to engage the attention of children and truly make playtime a learning experience. To find the right educational toys for the children in your life, it is necessary to understand how different products appeal to different ages, and to evaluate prospective purchases accordingly. With this guide's guidance, your youngsters will be flexing their cerebellums - and potentially learning to use such multi-syllabic words - in no time.
Select Educational Toys By Age
It's important to match educational toys to your child's age and stage of development. Children whose skills are incipient need a certain type of support, whereas those who are building from an existing knowledge base need others still. Several of these age-appropriate toys are available from Fisher-Price, LeapFrog, Playskool, VTech, Discovery Toys, Montessori, and other favorite brands. Remember: Safety first! Read all the information about safe use and appropriate age levels before allowing your child to play with any toy. A product that is excellent for kindergarten students might present a choking hazard or some other threat to a toddler.
Baby toys (0-12 months)
During a baby's first few months, it is advisable to encourage early stages of perception with mobiles, music boxes, crib mirrors, stuffed animals, and other toys that feature a variety of textures and sounds. An infant's senses are being developed during these early stages, so it is important to find toys that are not only visual or musical but also tactile and perhaps even kinesthetic as well.
A play mat or activity gym with bright graphics and interesting features will keep little ones engaged until they start crawling. The models from Gymini and Baby Einstein are perennial baby shower favorites. Once babies can sit up and begin to use their hands, they'll be able to learn from building blocks, baby books, and stacking toys. The LittleTouch LeapPad Learning System brings storybooks to life and introduces infants to the alphabet, numbers, colors, and other early development skills.
Toys for toddlers (12 months to 2 years)
It is important to give toddlers ample opportunities to explore art, creativity, expression, and sound with crayons, Play-Doh, and musical toys that encourage dancing. Puzzles with big pieces invite investigation. LEGO Duplos or other construction toys, meanwhile, provide valuable hands-on experience with basic math concepts while also helping kids to fine-tune motor skills and understand concepts of causality. In order to keep the toddler safe, is important that these construction toys use relatively large, blocky pieces, as opposed to the smaller sets that are typically used by older children.
You can also give your child a head start learning another language with bilingual toys such as the English- and Spanish-speaking Bilingual Elmo plush doll from Fisher-Price. Youngsters possess particularly elastic minds that are very sensitive to linguistic structures. This means that the early years are the prime period during which to introduce second language skills. Many studies have shown that intellectual acuity among adults is tied to bilingualism.
Toys for preschool and kindergarten students (3 to 5 years)
Once children become active and begin attending pre-school or kindergarten, it is recommended that parents bolster these early educational experiences with toys and electronic games that help kids work on their numbers and letters. The V.Smile TV Learning System with educational video games makes lessons exciting, and the V.Smile Pocket version keeps kids learning even when they're on the go. Children between three and five years of age can also get started with the Leapster L-Max Learning Game System, which can be adapted to fit an individual child's skill level. This system allows children to choose from a library of interactive, action-packed games based on popular stories that cover pre-K through fourth-grade subject areas.
To easily get kids acquainted with science and nature, try pretend-play props such as kid-sized cameras, toy telephones, magnets, and toy binoculars. Melissa & Doug offers a wide assortment of educational floor puzzles, so kids can learn about the alphabet, the solar system, and more while developing problem-solving skills. Climbing gyms, playhouses, and dollhouses are other age-appropriate ways to promote early social skills.
Toys for grade school students (6 to 12 years)
As children graduate from kindergarten to elementary school, it is advisable to select more complex toys to reinforce "the three Rs": reading, writing, and arithmetic. Books and audio resources are appropriate at this age, as you can introduce your child to concepts like alliteration, phonics, and other linguistic devices that explain how "three Rs" can derive from words that begin with "w" and "a."
The innovative FLY Pentop Computer is a popular all-around option that puts a calculator, translator, music player, and more at your child's fingertips. Many parents also consider upgrading to the LeapPad Plus Writing Learning System, which adds a writing mode to the original platform. A toy cash register can further sharpen a child's developing arithmetic skills. Similarly, spelling games and electronic quizzing games are great ways to incorporate math, critical thinking, and verbal skills into playtime.
You can help your kids discover the fun side of science with activity kits that also fine-tune motor skills. Such kits include model airplanes, jewelry kits, chemistry sets, and Erector sets. Be aware, though: these items are not appropriate for younger children, as they include small pieces that might be dangerous. Children can also be encouraged to explore science with telescopes, microscopes, and magnifying glasses. Talking globes and map games, meanwhile, can create fun opportunities to study geography.
Choose Toys for Kids With Special Needs
Toys should be selected for children with special needs based on the kids' respective play stages, rather than ages. All children reach specific stages of learning that are reflected in how they play with their toys: exploration (examination of the toy through touch, sight, and sound), discovery (realization of the toy's uses), and interaction (creative, imaginative use of the toy). Although some toys are designed or modified for special-needs children, specialized toys are not always necessary. Many toys have multiple uses and special-needs children learn through the process of playing. Consult with your pediatrician or education specialist about your child's specific needs and keep a few features in mind when selecting toys.
For hearing-impaired children, look for high-pitched, visually interesting, volume-controlled toys. The Brilliant Basics Activity Table from Fisher-Price is a highly visual toy with musical elements, which lets kids get creative with stacking and building exercises. Children with sight impairments, meanwhile, might enjoy magnified, tactile, mirrored toys with high-contrast areas. You can also consider realistic pretend-play toys such as the Little People Beeps the Bus from Fisher-Price.
Find simply-designed, lifelike toys for learning-impaired children. Ordinary toys with lots of labels and easy-to-understand illustrations, such as the over-sized Big Brain Book Interactive Encyclopedia from Oregon Scientific, may also be useful. In a similar vein, it is recommended that parents get audible, interactive toys for speech-impaired children. The Tuff Stuff Tape Recorder by Fisher-Price may be helpful learning aids, depending on the amount of assistance required.
Find Educational Toys on eBay
Educational toys are ubiquitous, showing up everywhere from the supermarket aisles to local malls and bookstores. That said, it can be a lot of exhausting effort to run from spot to spot looking for the right toy. Settling for a lackluster product is undesirable, as these playthings serve an instrumental role in child development-and that's where eBay comes in. With a vast collection of products and sellers from throughout the world, eBay's global marketplace offers a variety of new and used items that is virtually second to none. What's more, most items are offered at competitive prices that are often lower than those found in brick and mortar outlets. With powerful search tools to help you peruse options and customer protection programs to inject confidence into your shopping experience, eBay is a one-stop shop for almost any need including educational toys.
Once you know what type of educational toys you want, you can visit www.ebay.com and access the Toys & Hobbies portal via the "All Categories" menu in the upper-left quadrant of the screen. Within the portal, you'll find several appealing category listings to help you find the perfect supplement to your child's growing base of knowledge and skills. Puzzles might be a good option for many children. The same can be said of the Pretend Play, Preschool category, where you'll find dinosaurs to inspire the budding young paleontologist in your life, Play - Doh and modeling clay for future artists, and more.
The Educational sub-category within the Toys & Hobbies portal will probably be of the greatest interest, however. Here, you'll find many useful listings in the left hand navigation column: Learning Systems for structured play; Geography & History to help children orient themselves in the world; Mathematics to awake youngsters' logical and precocious sides; Alphabet & Language for communication skills; Multilingualism for more advanced expressive development; Special Needsffor children who need specific types of toys; and more. As you explore these listings, the left hand navigation column will change, growing increasingly specific to help you further refine your perusal. Within the Learning Systems sub-category, for example, you'll find tools to sort listings according to popular brands, such as Fischer - Price and LeapFrog..
In addition to using eBay's built-in filters and categories, you can also search listings for specific keywords-convenient if you have a specific product in mind. For example, if you want to find wooden alphabet blocks, type "alphabet blocks" (without quotation marks) into the Search box. Be sure to visit eBay ' s Search Tips page in order to maximize the effectiveness of your searches.
If you can't find exactly what you want, try shopping eBay Stores<, telling the eBay Community what you want by creating a post on Want It Now<, or saving a search on My eBay<. Saved searched will trigger eBay to email you when a match becomes available.
Use eBay to Buy Educational Toys With Confidence
When you find a toy you'd like to purchase, don't rush to action. It is always advisable to get to know exactly what you're buying, to research the seller, and to understand how eBay and PayPal protect you.
Know Your Purchase
Many sellers put a lot of time into creating their listings, making an effort to ensure they include all the information that buyers need. Carefully read the details in listings for the products you consider buying, and carefully review available photos. New toys are generally recommended for young children, but if you are buying used, be sure to inspect the listing all the more thoroughly. If you still have questions after reading the listing and reviewing the photos, visit eBay's Contacting Members page to learn how to send the seller your question.
Additionally, be sure to include delivery costs in your final price, and to complete all transactions within eBay. Transactions conducted externally are not covered by eBay's Consumer Protection programs. Never pay for your eBay item using instant cash wire transfer services such as Western Union or MoneyGram. These payment methods are unsafe when paying someone you do not know.
Know Your Seller
It is important to not only research the toys you wish to buy but also the merchant who has offered them for sale. There are several key things to look for when evaluating a seller:
Positive Feedback. What is the seller's Feedback rating? What do buyers say in their Feedback? Did the seller receive praise?
Terms and conditions. What are the terms and conditions of the sale? Are the terms agreeable? Most eBay merchants offer refund policies and money-back guarantees. Does the seller whose goods you are considering offer such assurances?
Shipping. Does the seller ensure the package? If you're spending a lot of money, be sure that he or she does.
The human brain goes through dramatic changes during childhood, so it is essential that kids be given the toys they need to safely learn and have fun. Different levels of development require different toys, so planning and research are necessary steps in the process. Even so, the variety of educational toys available is so vast - especially if you use a resource like eBay - that you'll find yourself awash with compelling options. Remember: a child won't learn if the game, activity, or toy isn't enjoyable, so be sure to consider the youngster's interests. Also, be sure to follow manufacturer instructions to the letter, and to consult a pediatrician if you're unsure about a certain product. Even though the learning component of these toys is quite important, nothing trumps safety.