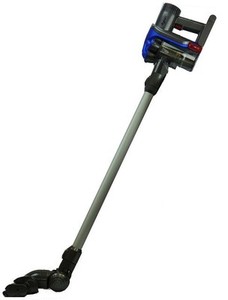 There are hundreds of vacuum cleaners available on eBay. Dyson vacuums are widely considered to be among the most innovative. Although these vacuum cleaners cost more than models by many other brands, the extra expense is well worth it. Before buying a Dyson vacuum, it's smart to learn as much as possible about its technologies and features. This buying guide is sure to help.
Technologies and Features - All Dyson Models
The majority of the vacuum cleaners that are on the market feature technology that's been used for decades. Dyson machines stand out by offering entirely new technologies and many cutting-edge features. The Dyson lineup features upright vacuums, canister vacuums and handheld and cordless models. There are two basic machines featured in each category: the Animal and the Multi Floor. Different models boast different selections of features and technologies, and the most popular ones are highlighted below.
Ball Technology
One of the biggest claims to fame of the Dyson line is its patented Ball technology. Machines ride on balls. Ducts, motors and other technologies are housed inside these balls. Originally, upright vacuums were the only models that featured Ball technology. However, it is now available on several canister models as well. This technology makes the machine extremely maneuverable, and it can be turned right on the spot.
Radial Root Cyclone Technology
If suction is not maintained, a vacuum isn't going to be very efficient. Models that use bags usually become clogged, and suction power is lost. Bagless machines have filters that become clogged and cause the same problem. Many Dyson vacuums have Radial Root Cyclone technology, which produces special airflow that produces less turbulence. As a result, air pressure remains high, and suction power is not depleted.
High Suction at Cleaner Head
The base plate of Dyson's most popular vacuum cleaners is active, which means that it maintains optimal contact with all floor types. This is another way to ensure that suction power is maintained at all times, and it goes a long way toward making floors as clean as possible.
Durable Designs
Many people find Dyson vacuums to be great investments because they are designed out of strong, durable materials. For example, machines from the Animal line are made out of polypropylene that is reinforced with 20-percent glass fibers. Many components are made out of high-impact PC-ABS plastics. As durable as these materials are, they are also very lightweight.
Exceptional Allergen-Capturing Capabilities
Allergy sufferers often turn to Dyson vacuums because they work extremely well at removing allergens from floors. Many vacuums stir up allergens and particles, which can exacerbate allergy symptoms. The unique cyclone action that's featured in Dyson vacuums prevents that from happening.
Well-Designed Bins
All Dyson machines feature durable, easy-to-empty bins. They are clear, so it's easy to tell whether they need to be emptied or not. They can be emptied with the push of a button, so there's no need to pry open lids, which can result in unfortunate mishaps. Like other components, the bins that are included with Dyson vacuums are extremely durable and can withstand a great deal of abuse.
Less Noise
Although they aren't completely silent while operating, Dyson vacuum cleaners are designed to be as quiet as possible. Machines across the line are enhanced with polyurethane sound-insulating materials. The ball is acoustically treated to minimize noise as well. Sound-dampening mounts keep rattling to a minimum. Regardless of which Dyson vacuum a person buys, he can rest assured that it will be a lot quieter than his previous machine.
Anti-Static Bristles
One of the reasons that regular vacuums miss so many fine particles and dust is because they have bristles that produce static electricity. When that happens, dust and fine particles tend to scatter. Vacuums like the Dyson Animal and the Dyson Multi Floor Upright vacuum have beater bars with anti-static fiber bristles. They eliminate static electricity to ensure that as many fine particles are captured as possible. Very little is left behind.
Balanced and Ergonomic
Dyson vacuums are easy to handle because they are built out of lightweight materials. Handheld and cordless models succeed where many others fail because they have centers of gravity that are positioned near where they are gripped. This allows people to move these machines backwards, forwards, up, and down with ease. It also minimizes the risk of pulled muscles and other injuries.
Trigger Head Tool
This technology allows people to control the turbine head that comes into contact with the ground with a control on the handle. There is no need to stoop down and make any adjustments. This feature is useful when transitioning from carpeted flooring to hardwood flooring. With the push of a button, the rotating brush bar stops moving, which helps to protect hard flooring. This technology is used on canister vacuums.
Technologies and Features - Handheld and Cordless Dyson Models
Certain technologies and features are strictly reserved for Dyson handheld and cordless models. Before buying a handheld or cordless Dyson vacuum cleaner, a person should do some research about these features and technologies. By doing so, it's easy to determine the most important features, which simplifies the process of selecting a specific Dyson handheld or cordless model.
Mini Turbine Head
On hand-held and cordless Dyson vacuums, a mini turbine head ensures optimal suction and cleaning capabilities. It has an air-driven brush with tiny bristles. The bristles are small enough to capture extremely fine hairs, fibers, and other particles. One of the issues people often have with handheld and cordless vacuum cleaners is that they don't pull up enough debris. With this technology, that isn't typically a problem.
Dyson Digital Motor
A major drawback of many cordless and handheld vacuums is the fact that they often have very weak motors. Dyson models are different because they have uniquely designed digital motors. These motors are exceptionally light, small and efficient. They rotate approximately 104,000 times in a single minute. This is made possible by digital pulse technology, which is also a Dyson innovation.
Battery Life
Handheld and cordless Dyson vacuums come with long-lasting batteries, so they rarely need to be charged again to complete a single job. Lithium ion batteries recharge quickly. In regular cleaning mode, they provide up to 20 minutes of power. In Boost mode, they provide up to eight minutes of power. Most people use handheld and cordless vacuum cleaners for quick, easy jobs, so these batteries are more than sufficient in most instances.
Two Power Modes
With the flip of a switch, a handheld or cordless Dyson vacuum can be toggled between regular power mode and Boost power mode, which provides exceptional amounts of power for tougher cleaning jobs. When it's used in regular power mode, a Dyson machine can operate for a full 20 minutes. In Boost mode, it can operate for eight minutes. The vacuum cleaner can be switched between the two modes quickly and easily.
Docking Station
All handheld and cordless Dyson vacuums come with easy-to-install docking stations. When mounted on the wall, a docking station can accommodate a single vacuum cleaner and a variety of tools. It's also possible to charge a vacuum while it's in the docking station. Vacuums can also be charged when they're not hanging on docking stations.
Popular Dyson Lines
Dyson vacuums can be split into two main categories: Animal and Multi Floor. A few of the things that differentiate the two categories are outlined below.
Animal Models
As the name implies, Dyson Animal vacuums are designed to make short work of pet hair and dander. These vacuums feature extra power, and they are usually loaded with several extra on-board tools. Most notably, top-of-the-line Animal models include the Tangle-Free Turbine Tool, which quickly and efficiently pulls hair and dirt from deep within carpeting and upholstery.
Multi Floor Models
Vacuums from this category offer a wide array of different features. Pricing reflects the types of features and tools that are included and may also be affected by the power of the motor. Like Dyson Animal machines, they are offered in upright, canister and handheld versions. The common characteristic between these machines is their ability to segue from different types of floors instantly. There is no need to flip a switch or do anything else.
A few of the most popular Dyson vacuums from each category include:
Model

Type

Features

DC44 Animal

Cordless/Handheld

Detachable long-reach wand

20-minute run-time on standard

Eight-minute run-time on Boost

Dyson digital motor

Root Cyclone technology

0.09-gallon bin

DC40 Multi Floor

Upright

Dyson Ball technology

Radial Root Cyclone technology

Self-adjusts for different floor types

0.42-gallon bin

DC39 Multi Floor

Canister

Dyson Ball technology
Radial Root Cyclone technology

Triggerhead tool that adjusts for different floor types

0.53-gallon bin
Dyson Tools
All Dyson vacuums come with at least a few tools. Additional tools can be purchased separately as well. The most popular tools are outlined below.
Soft Dusting Brush
This tool is designed to be gentle on delicate surfaces. It has fine, nylon bristles and is positioned at a 45-degree angle that quickly sweeps debris into the flow of air. A felt strip is strategically positioned to prevent scratches and other damages.
Multi Angle Brush
When trying to clean hard-to-reach places, this tool is priceless. Its primary benefit is that it twists quickly and easily. While vacuuming, a person can quickly twist this tool to achieve the desired angle. It also has rotating joints that click and lock firmly into place.
Stiff Bristle Brush
To remove caked-on dirt, it pays to have this tool available. It has angled bristles that cause a flicking action, which propels dirt up so that it can be captured by the machine. A very minimal amount of effort is needed to remove ground-in dirt when using this tool.
Groom Tool
This popular tool is usually included with Animal models. It safely and gently allows pet owners to remove shedding fur from their dogs. This helps to reduce the amount of fur that ends up on carpets and on furniture, which makes vacuuming a lot easier.
Flexi Crevice Tool
Airflow is concentrated at the tip of this tool, which makes it work a lot more efficiently. Its name reflects the fact that it has a flexible segment, which allows it to fit more easily into especially tight spaces. The rubber section is also extendable, and it can be detached to remove large pieces of debris as well.
Articulating Hard Floor Tool
The bristles on this tool are designed to be gentle on hard floors, which reduces the risk of scratches and marks. It pivots at the neck and at the hose, and it has an exceptionally slim profile. It can pivot a full 180 degrees, so it can glide around floors and into tight corners easily.
Mattress Tool
This tool is ideal for cleaning mattresses, sofas and other upholstered furniture. It is extremely lightweight, so it won't cause fatigue. It also has a wide head, so it gets the work done quickly. The angled top ensures even suction power.
Flat Out Tool
With its exceptionally flat design, this tool can slide easily beneath household appliances and in other extremely tight spaces.
Finding Dyson Vacuums on eBay
To find Dyson vacuum cleaners on eBay, begin in the Home, Outdoors & Decor section. From there, click over to the Home & Garden category. Navigate to the Housekeeping & Organization category, and then head to the Vacuum Cleaners section. The search tool can also be used to find specific Dyson models and accessories.
Conclusion
After learning about the most important technologies and features that are available on Dyson vacuums, zeroing in on the right one is a lot easier. On eBay, all of today's most popular Dyson vacuums are readily available. At any given moment, a variety of upright, canister, handheld, and cordless Dyson vacuums are listed on eBay. With a small amount of browsing, most people can find a Dyson vacuum that has the right features and a low price.