This guide was made possible through the generous assistance of E-Bayer joy2own!, who provided photographs and expertise on the subject of Dugan's #1013 and 1013-R vases.

Part II:

Dugan's Ten-Thirteen-R Vase
and the Look-alike Carnival "Mystery Vase"
by curculiosglass




The mouths of a "Mystery Vase" (left)
and of a Dugan #1013-R vase with jagged flame points (right)

photos by curculiosglass


Introduction
This is Part II of a three-part guide on Dugan's opalescent #1013 and carnival #1013-R vases. Part I provides photographs of Dugan's rare 1013-R vase. In Part II, we discuss a carnival "mystery vase" that commonly appears on E-Bay misidentified as a #1013-R vase. Part III provides a photographic gallery of opalescent #1013 vases and seldom-seen #1013 whimseys.
The "Mystery Vase"




A "Mystery Vase" (left)
with a Dugan #1013-R vase (right)

photos by curculiosglass

The vase shown above left frequently appears on E-Bay misidentified as a #1013-R. For purposes of this guide, we have christened this vase the "mystery vase". While similar to Dugan's #1013-R, the mystery vase lacks the defining characteristics of #1013-R vases. The mystery vase does not appear at David Doty's website, or in any of the standard references on carnival glass, including the many volumes written by Burns and Heacock, Warman's Carnival Glass, and the Standard Encyclopedia of Pressed Glass.
As noted in Part I of this guide, Dugan's rare carnival Ten-Thirteen-R vases have these characteristics: (1) the vases are divided into 6 panels separated by 6 ribs that terminate in flame points; (2) as is shown in the photograph at the top of this guide, the vases' flame points have a distinctive "toothed" or jagged edge; and (3) the vases' bases are either approximately 3 3/4" in diameter and feature 36-point impressed stars, or approximately 3" and feature 40-point impressed stars.
Although the 9 1/2" mystery vase shown above has six ribs and six panels with pointed tips, the tips lack the jagged appearance of flame points found on Dugan's #1013-R and Target vases. In addition, the mystery vase's base has a diameter of 2 7/8" and sports a 42-point star. According to eBayer joy2own!, such mystery vases are found in a variety of colors: shown below are carnival vases in amethyst and marigold, and transparent (non-iridescent) vases in pink, clear crystal and two shades of green.


An array of 9" mystery vases in carnival and transparent glass
photos by joy2own!
All of the vases shown above have six panels, and six ribs terminating in pointed tips; the tips are pronounced but not toothed or jagged like the tips of #1013-R vases. All six vases are 8" to 9" in height. The two carnival vases have 2 3/4" - 2 7/8" bases with impressed 42-point stars. The four transparent (non-iridescent) vases have bases measuring 3" with impressed 24-point stars.
In February, 2009, an E-Bayer sent us the illustration below, conclusively identifying the date and maker of the mystery vase pattern. The illustration is from a 1929 Butler Brothers wholesale catalog page advertising an assortment of vases offered by the Diamond Glass Company (which took over Dugan Glass in 1913):


A 1929 Butler Brothers catalog advertisment
featuring an assortment of Diamond Glass Company vases

The advertisement's fine print reads: "transparent green, crystal and golden iridescent, aver. 9 to 10 in. high, paneled and optic patterns, crimped and scalloped tops, fine quality glass". The vase at right is Diamond's Optic vase (see ddoty.com/opticvase.html), and the vase at left resembles a pattern known as Dugan's Thin Panel (see ddoty.com/thinpanel.html).
It is notable that although Diamond's mystery vase lacks the jagged flame tips and base characteristics of Dugan's earlier #1013 and #1013-R vases, the Diamond vase is very similar in shape to an early opalescent pattern known as Plain Panels: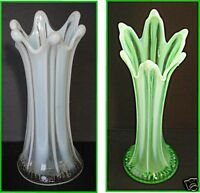 A white opalescent Plain Panels vase is shown at left.
The green opalescent vase at right is a Dugan #1013 vase.

photos by curculiosglass

The 7" opalescent Plain Panels vase shown above left is referenced on p. 112 of the Standard Encyclopedia of Opalescent Glass, 6th edition. Like the Diamond's "mystery vase," the opalescent Plain Panels vase has six pointed -- but not jagged -- tips, and six ribs. And, again like the Diamond vase, the opalescent Plain Panels vase has a 2 7/8" base that is impressed with a 42-point star. The SEOG attributes this opalescent pattern to Northwood, but we question this attribution -- we believe that Plain Panels is a Dugan pattern. No Plain Panels opalescent vase appears in any Northwood catalog, or in any Northwood advertisements placed in old wholesale catalogs. Conversely, a vase identical to the Plain Panels vase featured above is shown in an opalescent assortment advertised by Dugan in a 1906 Butler Brothers wholesale catalog. Further information on these vases appears in our guide on miscellaneous opalescent vases.)
Edwards and Carwile, the authors of the SEOG, write that both Northwood and the Dugan/Diamond Glass Company made Plain Panels vases in carnival glass (p. 112). Nevertheless, no such vases appear in Carwile's Standard Encyclopedia of Carnival Glass, 11th ed. Nor could we find reference to Plain Panels carnival vases in the works of notable carnival authorities such as David Doty, William Heacock, Marion Hartung, Rose Preznick or Ellen T. Schroy.
Thus, for the time being, the mystery vase remains nameless: either it should be called a Diamond Plain Panels vase, or it deserves a name of its own.
Transparent Glass Versions of Dugan's #1013





A transparent green #1014 vase, 14 1/2" tall, with jagged tips.
The base is 3 3/4" and bears a 40-point impressed star.
The vase fluoresces bright green under a black light.

photos courtesy of curculiosglass

One notable bit of evidence dictates against the conclusion that the array of white, green and pink transparent vases shown higher up on this page might simply be Diamond's late version of Dugan's original #1013 and #1013-R vases. As noted, these transparent "mystery" vases lack jagged edges on the flame points and thus bear only a superficial resemblance to Dugan's early opalescent #1013 vases. Transparent vases precisely resembling old #1013 and #1013-R vases do, however, exist.
Such vases have appeared in E-Bay in transparent green and blue, and we show one directly above that surfaced in 2007. A similar transparent 7 1/4" blue vase with jagged flame points and a 3 3/4" base with a 40-point impressed star appeared on E-Bay in January, 2008. Both vases possess the classic characteristics of #1013 vases -- that is, markedly jagged flame points, and 3 3/4" bases that sport 40-point stars.
We have no information on the date of manufacture of these transparent #1013 vases. The vases are not featured in the Standard Encyclopedia of Pressed Glass 1860-1930, 5th ed.. It is notable, however, that the SEOG does show other transparent Dugan vases, among them several patterns that later re-emerged in carnival glass. These include Pulled Loop, Target, Palisades (also known as Lined Lattice), Spiralex and Twisted Rib. All five patterns are found in clear colorless glass; transparent green Palisades and Twisted Rib vase have surfaced on E-Bay; so have transparent pink and blue Pulled Loop vases, and transparent pink Target vases. Clear crystal and pink Target vases appeared in 1919 Butler Brothers catalogs.
We welcome information from E-Bayers who may know the dates of transparent #1013 vases' manufacture. Dugan opened in 1904 and its successor Diamond Glass closed in 1931. Many of its molds were sold to L.G. Wright.
If you have an interesting example of a vase you believe might be a Dugan #1013 or #1013-R, please contact us at curculiosglass, and send us a photograph. We would be happy to see additional photographs of opalescent Plain Panels vases as well.
To read other parts of this guide, click on the links below.
______________________________________________________________________________________
GUIDE TABLE OF CONTENTS
Part I: Dugan's Rare Carnival #1013-R Vases

Part II: A "Mystery Vase" Often Misidentified as Dugan's Carnival #1013-R
Part III: Dugan's Opalescent #1013 Vases and Seldom-Seen #1013 Whimseys

______________________________________________________________________________________
Many thanks to E-Bayers joy2own! and unclechamps for the use of their photographs. All other photos are by curculiosglass. Rights to the photographs belong to the photographers, and photographs should not be used without their permission. Text is (c) 2007, 2009 curculiosglass, all rights reserved. To locate any E-Bay seller mentioned here, just click on "Site Map" at the bottom of your E-Bay screen, and then click on "Feedback Forum" at the right top corner of the large menu that pops up. Type or copy the seller's name into the Feedback Forum's search blank. Further information on the Dugan Glass Company, and additional photographs of Dugan's opalescent vases, can be found in our guide on Dugan vases. To access our other guides, just click here: GUIDE INDEX.