Twigs vase - Twigs vase reproductions - Dugan vases - Northwood vases - Twig Vase - Beauty Bud Vase
Northwood and Dugan
Opalescent Twigs Vases (1898-1907)
Originals, Reproductions & Frauds, Part I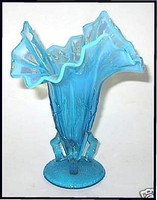 A scarce 7" original Dugan/Northwood Twigs vase,
in blue opalescent glass, circa 1906-1907. This whimsey shape
with four wing-like ruffles is sometimes called "Panelled Twigs".

photo courtesy of mello9


This is a two-part guide on Twigs vases issued by the Northwood and Dugan glass companies between 1898 and 1931. Part I of this guide features Northwood's and Dugan's opalescent Twigs vases. Part II features Dugan/Diamond's later carnival Tiny Twigs and Twig Bud vases. This guide is part of a series on early pressed-glass vase patterns that appeared in both opalescent and carnival glass. These guides are made possible by the many E-Bayers who contributed photographs to this project. Please leave feedback by clicking the button at the bottom of the page.
History of Opalescent Twigs Vases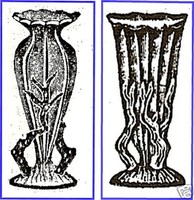 Advertisement illustrations showing a Northwood Twigs vase with a pinched neck
and flared ruffled mouth, from an 1898 Somers & Co. wholesale catalog (left);
and a Dugan Twigs vase with straight-up sides, and a slightly
flared mouth, from a 1906 Butler Brothers catalog (right).


Twigs vases were originally an 1898 product of the fledgling Northwood glass company founded by Harry Northwood, the son of a famous English glassmaker and cameo-glass carver. H. Northwood & Co. eventually emerged as a major American producer of opalescent and carnival glass. Between 1888 and 1902, however, Harry Northwood engaged in three failed attempts to set up a glassworks in the American Midwest. He established and operated Northwood glass companies in Martin's Ferry, Ohio, from 1888 to 1892; in Ellwood, Pennsylvania, from 1892 to 1896; and in Indiana, Pennsylvania from 1896 to 1902. Northwood's Indiana plant produced a wide array of milk, custard and opalescent glass, and this glassworks was the inventor of the Twigs vase. The Indiana plant first advertised opalescent Twigs vases in 1898 in Somers & Co. wholesale catalogs. (See Bill Heacock, Harry Northwood: The Wheeling Years, 1901-1925, pp. 1-15).
In 1899, National Glass purchased Northwood's Indiana glass works, and Harry Northwood departed, leaving his molds behind. Northwood's Indiana plant had been financed in part by Harry Northwood's uncle, "Tommie" Dugan, and when control was transferred to National, Harry Northwood's cousins, Alfred and Thomas Dugan, stayed on, operating National until 1903. In 1904, Alfred and Thomas Dugan purchased National and its molds and founded the Dugan Glass Company. Among the molds that fell into Dugan's possession were Northwood's Twigs vase molds. According to Carl O. Burns, author of Dugan & Diamond Carnival Glass 1909-1931 (p. 142), Dugan issued opalescent Twigs vases under its name around 1906: the vases appeared in an April 1906 Butler Brothers catalog and in the 1907 Dugan factory catalog.
Examples of opalescent Twigs vases are shown below; similar carnival glass vases known as Tiny Twigs and as Twig Bud vases are shown in this guide's Part II. Both opalescent and carnival vases have have been reproduced. To aid buyers and sellers in identifying vases, photographs of reproduced vases are also included in this guide. Buyers should be aware that items depicted in E-Bay ads to the right of this guide may or may not be properly described genuine vintage glass. Such ads are run by E-Bay and are not part of this guide.
Northwood's & Dugan's Opalescent Twigs Vases


A 6 1/2" Dugan canary opalescent Twigs vase with an indented neck,
with a 5" Dugan blue opalescent Twigs vase, with straight-up sides and a slightly flared rim.

photos by 1912antiques and nickadameous

Twigs vases were named by William Heacock, who included them in his landmark work Opalescent Glass A-Z (p. 111, fig. 568, 646, 1228). Opalescent Twigs vases feature a body that narrows to a point at the bottom and perches on three twig-like legs, which branch upward along the vase's outer surface. The mold work on a Twigs vase is fine and detailed: the body is ridged with 9 slightly raised ribs that extend from the rim to the circular base. The twig legs are impressed with a bark-like pattern, and bear circular designs resembling the knots on tree limbs. The top surface of the base is also impressed with a bark-like pattern. Twig vases' opalescence is very high quality; the top half of a Twigs vase has a pearly translucence and, when held to a strong light, the vase will show a fiery red-tinted opalescence.
Common shapes: Twigs vases appear most often in the two shapes shown above -- with an urn-shaped body that indents just below a flared mouth, and with straight-up sides and a round mouth that is turned very slightly outwards. Both of these variations are documented in William Heacock's Dugan/Diamond: The Story of Indiana, Pennsylvania, Glass (p. 96, figures 414, 417, 420-421). As shown in this guide's preceding section, both also appear in early Dugan and Northwood wholesale catalog advertisements.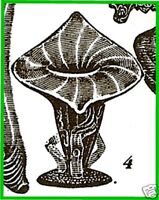 A 7" green opalescent Dugan Tiny Twigs vase
with one corner pulled up in a Jack-in-the-pulpit shape,
with an illustration from a 1908 Butler Brothers advertisement.




Jack-in-the-Pulpit Twigs whimsey vases. Opalescent Twigs vases also appear, far less commonly, in two different whimsey shapes. The first is shown above--a whimsey with one corner pulled up into a Jack-in-the-Pulpit mouth: the vase is 7" high with a 2 3/4" base. A similar vase whimsey, shown above right, appeared in a Dugan "opalescent assortment" ad placed in a 1908 Butler Brothers wholesale catalog. The ad describes the vase as a "7 1/4 inch fancy tulip vase" that is offered in "blue, green and flint". A green JIP Twigs whimsey is featured in the Standard Encyclopedia of Opalescent Glass, 2nd ed. at p. 154. A white JIP Twigs whimsey also appears in the SEOG, 5th ed., at p. 204. As noted below, both Northwood and Dugan produced a small version of the Twigs vase -- however, only the taller (61/2" to 7 1/4") size appears to have been used to make opalescent JIP whimseys.
Ruffled "Panelled Twigs" whimsey vases. The second Twigs vase whimsey shape has a four wing-like ruffles. A blue opalescent example is shown at the top of this guide page. Like the Jack-in-the-pulpit whimseys, ruffled Twigs whimseys are found only in the larger Twigs vase size; the vase shown here at page top is 7" tall, with a 2 3/4" base. Heacock called such vases "Paneled Twigs," and an example in green appears in Heacock's Opalescent Glass A-Z, pp. 111, 156 (fig. 646). A white example is documented in the Standard Encyclopedia of Opalescent Glass, 5th ed. p. 204. Buyers should exercise caution before purchasing Twigs whimsey vases with ruffled mouths, however; these may be reproductions; differences between originals and reproductions are noted below.
Sizes. Because reproductions of opalescent Twigs vases abound, measuring vase height and corresponding base size is an important step in verifying any piece's authenticity. According to the Standard Encyclopedia of Opalescent Glass, 5th ed. (p. 163), Twigs vases appear in two heights: tall vases measuring 6 1/2", and short vases measuring 5". This information is not strictly accurate. First, original whimsey vases are often taller than 6 1/2": as noted, the green Jack-in-the-Pulpit whimsey vase and blue Panalled Twigs vase shown here are 7", and the JIP shape originally was advertised at 7 1/4". In addition, the shorter standard-shaped Twigs vases (with straight up sizes or with pinched necks) may be stretched to heights as tall as 5", but they usually measure 4 1/2" high. Notably, early glass catalogs affirm that original opalescent Northwood Twigs vases were advertised in 4 1/2" heights. The 1900 Butler Brothers advertisement shown below, presumably placed by Northwood glass, offered Twig vases in "three fine shapes, 4 1/2 inches high":



A 1900 Butler Brothers wholesale catalog advertisement:
The fine print reads: "Three fine shapes, 4 1/2 inches high,
assorted canary and flint. Very pretty flower holder
or mantel ornament. 1 doz. in box."

Base diameters. Twigs vases measuring between 4 1/2" and 5" in height have base diameters measuring 2 1/8". The 6 1/2" to 7 1/4" vases have bases measuring 2 3/4".
Colors. Although the above ad lists Northwood vases in canary (yellow/vaseline) and flint (white), a Northwood advertisement than ran during the same period in a Sommers & Co.. wholesale catalog lists the vases in blue as well. Heacock records that beginning around 1908, Dugan issued opalescent Twigs vases in canary, white, blue -- and also in green. Heacock notes in Opalescent Glass from A-Z that the vases are rarest in green (p. 111). On E-Bay, however, canary opalescent Twigs vases tend to fetch the highest prices; the canary vases fluoresce a brilliant green under ultraviolet light. Canary opalescent Twigs vases are found in the standard pinched-neck and straight-up-sides shapes. We've never seen Jack-in-the-Pulpit or ruffled whimseys in this color, although the Standard Encyclopedia of Opalescent Glass, 5th ed., p. 204, lists them in canary. As noted above, 1908 Butler Brothers ads list the Jack-in-the Pulpit whimseys in blue, green and white only.
Opalescent Twigs Vase Reproductions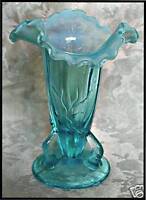 A 6 1/4" blue opalescent reproduction with a 3" base
photo by oxbeetle

Large (6 1/4") opalescent Twigs vase reproductions with ruffled mouths. The Standard Encyclopedia of Opalescent Glass, 6th ed. (p. 192), features a picture of a Twig vase reproduction like that shown above and warns buyers, "Beware of these and always know the dealer before you buy this pattern." Opalescent Twigs vase reproductions with ruffled mouths often surface on E-Bay mislabeled as scarce Twigs vase whimseys. The reproductions appear in white, blue and vaseline glass. The vase shown above is 6 1/4" tall with a 3" base. Such ruffled-mouth Twigs vase reproductions were issued by the L.G. Wright Company of New Martinsville, West Virginia, a firm well-known for making reproduction patterns. L.G. Wright operated from 1937 to 1999.
If viewed side-by-side with an early Northwood or Dugan Twigs vase, these ruffled-mouth reproductions are nearly impossible to confuse with the original. The differences are numerous: we have counted at least seven, which are detailed below. (Buyers should note that not all reproductions may show all seven differences. The presence of any one of them should be a red flag.) The most obvious distinctions between the originals and reproductions appear in the base: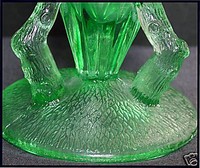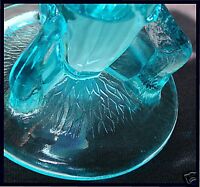 Details of bases of an original 7" Dugan green opalescent Twigs vase (left)
and a 6 1/4" blue opalescent reproduction (right)
photos by oxbeetle
(1) First, the base of the reproduction is 3" in diameter -- considerably larger than the original's 2 3/4" base. (2) Second, as shown above, the bark pattern on the top surface of the base extends to the rim of the base on the original; on the reproduction, the bark pattern extends only partway; the rest of the base's surface is smooth glass. (3) As clearly shown above left, on the original, daylight can be seen between the legs and vase body. By contrast, on the reproduction, the legs are joined to the vase by a web of glass.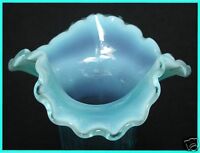 A 6 1/4" blue-opalescent reproduction:
Clear glass rims the edge, giving the appearance of cased glass.
photo by curculiosglass
Other differences between originals and reproductions are notable: (4) The original shows opalescence around the rim of the mouth, while the reproduction (above) has the clear edging characteristic of cased glass. (5) Both vases were made from three-part molds, but the mold seams on the original are barely visible; by contrast the mold seams on the reproduction are prominent, and visible not merely on the base, but up the entire length of the vase body. (6) The mold work on the reproduction is generally of poor quality; the entire surface of the original vase shows more detail in the vase ribbing, the legs, the branch pattern that climbs up the vase body and the fine lace-like bark pattern itself. On the reproduction, the bark pattern is more crudely designed, with thicker and fewer lines interlacing to form the pattern. (7) Finally, on the original, the vase opening is deeper -- approximately 2 1/2 inches from the rim to the bottom, where the end of a flower stem would rest. In the reproduction, the opening is shallower, about 2" deep at best.
Milk Glass Reproductions
and Transparent Glass Reproductions

Milk glass. Ruffled-mouth Twigs vases have appeared on E-Bay in white milk glass. These are essentially identical in size and shape to the blue opalescent ruffled-mouth Twigs vase reproduction featured above. The milk glass reproductions tend to show webbing between the legs and body. The bark pattern on the bases extends only partway to the edge, and bases are overlarge, measuring 3" in diameter. The vases are 6 1/4" to 6 1/2" tall.
Transparent glass. Buyers should note that L.G. Wright also issued Twigs vase reproductions with straight up sides, and with three pulled-up corners, in blue, green, amber and purple transparent glass. The vases we have seen are 4 1/2" and 6 1/2" high. L.G. Wright's manufacture of molds to make such reproductions of course raises the possibility of the molds' use in making opalescent and carnival Twigs vase reproductions as well. Like the ruffled opalescent reproduction shown above, the transparent Twigs vase reproductions have poor quality mold work and oversize bases with bark patterns that extend only partway across the base. Such vases also often have webbing between the legs and vase bodies. Photographs of two transparent vases are shown in Part II of this guide.
Clear here to continue on to Part II, which features carnival Tiny Twigs and Twigs Bud vases.
--- 0 ---


Many thanks to E-Bayers 1912 antiques, mello9, nickadaemous, oxbeetle and polesitter2, for generously contributing photographs to this guide. Rights to all photos belong to the photographers, and pictures should not be used without their permission. Text is (c) 2008, 2009 curculiosglass, all rights reserved. To locate any E-Bay seller mentioned here, just click on "Site Map" at the bottom of your E-Bay screen, and then click on "Feedback Forum" at the right top corner of the large menu that pops up. Type or copy the seller's name into the Feedback Forum's search blank. PLEASE LEAVE FEEDBACK ON THIS GUIDE BY PRESSING THE BUTTON BELOW. To read our other guides on carnival, opalescent and vaseline glass, click on GUIDE INDEX.