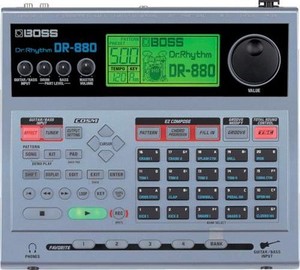 The business of making music is a time-consuming process. Writing, rehearsing, recording, and mixing the tracks, vocals, and background sound all takes time and effort. It is not always convenient or cost-efficient to have a live musician playing an instrument when a songwriter is trying to compose. Hiring musicians to play instruments for a live performance is also not always an option. Drum machines can help make the songwriting and solo performance process much easier. They are also a great investment for a person that just wants to experiment with different musical sounds.

What is a Drum Machine?
A drum machine is an electronic musical instrument that is designed to imitate the sound of electronic drums and other percussion instruments. Drum machines are usually shaped like a box and feature a keypad similar to that of a computer. State-of-the-art drum machines allow a musician or sound engineer to create, mix, and save drum sounds when a live drummer is not available. They are highly useful when a songwriter needs a background tune to assist in the writing of lyrics. Since drum machines allow the user to record and store sounds, they can also be used as an accompaniment to a live performer.
Most drum machines are sequencers with a synthesizer that reproduce the sound of drum timbres. The user records them into the memory of the machine and can also mix them with his or her own unique sounds. Timbre refers to the quality of the musical note, sound, or tone. Many drum machines are capable of producing other instrument sounds in addition to the sound of drum beats.
Drum machines are used by songwriters, performers, and music mixing engineers in hip-hop, country, rock, pop, and many other genres of music. They can be purchased in music stores and online at eBay.

History of Drum Machines
Commercial drum machines came into being around the mid-twentieth century. They were mainly used for rehearsing as they were still somewhat primitive and did not always give off a realistic drum sound. Early drum machines only played pre-programmed rhythms such as the mambo or tango. They were often used as accompaniments to the organ.
By the 1970s, drum machines had become much more advanced and were used by professional musicians. Sly and the Family Stone revolutionized the music world with the use of a drum machine, bringing the instrument into more widespread popularity. The album "There's a Riot Goin' on" was filled with the synthesized beats of a drum machine combined with Sly Stone's live drum beats. Bob Marley soon followed suit and by the 1980s drum machines had become a mainstream musical component. Used in pop, hip-hop, and rock, the likes of Blondie, Kraftwerk, Dr. Dre, and Lil Jon have all used drum machines to great success.

Features of Drum Machines
Modern drum machines range from the most basic of models, used by recreational music enthusiasts, to state-of-the-art mixing machines used by sound engineers, record producers, and professional recording artists. They offer many realistic musical sounds, built-in rhythm variations, precise programming, and professional editing features.
Pressure-Sensitive Pads
Each pad on the drum machine has a specific, assigned sound, such as bass, kick, tom, snare, crash cymbal, and so on. Pressure-sensitive pads allow the user to implement finger drumming. Tracks can be customized by adding sounds to the ones already recorded into the machine.
Multiple Input and Output Jacks
Multiple jacks allow the user to plug in headphones, footswitch jacks, and multiple stereo jacks to play, record, and mix music without disturbing others, getting distracted by outside noise, or running the risk of recording unwanted sounds and background noise. Guitar players can also plug into the drum machine to record their own tracks.
Flexible Programming and Editing Features
Many drum machines have multiple editing features. Top-quality machines used by professional sound engineers have more editing features than would ever be needed by a recreational music enthusiast. They offer the user the ability to record his or her own sounds and to combine them with the preset sounds of the drum machine. Preset patterns can number into the thousands.
Built-in Effects
Built-in sound effects such as tones, patterns, exotic instruments, and bass guitar tracks allow the user to combine his or her own sounds with realistic preset sounds. This is a great feature to have when guitar tracks are needed but a live guitar player is not available. Some of the more exotic instrument sounds available on drum machines include sitars, djembes, and tablas. Strings, keys, and horns are also popular musical sounds available on drum machines.
Portable
Most drum machines are fully portable and fairly light in weight to allow the user to transport them anywhere the machine is needed, such as a sound studio or a live performance venue.
Dual Power Supply
Depending upon the model, drum machines can be powered by batteries or an electric power cord. This is a great feature for travel or stage performance use.
Drum Machine Parts and Terms
| | |
| --- | --- |
| Audio Cable | The cable that connects the audio output of a synthesizer, guitar, or other machine to the input of an amplifier or mixer |
| Aftertouch | The pressure that is applied to a synthesizer keyboard after the key is pressed |
| Frequency | The number of vibrations per second |
| Jack | The receptacle where the cord of the headphones, instruments, or other items can be plugged |
| Keyboard | The pad that has the keys on it, similar to a computer keyboard |
| Preset | A synthesizer sound that is stored in the memory of the machine, also called a patch, program, or sound |
| Sequencer | A piece of hardware or software that records multiple tracks of music |
Find Drum Machines on eBay
After the purchaser has researched and picked out the perfect model of drum machine, he or she should head to eBay's homepage. From the All Categories section, select the Musical Instruments & Gear category. Next, select Electronic Instruments. Then, choose Drum Machines from the list of musical instruments. At this point, the purchaser can begin browsing through new, used, and seller refurbished drum machines. Vintage drum machines are also available on eBay. Many work perfect, look great, and add a unique touch to a vintage music instrument collection.
In order to get the best possible deal, be sure to read through the whole product description. A great feature that eBay sometimes offers on purchases is a bundle package. A bundle package is when the seller includes extra items or accessories with the item being purchased. It is always nice to get extra items such as cords, cases, batteries, or extra cables. Many drum machines do come with batteries, a USB cable, an SD card, and a user manual.
A well-informed consumer will always be sure to carefully read through the seller's feedback ratings, shipping conditions, return policies, payment options, and warranty information. The purchase price of the item and any original shipping costs are covered by eBay's Buyer Protection Policy. eBay offers the convenience of payment by major credit cards and PayPal.
The size of the item will determine the shipping charges. For oversized, fragile, or heavy items, it can be beneficial to check for a local seller. When buying from a local seller, the purchaser can personally pick up the item, thus avoiding expensive shipping costs or the risk of receiving damaged merchandise. New items are sometimes shipped directly from the manufacturer's warehouse in an effort to expedite delivery. Keep in mind that most sellers will not ship to a post office box.

Conclusion
Professional music makers and hobbyists alike can avoid the long lines and frustration of brick-and-mortar stores by conducting their research ahead of time, picking out the best model to suit his or her needs, and then browsing through a few pages on eBay to get the perfect drum machine. Whether the purchaser wants to take up a new hobby or replace an outdated machine with a new model, eBay's respected reputation and large selection of music machines makes online shopping quick, convenient and cost-efficient.