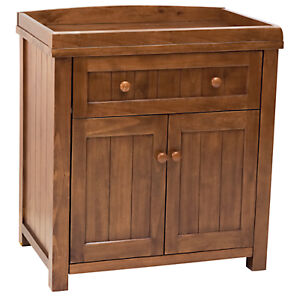 Dressers are versatile pieces of bedroom furniture which can be both functional and decorative at the same time. Dressers could be used not only to hold clothing items, makeup, jewelry, bed linens, and various personal items, but also as a display area for ornamental elements, like photos or objet d'art. Mirrored dressers can serve a dual purpose and act as a vanity. To make the most informed choice when purchasing a dresser, buyers should fully assess how the dresser will be used, how it is constructed, and what style it is to ensure that their dresser choice will fit their lifestyle fully for years to come.
Dresser Basics
The term dresser typically refers to any shorter and wider drawer sets, approximately waist-high, which are usually placed in the bedroom. Dresser models take up more floor space than bureaus,, which tend to stand taller and have deeper, narrower drawers to hold bulkier clothing items, like heavy sweaters. Dressers are often coupled with a mirror that is attached to the top of the piece to expand its functionality and design. Additionally, dressers might have a number of different drawer sizes available in one piece, or could have the same size drawers throughout the piece, depending on its model. For dressers that have only one size drawer available, buyers can purchase drawer dividers to help customize organization within the drawer.
Before shopping for a dresser, it is a good idea to measure where the dresser will be placed to ensure that a chosen dresser can be used in the ways the buyer intends. Using a tape measure,, measure the width of the proposed area and jot down the measurement on a piece of paper to use while shopping. Next, estimate the most amount of depth the dresser can have by measuring the floor space available in front the wall. Hold the beginning of the tape measure against the wall's floorboard and extend it out parallel to the wall. Add at least an inch allowance behind the dresser (more if there is an electrical outlet which will be used in the wall behind the area where the dresser will be placed) and add a ten to twelve inch allowance for opening the drawers of the dresser. With the correct measurements in hand, buyers can begin their search for the dresser that can accommodate their needs.
Dresser Construction
How a dresser was constructed and of what type of material should also be factors when determining what to look for when buying.
Materials Used to Construct Dressers
Dressers can be made from wood timber or composite wood. Wood timber dressers are preferable for dressers that will endure a lot of use or will be bought as an heirloom piece that can be handed down through generations. Wood timber can be sourced from inexpensive softwood, like pine, or from highly expensive hardwood, like mahogany. Another type of wood timber that has gained in popularity since the last half of the Twentieth century is rubberwood, which can also be called Asian hardwood, parawood, or tropical hardwood. These woods are from the pará rubber trees which are native to Southeast Asia. Rubberwood is considered to be ecologically friendly because it comes from trees that were used to produce rubber before being cut into timber. When rubberwood is cured and treated, its timber is as strong and durable as traditional hardwoods.
To tell the difference between the relative hardness or softness of woods, remember that hardwoods come from trees that are deciduous, meaning that they shed their leaves, while softwoods are coniferous, meaning they do not shed their leaves or pines.
| Types of woods | Tree which produce these woods... |
| --- | --- |
| Hardwood | Ash, cherry, mahogany, maple, oak, pará rubber, pecan, poplar, rosewood, teak, and walnut |
| Softwood | Cedar, cypress, fir, pine, and redwood |
Hardwoods provide the most strength and durability, but softwoods are also strong enough to withstand years of daily use. It is not uncommon to find the two woods used together in dressers that have a hardwood case and exterior drawer panels and softwood drawer bottoms and case backing.
Care for Wood Timber Dressers
Wood timber dressers need specialized care so that their finishes are not damaged by moisture or scratching during use. Coasters should be placed under any drinking glasses to prevent water stains from forming on the dresser top. Felt pads can be applied to the underside of any objects that might cause scratching on the dresser's surface. Wood cleaners and polishes are specially formulated to maintain wood and should be applied according to the manufacturer's directions. With a few preemptive techniques, wood dressers can easily remain damage-free.
Composite Wood Dressers
Composite woods, also known as engineered woods, are manufactured from recycled wood products. These products are broken down and then processed by using heat and pressure to fuse the wood fibers together. The most commonly used fiberboard in furniture construction is medium density fiberboard, or MDF. When MDF is used to construct a dresser, a veneer or laminate finish is applied to the exterior to mimic the appearance and feel of real wood.
Finishes on Composite Wood Dressers
Veneers and laminates are utilized as a finish over fiberboard because they are easy to clean and stain-resistant. Veneers are created by removing thinly-sliced cross-sections of wood timber. The resulting sheet of wood is then glued to a piece of furniture using heat and pressure. Laminates are manufactured by pressing wood and synthetic materials, like plastic, together. The surface of the laminate is then sealed with resin. Laminates can be solid or multi-colored; a popular style of laminate used for dressers simulates a wood grain surface. Buyers should remember that dressers using veneers or laminates cannot be refinished or painted easily, so if a buyer likes to frequently change the look of a piece, dressers made from solid wood panels would be a more appropriate choice.
Dresser Construction Techniques
Specific construction techniques can directly impact how a dresser can be used and how long it can be expected to last. Wheels attached to the bottom of the dresser allow it to be moved more easily and come in handy if someone would like to access an electrical outlet behind a dresser, or redecorate a room. Mortise-and-tenon and dovetail joinery indicate how panels are manufactured together and provide the sturdiest construction. Mortise-and-tenon joinery refers to joining dresser panels together using wooden pegs extruding from one piece of wood that are glued into matching holes in a second piece of wood. Dovetailing employs trapezoidal-shaped notches that are cut in wood pieces which correspond to notches in other wood pieces. The notches are glued and fit together to create the dresser case and drawers. Other types of joinery use screws, brackets, and nails to combine wood panels which cannot provide the strength that mortise-and-tenon or dovetailing provides, but can be sufficient for everyday use for a number of years.
Drawer construction is also an important factor in the longevity one can expect from a dresser. Solid wood drawers joined with mortise-and-tenon or dovetailing techniques are the most durable. Built-in solid wood gliders provide the most stability when drawers are opened and closed. If metal gliders are used, make sure their size is appropriate to securely hold the drawer when the drawer is fully extended. Lastly, drawer stops provide a safeguard from overextending a drawer and causing the drawer to fall out of the dresser case accidently.
Dresser Styles
A dresser is the second most important furniture focal piece in a bedroom, next to the actual bed, and should match the overall design theme of a room. Dresser styles can be broken down into two general types: traditional-style and contemporary-style.
Traditional-Style Dressers
Traditional-style dressers are designed to harken back to furniture design styles that were popular in the past. These dressers will include design elements, like drawer pulls, carvings, legs, and mirrors, which were commonly used during a specific interior design era. Popular traditional styles for dressers include Queen Anne - style dressers,, Victorian dressers,, Early - American dressers,, Mission - style dressers,, and Art Deco dressers..
Contemporary-Style Dressers
Contemporary-style dressers typically feature neutral color tones which can blend into a variety of interior design schemes. Design lines for contemporary styles are geometric, smooth, and free of any intricate carvings, but might include contemporary materials like steel, glass, and plastic to create visual interest in a piece. Often made of plywood and medium density fiberboard, they are easy to clean and maintain and are sometimes bought disassembled, requiring buyers to construct some or all of the dresser themselves at home.
Buying a Dresser
There are numerous options available where buyers can find the best dresser to fit their lifestyle. Furniture makers offer ready-made dressers and customized orders. Furniture stores provide a wide range of options in their showrooms. Second-hand shops, garage sales, and private owners often sell used dressers. Mass retailers sell dressers, both at their local stores and online, yet the choice is usually lacking. eBay is a great resource to find dressers in any style imaginable.
Buying a Dresser from eBay
eBay's marketplace has a vast range of new,, used,, and antique dressers available, as well as organizers and care products to modify a dresser's functionality and extend its longevity. Purchasing items on eBay is a safe and easy process that begins with registering to create an account.. After an account is established, buyers can search for dressers using keywords related to the size, style, or condition of a dresser.
Buying on eBay with Confidence
When buyers find an item they would like to purchase, they should read the accompanying product listing which should supply details on the item like brand name, specifications, condition, and more. Use the "Ask seller a question&" option at the end of the product listing if any additional information is needed. Bidding prices do not include the costs of shipping and insurance, so buyers should remember to factor those costs into the final price before deciding to bid. Information on shipping and insurance charges should be explained in depth in the product description.
Making informed purchases on eBay is made easy by researching a seller's history using eBay's Feedback Rating System.. Buyers can view a seller's transaction volume and customer feedback score through the rating system's tools. eBay and PayPal,, the preferred purchase transaction method used on eBay, have devised a number of protections to guarantee a smooth transaction process. Find out h ow PayPal works before bidding to keep the purchase process problem-free. If any issues arise while using eBay, visit the eBay Security Center or eBay Buyer Protection page to solve problems quickly.
Conclusion
There are a number of important decisions which need to be made before a buyer starts shopping for a dresser. Because dressers supply both an aesthetic and a functional element in a room's furniture plan, care should be taken to make sure a dresser's style can mesh with the design elements planned in a room. Construction materials and techniques play a large role in determining how long a dresser should be expected to last and how it should be maintained, so buyers should look closely at these elements before purchasing. Lastly, the size of a dresser is an issue, so check how much space is available for a dresser and stick with those constraints to ensure the dresser can function without spatial problems. Keeping these points in mind can set buyers on a path to purchasing the best dresser to fit all their needs.