Having sold a few pairs of authentic Dr. Dre Beats studio headphones, I have noticed a lot of fakes on eBay when i did some searches.
I came to a conclusion that I should make a guide to help buyers see this misleading information and bought a pair of fake headphones form an eBay seller.
In this guide I will show you side by side pictures of the fake product and the real product and will point out the differences.
(copy and paste the link under for large picture)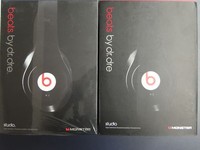 http://img139.imageshack.us/img139/7445/dsc081910.jpg
Description:
Left side is real right side is fake.
You can see that the image of the headphones on the right side is darker. Under the word studio in the bottom left had corner the TM sign is missing in fake version and text color and style is different.
(You can see it better in these pictures) :
Fake- http://img715.imageshack.us/img715/6494/dsc08194w.jpg
Real- http://img825.imageshack.us/img825/5866/dsc08193x.jpg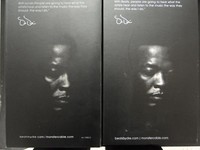 http://img152.imageshack.us/img152/2616/dsc08195b.jpg
Description:
Left side is fake right side is real.
Dr Dre's head shot is much darker on fake version. Also do note the use of a | instead of a / between betsbydre.com and monstercable.com. Also, there's a model number on the bottom right hand corner of the fake one, and there isn't any on the real one.
(You can see it better in these pictures) :
Fake- http://img59.imageshack.us/img59/3058/dsc08196x.jpg
Real- http://img602.imageshack.us/img602/2001/dsc08197.jpg
Other things to note:
1.
The back picture of the headphones is darker and positioned differently and TM logo is again missing in parts of text in fake version.
Fake- http://img543.imageshack.us/img543/5894/dsc08199.jpg
Real- http://img411.imageshack.us/img411/6196/dsc08198qt.jpg
2.
Bottom corner of box missing ink, I don't think Monster would run out of ink.
Fake- http://img832.imageshack.us/img832/9003/dsc08200e.jpg
3.
Left side is fake right side is real.
Notice the difference in the decription of the item. Also the picture is darker in fake version.
http://img707.imageshack.us/img707/9236/dsc08201.jpg
4.
These 2 documents are missing in the fake version of the headphones
http://img340.imageshack.us/i/dsc08202g.jpg/
Thees are just some differences, that I am hoping will help you avoid getting fake Studio Beats Headphones.
Thanks
PLEASE SAY IF YOU FOUND THIS HELPFUL THANK YOU!!