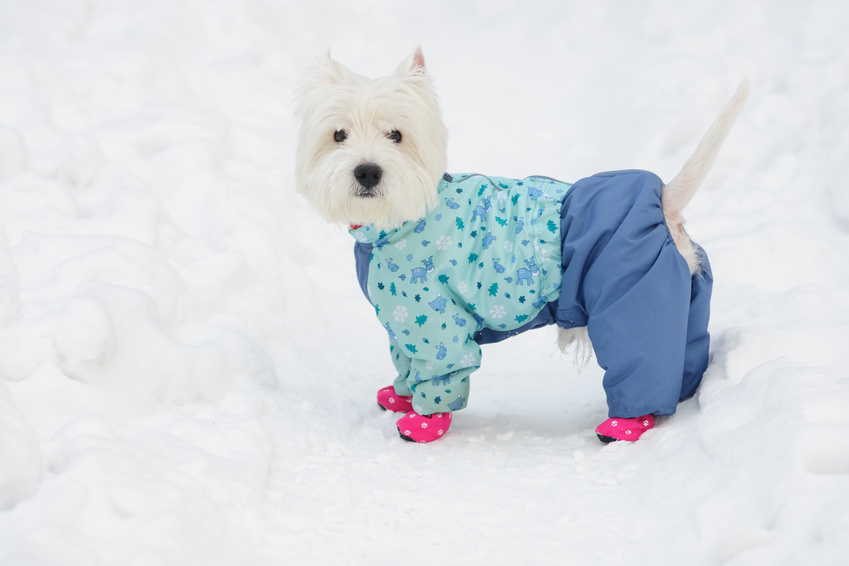 Dog Clothing in the Winter – A Smart Idea or Just a Fashion Accessory?
In the last few years, you've been seeing more and more of it on the streets: dogs that might not be getting carried around in a purse, but they are wearing matching outfits with their owners. You might ask yourself whether these owners are really doing what's best for their dogs, or whether they might be misusing their pets and treating them like an accessory. When does dog clothing really make sense, and where is the boundary when dog clothing actually starts to do more harm than good?
Learn About the Colorful World of Dog Clothing
When it comes to the selection and variations of dog clothing available, there's just about as much out there for dogs as there is for their owners. Besides lots of useful pieces of clothing, the market also offers an almost inexhaustible selection of different designer pieces and accessories that might look cute but unfortunately aren't always functional. You'll need to weigh what's right for you and for your pet. Whether your dog wears fur over his fur will depend on the owner's taste at the end of the day. Let's look first at some functional clothes for dogs:
Functional Clothing for Your Dog
When it comes to functional clothing, there's almost everything out there for dogs as there is for humans. Dog clothing is made to respond to the kinds of problems humans face everyday. Dogs that like to take walks with their owners in the darker months of the year or early in the morning or late in the evening will be much more visible if they're wearing a reflective or even a light-up coat or vest. Everyone will be able to see them, even in grey or snowy weather. Your dog won't run the risk of being missed by a driver and possibly injured by a car. We should note here that it isn't just your dog who's tough to see at night – you might be difficult to see too. A smart dog owner won't just think about his four-legged friend; he'll also protect himself in the winter months with reflectors to make sure drivers don't miss him either.
When it Storms and Snows
Dog shoes or booties will be especially helpful in the winter when there's salt on the street, which can quickly cause problems for sensitive paws. In the summer, they can also protect your dog from the hot asphalt. Short haired dogs will feel better wearing an overall suit, a sweater, a coat or a cute fleece jacket in the cold. If you have a long-haired dog, you can put gaiters on his legs to make sure the hair doesn't get so full of dirt, snow, or ice that it stops your dog from moving freely or requires you to wash your dog frequently, which can cause skin problems for your long-haired friend over time.
Shoes for 4 Paws
Shoes aren't just for outdoor use, however. If you're a dog owner and you have smooth laminate or parquet flooring in your house or apartment, your pet will be happy to wear little neoprene or rubberized booties which will greatly improve his hold on smooth flooring surfaces indoors and keep him from slipping. Changing the shoes from an indoor to an outdoor pair will also ensure he doesn't trek in icy slush from outdoors into your living room. This will quickly become a routine for both you and your dog.
Sports Wear for Dogs
Even if you have some more unique hobbies, there are accessories for any dog owner which can help your dog go along with you so he won't be excluded from all the fun. If you own a boat, you'll be happy to find out there are life vests for your dog that can give him just a little extra buoyancy so he'll be able to keep his head above water a long time after he jumps or falls overboard without too much effort. It will also help keep him warm in the fall, when the water isn't exactly warm.
Or maybe you're the type who likes to take your dog with you when you go jogging in the winter or like to have him run along with you while you're riding your bike? This can cause long haired dogs to get fairly hot, which will wear your dog out quicker and require him to drink a lot more water. But not if he's wearing a cooling dog vest. Just like a piece of functional clothing for humans, the vest will help guide the heat away from your dog's body, keeping him cool any time of year. Your dog will love it, and will be able to relax and enjoy sports with his owner.
Fashion Clothing for Dogs
Although the market for functional dog clothing is determined by the typical ways dogs and owners will be using it for particular sports, there's really no limit to what's out there in fashion wear for dogs. In winter especially, lots of owners want to buy a few layers for their dog to keep them warm just like they do themselves. People do say that dogs and their owners start to look like each other after a while, and it might just be true – but is it the dog that looks like the owner? Or the owner that looks like the dog?
If you have a dog who is sensitive to changes in the weather, you'll be happy if you don't have to sit out every rainstorm. Just make sure your dog is protected with his own little rain coat against the wet weather, or even with a hat against the wind, snow, and hot sun – they're especially practical for long afternoons at the golf course or long walks.
For the Style-Conscious Dog Owner
A rhinestone studded dog collar won't really keep your dog any warmer, but it will look great combined with a jacket or coat. Of course, you don't just have to settle for a basic rhinestone collar; you can also get much more intricate versions with real Swarovski crystals or gemstones. There's no limit to what you can find for your dog – if you look in the right store or online, you'll also be able to find matching sets with pieces for both you and your dog. You can even buy little dresses and shirts so you can both share the same style.
A dog that loves sports will look great in a jersey from his favorite team; of course, you can also buy a matching scarf sized for your dog with velcro so it doesn't pose any danger of choking your dog during all the excitement of a big game. It will even keep him a little warmer.
If all that still isn't enough for your dog, you can even take things up a notch: a plush hoodie, especially with little cut-outs for his ears, will look good on any dog and keep him from freezing.
What Should You Look for When Buying Dog Clothing?
You'll be able to find the right winter accessories for any dog – of course, the market responds to demand, so there are more functional accessories for larger, more active dog breeds, while stylish clothing is more common for smaller dogs. What looks good on your dog and what you enjoy doesn't just depend on your own tastes – please also remember the natural characteristics and needs of your animal.
A large, long-haired dog shouldn't be put in a thick coat, and a very active dog needs to be free to move at all times.
If you've decided on the right outfit for your four-legged friend, it's especially important to get the right size. Never simply rely on the manufacturer's standard sizes, which don't take dog breed into account and tend to be based on very rough averages. For you, this means you need to carefully measure your dog before you make a purchase. If you want to buy a jacket or shirt, for instance, you need to measure your dog's back length. Measure it while he's standing up; if you measured him while he was sitting or lying down you'd get a different result. If your dog usually holds his tail up, you want the jacket, shirt, or sweater to end before the base of the tail – take off a few inches from the back length if needed. If you're buying an overall suit, measure the lengths of his front and hind legs as well as the circumference of his neck, chest, and waist.
Let Your Dog Make the Final Decision
No matter what kind of dog clothing you're looking for, let your dog tell you what he likes and what he doesn't. Watch him the first few days he's wearing a new piece of clothing and make sure your animal feels comfortable. Test out how well a piece of functional clothing works before the first time you use it outdoors – try it out first in a neutral environment. It would be fairly annoying if your nice Sunday walked turned into an ordeal for everyone involved because your dog is biting at his new jacket. As long as you keep your dog's well-being in the forefront of your mind, you and your four-legged buddy will have lots of fun with your new doggy wardrobe.