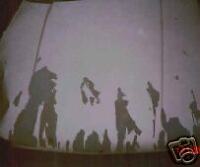 Does your car/truck have peeling paint? Here's why.
IF YOU SAW Dateline's report and have questions about the problem of peeling paint, here's how you can find out more. Most manufacturers for a period of years chose to eliminate spray primer as part of their refinish process. With exposure to the sun, this caused the "color" to flake and peel from the surface of the car or truck. This has effected millions of vehicles.
AFFECTED CARS AND TRUCKS
The models cited in the certified class-action suit against Ford are the following:
1984-1993 F-Series trucks
1984-1993 Broncos
1984-1989 Bronco IIs
1984-1992 Rangers
1984-1989 Mustangs
Also, as we mentioned in the story, a service bulletin was distributed to GM dealers alerting them to a potential peeling problem on the following trucks:
1988-1992 C/K, S/T, R/V TRUCKS AND M/L, G VANS
Chrysler has not acknowledged a peeling problem related to the elimination of spray primer on their assembly lines. They are being sued over that problem, but the lawsuits are not specific about the affected models or years. There have also been numerous complaints about cars and trucks manufactured with spray primer, as well as vehicles newer than model year 1993. There is also a difference between peeling, known as delamination, and other types of degrading such as the spotting that comes from acid rain damage. If you have a problem with your paint, you should go to your dealer and ask for assistance. Owners of vehicles with widespread paint damage should first contact their car dealerships for assistance.

WHO TO CONTACT If you have peeling paint on your car or truck, there are several people you can contact for more information about how to file a complaint. The Center for Auto Safety will send you a letter describing the proper procedure to obtain financial assistance from the car company, how to obtain service bulletins, and how to sue in small claims court. You should send a letter describing your vehicle (including make and model year) and your problem along with a self-addressed stamped envelope to:
The Center for Auto Safety
2001 S Street NW
Suite 410
Washington, D.C. 20009-1160
What CAS or any lawyer, will tell you is that your first step should be to take your vehicle back to the dealer to ask for assistance. If you are not able to get assistance from your dealer, you should call or write the customer assistance number of your automobile company. Here are some of those numbers:
Ford
(800) 392-3673
Ford Customer Assistance Center
P.O. Box 43360
Detroit, MI 48243
General Motors
Buick (800) 521-7300
Cadillac (800) 458-8006
Chevrolet (800) 222-1020
GMC (800) 462-8782
Oldsmobile (800) 442-6537
Pontiac (800) 762-2737
Saturn (800) 553-6000
Chrysler (800) 992-1997 (Monday-Friday)
For more information and links, try:
autopedia.com/html/HotLinks_PeelingPaint.html