Hello Friends. As a part-time eBay consultant one question I get asked all the time is "Are there any good dropshippers?" or "Does Dropshipping work on eBay?" or "Is DOBA a real dropshipper?"...
The quick-and-easy answer is NO.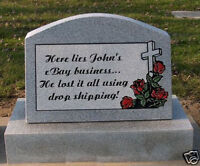 This picture says it all.
"Here lies John's eBay Business. He lost it all using drop shipping!"
Never Heard of Dropshipping?
Dropshipping is where you sell an item on eBay without actually having the item on-hand. Once the item you list on eBay has sold, you then contact the dropshipper who sends the item directly to your eBay customer.
So, in theory, dropshipping offers very little risk because you don't pay for the product before it has sold. Also in theory, dropshipping requires very little work because the dropshipping company does all of the work completing the order for you. They handle all of the shipping.
In reality however, dropshipping is neither low-cost nor is it easy.

In a nutshell, the main problem with dropshipping is that there is simply not enough "wiggle-room" when it comes to profit. A dropshipper is not the same as a wholesaler. When you use dropshipping to supply your eBay auctions you will only be buying ONE of an item at a time -- you list an item on eBay, it sells, then you buy it from the dropshipping company.
Since you are buying only one at a time the dropshipper is not going to offer you the lowest wholesale price. Wholesale is based on selling in large quantity. A company selling wholesale is willing to sell for less because of the quantity you are buying. The same cannot be said with dropshippng.
Add to that fact that eBay is the place people shop to FIND A BARGAIN and you're in trouble. The worst case senario is to BUY HIGH - SELL LOW. The opposite is what you want to do -- you always want to BUY LOW - SELL HIGH.
With dropshipping this is simply not possible. Not on eBay anyhow.
You have to understand that many companies try and convince you that dropshipping is the answer to eBay success. Then, they all try and sell you a dropshipping membership or access to a list of dropshippers.
Just think about dropshipping and you will realize it doesn't make sense. Any company who sells a single item to an individual is not a wholesaler but a retailer. Since ANYONE can go to your dropshipper and avoid you (the middleman) it simply makes no sense.
I strongly recommend that before you try dropshipping you save up some money and invest in a small wholesale lot of merchandise.
If you want to learn more about the pains of dropshipping or if you want a low-cost and no-risk alternative, you can visit DropShippingSucks.com . There is a complete breakdown of why dropshipping doesn't work on eBay at that site. They will also teach you how to psudo-dropship so you can have the benefits of dropshipping (low cost, low risk) and yet actually profit.
Good luck. I hope you enoyed this guide. If you did, please be sure to click the "Yes" button below.
P.S.
People are always curious about DOBA. I will not do a review of DOBA here but I will make a simple statement. Dropshipping is not a good way find products to sell on eBay. DOBA is dropshipping.