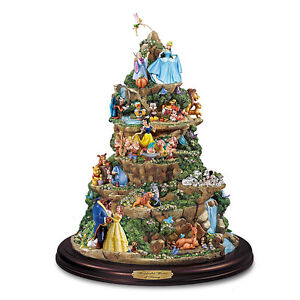 The wonderful world of Disneyana includes everything from Mickey Mouse wedding cake toppers and Tinkerbell snow globes to vintage Donald Duck coin banks. Whether Disneyana shoppers want to add to their Disney collections or find a gift for someone special, it is important to know about all available merchandise and where to find it before making a purchase. Learn about different types of figurines, mugs, animation cels, pins, and even various pieces of ephemera, as well as how to find and buy Disneyana, such as at local retail stores, the numerous Disney theme parks, or online at marketplaces like eBay.

History of Disneyana
Disneyana is the term used for collectible toys, books, and other souvenirs sold at Disney theme parks and retail stores. The term Disneyana was used informally in the 1960s and 70s among enthusiasts, not coming into common usage until the publishing of Cecil Munsey's book Disneyana: Walt Disney Collectibles in 1974.
The number of Disneyana collectors increased greatly during the 1980s and 90s, and it is still a popular hobby today, as Disney enthusiasts collect anything Disney-themed, from souvenirs commemorating special events in Disney history to hats that are tied into various Disney films. Shoppers will find both vintage Disney items dating from before 1968 and contemporary Disney items dating from 1968 to present day at collector shops, antique stores, and online sellers like eBay.
Contemporary Disneyana
Shoppers can find an abundant selection of contemporary Disneyana created since 1968. Every year, Disney pleases its fans with new movie releases, re-releases of Disney classics, and new theme parks. As the Disney product line grows, Disney fan fever and the amount of available Disney memorabilia grows with it.
Vintage Disneyana
Vintage Disneyana items cover a 40-year period, beginning with Mickey Mouse's Steamboat Willie film success in 1928. Vintage Disney surprises appear each day on eBay, ranging from Donald Duck anti-Nazi sheet music to rare celluloid Mickey Mouse pencil sharpeners.

Explore Popular Types of Disneyana
The world of Disneyana is vast and includes popular Disneyana items including apparel, accessories, figurines, housewares, pins, plush toys, animation art, snow globes, theme park souvenirs, and watches. Learn about all available options and product sources before making a purchase.
Disneyana Figurines
Figurine collecting is a very popular hobby among Disneyana enthusiasts. Figurines come in a variety of different styles, from plush toys to life-size plastic Mickey Mouse toys. The prices of various Disney figurines range from less than a dollar to thousands of dollars.
Explore Figurines From the Walt Disney Collectors Society
Collectors often seek Disney figurines from the Walt Disney Collectors Society, home of the Walt Disney Classics Collection (WDCC). Launched in January 1993, the Walt Disney Collectors Society offered the first figurines created by the Disney Company (Disney previously licensed other companies to produce its figurines). Disney now licenses Enesco Corporation to produce the Walt Disney Classic Collection and coordinate the club. Each Disney figurine has a backstamp marking its production year and representing events in Disney history.
Make sure to look for appropriate marks when purchasing one of these figurines to ensure authenticity. Below is a list of all the backstamp marks since 1992 as well as the milestone the mark represents.

| Year | Mark | Milestone |
| --- | --- | --- |
| 2012 | Palm Frond | The Jungle Book |
| 2011 | Umbrella | Mary Poppins |
| 2010 | Anvil | The Sword in the Stone |
| 2009 | Paw Print | 101 Dalmatians |
| 2008 | Crown | Sleeping Beauty |
| 2007 | Hook | Peter Pan |
| 2006 | Tea Cup | Alice in Wonderland |
| 2005 | Glass Slipper | Cinderella |
| 2004 | Bumble Bee | Melody Time |
| 2003 | Singing Harp | Fun and Fancy Free |
| 2002 | Sombrero | Saludos Amigos |
| 2001 | Butterfly | Bambi |
| 2000 | Feather | Dumbo |
| 1999 | Sorcerer's Hat | Fantasia |
| 1998 | Pickax | Snow White and the Seven Dwarfs |
| 1997 | Music Stand | The Band Concert |
| 1996 | Donald Duck's Hat | The Wise Little Hen |
| 1995 | Practical Pig's Trowel | The Three Little Pigs |
| 1994 | Dancing Flower | Flowers and Trees |
| 1993 | Treble Clef | Silly Symphonies |
| 1992 | Steamboat Wheel | Steamboat Willie |

The Walt Disney Classics Collection is divided into three groups based on the film inspiration for each character and setting.
Timeless Treasures: Timeless Treasures represent early features personally touched by Walt Disney, from Snow White and the Seven Dwarfs (1937) through The Jungle Book (1967).
Modern Masterpieces: Modern Masterpieces begin with The Aristocats (1970) and include a highlight of this modern era, The Little Mermaid (1989).
Cartoon Classics: Cartoon Classics include all the early animated short films.
Disney Animation Cels
Ranging in price from a few dollars to thousands of dollars, Disney animation cels are popular with fans of the Disney animated films. Buying a Disney animation cel allows collectors to own a piece of Disney history. A cel, short for celluloid, is a transparent sheet used primarily during the first half of the 20th century for animation. Objects were drawn or painted on the cels for traditional, hand-drawn animation. This technique is rarely used today, as computer-assisted animation production is now preferred by most filmmakers. In 1990, Disney studios stopped using cels for animation production.
Disney Apparel and Accessories
Another popular category of Disneyana items is apparel and accessories. Avid collectors can find jackets, shirts, princess costumes, hats, and other items of clothing and apparel, which range in price from less than a dollar to hundreds of dollars. Novelty apparel and accessories include items like officially licensed Disney Mickey Mouse ears with gloves, Disney costumes, Disney Christmas ties, Disney Nightmare Before Christmas reindeer ties, Mickey Inc. silk baseball ties, various Disneyana convention memorabilia, and other Disney-themed purchases.
Disney Pins
One of the most popular Disneyana collector items are the wide variety of Disney pins. Many different pin types are produced over any given year, with special edition commemorating anything from movie openings to the opening of new attractions at the various Disney parks. The practice of collecting pins is actively encouraged and supported by Disney, and pin trading has become a popular hobby of many Disney pin collectors.
At last count, there were over 60,000 Disney pins available. Pin themes range from characters, including Mickey Mouse, Tinkerbell, Chip 'n Dale, Goofy, Stitch, and Donald Duck, to popular Disney attractions, such as It's a Small World, The Haunted Mansion, Pirates of the Caribbean, Star Tours, and Tower of Terror. The many Disney pin series include the Hidden Mickey Series (previously known as the Cast Lanyard series), Piece of History Pins, and Soda Pop Series, among others.
Disney Toys and Accessories
Disney toys and accessories are constantly in demand by Disneyana enthusiasts, both for their value and their nostalgic appeal, especially when associated with classic Disney movies. Disney toys range in price from a few dollars to hundreds of dollars and include items such as Buzz Lightyear dolls, Monsters Inc Toys, Tinkerbell jewelry boxes, Disney-themed board games, Disney Hot Wheels, character backpacks, and themed jewelry.
Other Popular Disneyana
Snow globes are another category of Disneyana popular among collectors. Typically ranging in price from less than a dollar to hundreds of dollars, Disney snow globes are an item collectors actively seek. Also, like Disney pins, Disney makes and sells coins commemorating various special events from movies to anniversaries. Highly collectible, Disney coins are sought by Disneyana fans everywhere.
Disney also produces coin banks in the shape of favorite Disney characters and coin purses with popular Disney characters illustrated on the front. Popular among Disneyana collectors, bank and coin purse prices range from less than a dollar to hundreds of dollars. In addition, Disney Dollars are printed by Disney, depicting various Disney characters and locations and, like all Disneyana items, are popular with Disney enthusiasts. Even more, Disney Dollars are accepted like cash at Disney theme parks, cruise ships, and at The Disney Store.

Give the Gift of Disneyana
Disneyana can make a perfect gift to mark special occasions, including birthdays, weddings, anniversaries, and graduations. Here are some gift ideas for special occasions:
Disney housewarming gift ideas: For a fun housewarming gift, consider Disney housewares such as Disney towels, Disney bedding, Disney candles and candle holders, Disney cookie jars, Disney lamps, Disney night lights, Disney pillows, and Disney salt and pepper shakers. Or consider limited edition Disney dolls, figurines, lithographs, ornaments, and pins homeowners can use as decorations.
Disney gifts for travel aficionados: People who like to travel may appreciate Disneyland, Disney World, Disney Monorail, or Disney 50th Anniversary theme park souvenirs.
Disney apparel gifts: Want to add fun to someone's wardrobe? Pick up Disney apparel and accessories, such as outerwear, costumes, hats, t-shirts, ties, and watches.
Disneyana collection gifts: To jumpstart someone's Disneyana collection, find jewelry, animation art, or Disney holiday items to match a person's interest, or select a pin, button, book, toy, game, or puzzle featuring a favorite Disney character such as Scrooge McDuck, Goofy, Belle, Snow White, Cinderella, Ariel, Peter Pan, or Minnie Mouse.

Understand Disneyana Terms
Sellers often use terms to describe certain Disneyana editions within item listings. It's important to know these terms before completing a purchase to ensure the product bought is what the buyer really wants. The following table represents common Disneyana terms and what they indicate.

| Disneyana Term | Term Explanation |
| --- | --- |
| Limited Edition (LE) | A Disney item may be limited by a specific, announced number (such as 5,000 or 10,000) or by time period. Disney limited editions show two sets of numbers, usually on the back or base of the item. The higher number indicates the total number produced, while the lower number indicates which one the owner has. Limited editions often come with a certificate of authenticity. |
| 30-Day Firing Limit | Companies such as Bradford Exchange, Danbury Mint, and Hamilton Collection frequently set firing limits for Disney collector plates. The company making the plate often sets a limit of 30 firing days, but sellers might also see higher limits, such as 100-day firing limits. |
| Annual Edition | Annual edition Disneyana is produced for one year. |
| Open Edition | Open edition Disneyana is not limited and could still be in production. |
| Artist Proof (AP) | Artist proof Disneyana is art of an edition that is set aside for the artist. |

Other common abbreviations in Disneyana item listings include:
NR: No reserve. The seller has not set a minimum price for sale.
MIB or NIB: Mint in Box or New in Box. This designation indicates a new or never-displayed item.
COA: Certificate of Authenticity. This designation means the product has been certified.
BNB: Brand New Boxes. This designation means the item is brand new and boxed.
NLA: This indicates that the items is no longer available.
Find Disneyana on eBay
Once shoppers know what type of Disneyana they want to purchase, they should go to the Collectibles & Art portal on eBay, click Disneyana under Collectibles, and start searching for item listings.
eBay Disneyana Categories
The Categories list on the left side of each page will help shoppers narrow the listings by item type, such as Contemporary (1968 to Present) and Vintage (Pre to 1968) Disneyana. As shoppers dig deeper into the site, they will also be able to narrow their choice by item type, such as animation art, books, holiday items, jewelry, limited editions, mugs, glasses, toys, games, and puzzles. To determine how much shoppers should expect to pay for Disneyana on eBay, search Completed Listings to learn what similar items sold for on eBay in the past 14 days.
eBay Keyword Search for Disneyana
Search eBay listing titles for specific words when shopping for Disneyana. For example, to find a Walt Disney Classics Collection Merry Messengers figurine, type "WDCC Merry Messengers" (without quotation marks) into the search box. Click the Advanced button to customize the results. Shoppers should also visit eBay's Search Tips page for more advice on searching for Disneyana with keywords. If buyers cannot find the exact Disneyana piece they want, they should try shopping eBay Stores, tell the eBay Community what they want by creating a post on Want It Now, or save a search on My eBay, and eBay will email buyers when a match becomes available.

Buy Disneyana With Confidence
Before bidding on Disneyana on eBay, shoppers should make sure to know exactly what they are trying to purchase, research the seller, and understand how eBay and PayPal protect the buyer.
Know eBay Purchase Details
Carefully read the details in the Disneyana listings. Figure delivery costs into the final price of the Disneyana. If a lot of money is spent on a a rare piece of Disneyana, make sure the seller will insure the product when it ships. For more information about Disneyana, ask questions by clicking the Ask a Question link at the bottom of the listing page.
Always make sure to complete an eBay transaction with a bid, Buy It Now, or Best Offer. Transactions conducted outside of eBay are not covered by eBay protection programs. Never pay for Disneyana on eBay using instant cash wire transfer services through Western Union or MoneyGram. These payment methods are unsafe when paying an unknown party. In the unlikely event that a product is not delivered or it does not match the Disneyana description, eBay Buyer Protection covers the purchase price plus original shipping for the purchased product.
Know the eBay Seller
Research the eBay seller to ensure a positive and secure transaction when purchasing Disneyana. Here are a few questions to consider when researching a seller.
What is the seller's feedback rating?
How many transactions have they completed?
What percentage of positive responses do they have?
What do buyers say about their Disneyana in the feedback?
Did the seller receive praise?
Most top eBay sellers operate like retail stores and have return policies. Do they offer a money-back guarantee for their Disneyana? What are the terms and conditions?

Conclusion
Collecting Disneyana can be an enjoyable and rewarding hobby. Those who love Disney and the products they produce go to great lengths to find just the right item or to collect all items in a series of specific Disneyana collectibles. But before buying Disneyana, collectors should know specifics about available Disneyana products, where to find specific books, figurines, clothes, and other Disneyana, and how to purchase Disneyana safely and securely online.