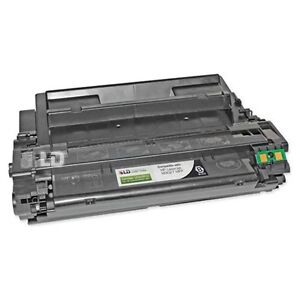 Given the prevalence of technology, computers and printers are becoming increasingly important in both the home and the office. But with these devices comes a great deal of operating information that can often be difficult to understand. Printing equipment, particularly toner cartridges, can quickly rack up costs, making it valuable to thoroughly comprehend which types of cartridges can or should be used. By understanding why certain cartridges are recommended, distinguishing between the different types of toner cartridges, and recognizing the different scenarios in which they can be used, one can use toner cartridges to their full potential. This will help users avoid harmful damages to the printer and its documents.

Why Specific Cartridges Are Recommended
Printers will almost always recommend their manufacturer's type of toner cartridges, or Original Equipment Manufacturer (OEM) cartridges. For example, an HP printer will recommend using HP toner. There are two main reasons behind this. On the surface, an OEM cartridge will be guaranteed to function properly, as opposed to other types of cartridges. However, by recommending their specific toner cartridges, the manufacturers are also trying to increase their profits, which is a major driving factor behind their recommendations. Although the recommended cartridges will most likely have the highest rate of functionality, it is important to note that just because a cartridge is specified does not mean that other cartridges cannot be used as well.

Types of Toner Cartridges
The first step in pairing toner cartridges with certain types of printers is distinguishing between the different types of toner cartridges available. There are three main types of toner cartridges, each with their own defining traits.
Original Equipment Manufacturer (OEM) Cartridges
OEM cartridges, or brand name cartridges, are created by a specific printer's manufacturer, not an outside source. These cartridges are the most suitable for that given printer, and are typically backed with a guarantee or warranty. The toner cartridges that come with a new printer are OEM cartridges, although they are usually only partially filled. These cartridges are easily installed in printers, and typically produce the highest quality prints. New OEM cartridges for all major manufacturing brands can easily be found on eBay.
However, this accessibility and high quality can come with a hefty price tag. OEM cartridges are often the most expensive of all cartridges. Although they have a high page yield, lowering the actual cost per page, they can often cost as much as a new printer itself.
Generic/Compatible Cartridges
Generic, or compatible, cartridges are created by a third party, not involving the actual manufacturer of the printer or its original cartridges. These cartridges are modeled after OEM cartridges from most major brands, including HP, Xerox, Dell, and many more. They are typically constructed from completely new parts, but vary slightly from the OEM models due to patents and other restrictions. However, the parts are still compatible with those of an OEM cartridge.
Generic cartridges can create high-quality prints, almost to the level of OEM cartridges. This is typically only true, however, when bought from top-rated and trustworthy sellers on eBay. Many of these sellers will even offer guarantees and warranties like OEM toner cartridge sellers do. Smaller, uncertified sellers rarely offer warranties, and can create products that do not produce quality prints. These cartridges can even damage the printer, as they might not be properly constructed. This can often increase the need for reprinting, decreasing the toner's page yield and increasing printing costs.
Regardless of quality, generic cartridges are priced significantly lower than OEM cartridges. They may not be recommended by the printer's manufacturer, but they can operate just as well as the endorsed cartridges.
Remanufactured Cartridges
Remanufactured cartridges have the lowest rate of functionality among toner cartridges. These versions are often recycled cartridges that have been disassembled by an outside party, cleaned, checked, and then reconstructed to be used again. Some sources will even just drill a hole in a used cartridge, refill it with toner, and then plug it back up for use. Although the recycling factor makes them more environmentally friendly, these cartridges typically produce the lowest quality prints and can often be prone to leaking, which would damage the printer and ruin documents. Again, this can lead to reprinting, which increases overall printing costs. Manufacturers of remanufactured cartridges on eBay can still be trustworthy and even offer guarantees, but extra research into the seller would be necessary. Like compatible cartridges, remanufactured models have significantly lower prices than OEM cartridges.

Scenarios for Using Different Toner Cartridges
Although printers may recommend a specific type of toner cartridge for all printing tasks, there are different scenarios in which certain types of cartridges can be used. This will not always fall in line with the recommendations. These situations range from printing high quality photos, to simple black and white documents.
Printing High Quality Photos
When it comes to printing photos with high resolutions, quality is of the utmost importance. For this reason, OEM cartridges are the safest bet when printing photos of these sorts. OEM cartridges are guaranteed to produce images of the highest quality, and the risk of blotchiness or streaking is low, which is not always the case with compatible and remanufactured cartridges. The low fail rate of these cartridges is especially beneficial when printing images on expensive photo or glossy paper, as the risk of reprinting, and thus wasting money, is much lower. OEM cartridges themselves are top tier, and are sure to help even the smallest of details come into focus, which is the final goal with printing high quality photos and other similar projects.
Color Documents
Presentations, school projects, or any sort of documents that do not necessarily call for photo quality prints are more suitable with compatible toner cartridges as opposed to OEM cartridges. Although these cartridges are not always the equivalent of brand name cartridges, they can still get the job done. If bought from a trustworthy seller with a guarantee, as is recommended, compatible cartridges can produce quality prints at a much lower price. If these documents are being printed on quality stock paper, a possible need to reprint, as might be necessary with compatible cartridges, would not run the risk of wasting too much money.
Simple Text Documents
When printing documents that have mainly text and few photos, and that are of lower personal importance, one can consider using remanufactured cartridges. These types of documents do not require a high quality, and are typically printed on cheap copy paper, which makes the possibility of having to reprint less of a headache. Simple text documents, such as academic papers, also only require black toner, which is easier on the printer and reduces the risk of leaking toner. If getting the documents printed in a cheaper manner is more important than the quality of the documents, using remanufactured cartridges can be a smart choice.

Understanding Printer Warranties
A common myth surrounding printers, their warranties, and toners is that by using a toner cartridge that is not recommended or required by the printer, the printer's warranty becomes void. On the contrary, voiding a printer warranty because of different toner cartridge usage is actually illegal, according to the Magnuson-Moss Warranty Act of 1975. Just because a printer recommends a toner cartridge certainly does not mean that type of cartridge is required for use in order to maintain the printer's warranty.
The only exception is that if a type of toner cartridge that is not recommended by the printer's manufacturer is used and causes damage, the manufacturer does not have to repair the printer. Still, the printer's warranty is not completely voided. However, if that different type of toner cartridge came with a warranty, the toner's manufacturer can repair the printer. Buyers should never be afraid to purchase a type of toner cartridge that is not recommended by the printer.

Where to Buy Toner Cartridges on eBay
There are thousands of toner cartridges available for sale, and finding the right one for your printer can be overwhelming. But, purchasing toner cartridges can be easy by shopping on eBay. Remanufactured cartridges, compatible cartridges, and even OEM cartridges can easily be found on the site.
To begin the search for a type of toner cartridge, first roll over the Electronics category, and then click on Computers, Tablets and Networking. From there, find the Printers, Scanners and Supplies section, proceed to Ink, Toner and Paper and then click on Toner Cartridges. Once there, you can use the plethora of options on the left side of the page to quickly narrow your search. By using the "Compatible Brand" category you can search for compatible toner cartridges by the necessary brand. Searching via the "Brand" category will help you find OEM cartridges for your specific printer, and by utilizing the "Condition" category you can search for new or refurbished/remanufactured cartridges.
You can even use the main search bar to search cartridges that will fit your specific printer model. By entering your printer brand and model, and then searching under "Toner Cartridges" from the drop-down menu on the right, you can quickly find cartridges that will suit your specific printer.

Conclusion
Toner cartridges are valuable pieces of printing equipment, whether they are used at home or in the office. With so many different types of documents waiting to print, it is important to know which toner cartridges are suitable for any printing needs. By understanding why certain cartridges are recommended, knowing the differences between the types of cartridges, and realizing which scenarios call for specific cartridges, one can make the right choice in buying the toner cartridges that are best suited for one's printing needs.