What is the difference in Genuine Leather Bibles and Bonded Leather Bibles?
Simply put:
Bonded Leather is material made from Genuine leather fibers bonded with adhesive and pressed into flat sheets.
Genuine Leather is select, first-quality animal hides known for strength and grained texture.
Bibles that are called GENUINE Leather are made from the whole sheet of Leather.
In contrast, BONDED Leather Bibles are made from the strips and fibers that are removed from the whole sheets of animal skins used to make the Genuine Leather Bibles a uniform thickness.
So both Bibles are actually real Genuine Leather, one being the whole of the Leather and one being the fibers of the Leather.
You can not see where Bonded leather has been bonded as the bonding process makes it smooth and grained to look just like the Genuine.
Bonded leather is a GREAT, less expensive alternative to real Leather because it looks, feels and smells just like the Genuine Leather.
Be sure to see our pics at the bottom of this guide!
Easton's Bible dictionary definition of leather:
Leather
a girdle of, worn by Elijah (2 Kings 1:8) and John the Baptist
(Matt. 3:4). Leather was employed both for clothing (Num. 31:20;
Heb. 11:37) and for writing upon. The trade of a tanner is
mentioned (Acts 9:43; 10:6, 32). It was probably learned in
Egypt.
Expansion on Leathers... Numbered in order of best Quality ( in my opinion)
#1 Premiem Soft Genuine Calfskin Leather, to me is the absolute best you can get. Made to last a lifetime! The SOFTEST leather available. Nelson's Signature Series Bibles are my absolute favorite Calfskin Leather Bible. The Calfskin is so soft it almost feels like suede(see Genuine leathers for more detail)
# 2 Morocco Leather is imported. Real Moroccan leather is goat skin; excellent, strong and hard-wearing. For hundreds of years Moroccan leather has been dyed on the grain side and boarded by hand or machine to bring up the grain in a bird's-eye effect. Harder, & more pliable than Genuine & Bonded leathers it is valued especially for high quality bookbinding where durability and beauty are prized. ( see below for encyclopedia definition) NOTE Cambridge Bible Moroccan Leather is made in both a Calfskin ( French Morocco) and a Goatskin (Real Morocco) and is rated as a # 1 also. Cambride Bibles are well known for OUTSTANDING Quality and worth the higher prices.
#3 Genuine Leathers vary slightly in Quality according to the tanning process and grain. Genuine leather as we know it is acheived when tanned leather is "split" into a flesh layer. The grain (hair-side) layer is usually used for Bibles. Genuine Leather Bibles are made from whole sheets of animal skins (Leather). They are called GENUINE for that reason.
#4 Bonded Leather is made from real leather strips & fibers that are grated and bonded together with adhesive, then embossed, making it a very nice choice both durable and economical. Bonded leathers have the look, feel and smell of Genuine Leathers because they are also tannery made; most are made on the same equipment using the same methods as genuine leathers. The animal skin fibers used to make bonded leathers come from the tanning process of Genuine leathers when the hides are brought to a uniform thickness. These strips or fibers are bonded (adhesived) with natural latex. As a result, Bonded Leathers are soft and smooth with a true fine leather aroma.
WHAT IS TANNING
Leather is made from animal skins or hides which have been chemically treated to preserve quality and natural beauty. The salting used to ready raw animal hides for use is called 'tanning.' There are many steps to tanning which could make up a whole other guide! A piece of hide or skin which has been tanned produces a strong, flexible leather which is able to resist decay and spoilage. Characteristic grains may be brought out by rubbing, as in morocco leather (goatskin), or may be imitated by embossing (Bonded)
The Columbia Encyclopedia, Sixth Edition. 2001-05.
Morocco, type of leather
goatskin leather, dyed on the grain side and boarded by hand or machine to bring up the grain in a bird's-eye effect. It probably originated with the Arabs in North Africa as an alum-tanned product typically dyed red. The process later spread to the Levant, to Turkey, and along the Mediterranean, where sumac was used for tanning. Today the term is also applied to chrome-tanned goat leather whether boarded or embossed to show the characteristic grain; it is often crushed and glazed. Hard, but pliable, it is valued especially for bookbindings and purses. Levant morocco is larger grained; French morocco is now normally a sheepskin imitation usually calfskin or cowhide that looks like sheep. Traditionally French Morocco was sheepskin.
While I am no expert on leathers, we do sell a lot of Bibles and the #1 question is... What is the difference between leathers. I pray this guide helps you to make a more informed decision on a Bible purchase! I will be working on another guide on imitation leather and hardcover Bibles soon, Lord Willing so stay tuned!
Be sure to see our update below!
God Bless!
In Brotherly Love, Lordswitness
Christian Wholesale
Ebay Store Wholesale BIBLES
~~~~~~~~~~~~~~~~~~~~~~~~~~~~~~~~~~~~
2 Sample Pics of Premium Nelson Calfskin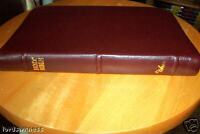 As a Bible dealer/ distributor I am personally VERY IMPRESSED with this Bible!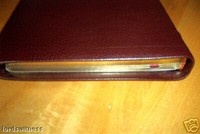 4 Sample Pics of our Kirkbride Thompson Chain Bibles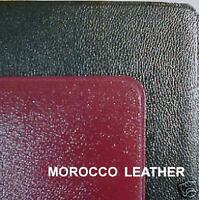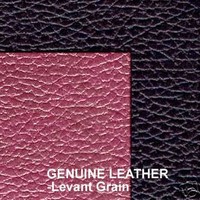 Deluxe (Capri)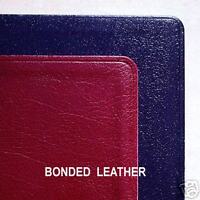 UPDATE! 11-06-06
We are now carrying a RARE handmade Calfskin leather that is a top grain leather unlike the Signature calfskin which is a Nelson shown above.
This new 18 point Super Giant Print Calfskin is the top SMOOTH Grain
while the Signature Calfskin is the Flesh side HAIR Grain.