Consider this the first in what I hope will be an occasional series on how to establish first printings for specific publishers. Today, a quick and easy one: Farrar & Rinehart.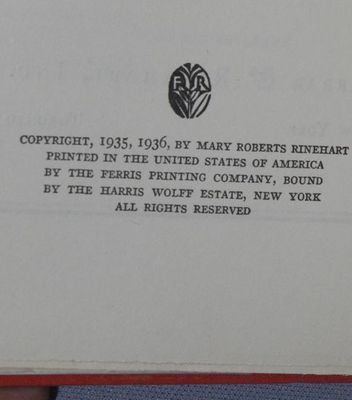 Turn to the copyright page (for Farrar & Rinehart books, nearly always the verso (back side or reverse) of the title page. If you see a stylized "
FR
" emblem (generally located just above the publisher's imprint/copyright information), then the book is a first printing. If there is no emblem, then it is not a first. I've supplied images of two versions of the imprint. The more rounded, curvier example is what I consider the 'classic' FR.
---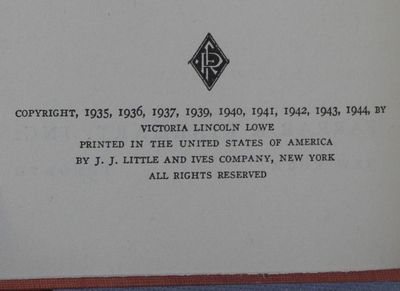 The diamond shaped version came a bit later. There may have been other versions. A web search yields images of a more block like 'Fr' side by side but I've not handled any examples where I actually saw that version on the copyright page. But if I encounter one, I would immediately assume it was a first.
---
One of the reasons I started with Farrar & Rinehart is because, to the best of my knowledge, there are
no
exceptions to this rule.
Every
Farrar & Rinehart first printing has the FR emblem. I would not be shocked to discover that they failed to remove the emblem on later printings of a couple of titles but know of no documented cases where this is known to be the case and, barring specific bibliographic points, even if the emblem were
not
removed, the book would be considered, for all intents and purposes, a first printing.
I do need to address the issue of what specifically this emblem has been called by folks over the year. When I first encountered the emblem and learned its significance (this was 30 or so years ago), it was referred to as a colophon and to this day, many folks use this term. But the word has another meaning in the book world as :
"The finishing stroke (from the Greek word meaning summit): a note at the end of a book (sometimes accompanied by a device or mark) giving all or some of the following particulars: Name of work, author, printer, place of printing, date.... ...the word is sometimes , but wrongly, used of the printer's -- or even of the publisher's -- device on the title page." (see John Carter's ABC for Book Collectors).
And if Carter says Colophon is used wrongly in these circumstances, well, that is good enough for me.
Still, what to call it? Carter gives the answer above. A Device. Specifically the publisher's device. Fair enough. That works for folks who know what a publisher's device should be or have a copy of Carter nearby (What? You don't? Shame on you! Get one Now! ;-) My compromise is to describe exactly what I see to minimize confusion among folks who are not familiar with the specialized vocabulary of the book world. And what do I see? A stylized "FR" emblem.
---
Many respected books, authors and series were published by Farrar & Rinehart. Early Rex Stout books are legendary for both the beauty of the dust jacket and their scarcity on the resale marketplace.
Anthony Adverse
by Hervey Allen was a huge seller... The Rivers of America series has a well-deserved following of collectors. Each, of course, had a first printing that is now sought after and each of those first printings was published with the FR publisher device.
Some F&R trivia... The Rinehart in question (actually two of them) were sons of the mystery writer Mary Roberts Rinehart and when the Rinehart sons, along with John C. Farrar, moved from Doubleday, Page when it merged with George H. Doran, she moved with them and provided a steady stream of bestsellers.
"We will never grow so large that all members of the firm cannot read and be interested in any book we publish" (Time, June 17, 1929, as cited on Wikipedia.