Dressing For Your Destination Wedding.
Destinations weddings are exploding in popularity. Many couples are choosing a smaller non traditional wedding and honeymoon combination for economic or personal reasons. Many couples just don't want the stress of planning a large wedding. Some couples just want the romance of marrying on the beach at sunset.
Traveling to a destination wedding used to be called eloping. Today its a way to have a more personal wedding without the traditional pomp and circumstances. The Caribbean resorts call them weddingmoons. Its a combination of wedding and honeymoon.
Whether its the beach at sunset, Las Vegas wedding chapel, a cruise in the Caribbean, you need to find the the PERFECT wedding dress for the occasion.
What works in the cathedral won't work on the beach. You want to look like a bride, you just don't need the long train and the huge crinoline. You want to look gorgeous, but not be too hot or held back by the dress.
A destination dress is a wedding dress that is LESS. Less bulky, less heavy, less formal. It generally is a lighter weight fabric, like chiffon or organza. You don't have to sacrifice glamor, sophistication or glitz. You can have it all.
Your first step after you set the location is to think of what will work in your setting. If you are getting married in the tropics or on a beach, you want a dress that won't be overly hot and heavy.
For the beach, think of chiffon billowing in the ocean breeze. Think of a sleeker gown. You can do any kind of bodice, but choose a gown that is lined so that you don't need to wear a slip. Inquire if you can see through the dress. If you can see through the dress in the sunlight, you don't want the dress because you will have to wear a slip. Look for a dress that is lined in satin. For example, chiffon over satin. Its opaque and won't be overly hot and will maintain the billowy soft look. You also don't want a dress that is so tight that you have to wear pantyhose. Pantyhose doesn't work on the beach. You can wear Spanx footless pantyhose if your dress needs the look.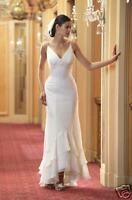 Don't do a train unless its a sweep train that just brushes the sand. And don't wear heels on the beach. You'll sink into the sand. Nothing is worse than being anchored in the sand. ;)
A tea length gown is also perfect for a beach. Its 8 to 10 inches off the floor and you won't have to worry about your dress dragging in the sand.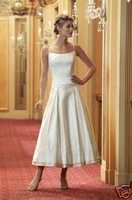 For Las Vegas, anything goes. Glitz to t-shirts, there's something for everyone. If you are getting married in the chapel of a 5 star hotel, you will probably want to be more formal than if you are going to a drive through wedding chapel. I've seen everything from a bride in a formal couture gown to a bride in a black sequin mini dress to a t shirt and veil. Vegas gives you the choice to dress as you wish. If you are a princess bride, then dress the part. If you are a casual bride, do your thing. I've seen hundreds of weddings in Las Vegas, and I've seen more formal weddings than informal weddings.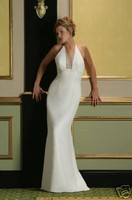 For a cruise ship wedding, choose something floor length and forget the train unless it detaches. You will be walking up and down the ship's steps and elevators and don't need the extra fabric dragging behind you. You can choose your dream gown and have the train removed. Or you can just choose an informal gown...a gown without a train. Choose something you'll feel comfortable wearing, even if you wear a crinoline underneath. Your fellow cruisers love seeing the bride and groom decked out in their finery.
For any destination wedding, choose a gown that is easy to pack. ALWAYS carry your gown on the airplane with you. Please don't check it in your luggage. Carry it in a garment bag and put it in the overhead bin if your plane doesn't have a coat closet. Call your airline in advance and ask them about the plane you are traveling on and if there are space limitations on board. Ask your flight attendant once you board the plane. They'll help you place your gown safely. Most airlines will put your gown in the first class closet or in the overhead bin.
If you are driving, don't leave the gown in plain sight in the car. Also, don't let it hang in the sunlight, because the sun and the heat built up in the car can discolor the dress.
Most hotels, resorts and cruise ships that specialize in destination weddings will have a service to press and steam your gown for you when you arrive. Inquire when you book the wedding and make your arrangements in advance. Your gown may have minimal wrinkling, but a fresh steaming will make it photo perfect!
For destination dresses, please check out my Ebay store, Bridalgownz and Formals eBay Store - Bridalgownz And Formals: Custom Order Wedding Dress, Custom Order Plus Size Dress, In stock Wedding Dresses