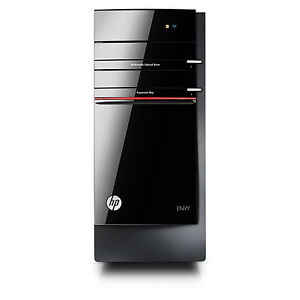 Delve into the world of desktop PCs and find a computer that'll meet your needs.
Determine Your Desktop PC Needs
Four simple steps will turn you into a savvy desktop PC shopper:
Nail down your equipment needs: Do you need a box or a complete system? If you only want to upgrade your computer, buy a box in PC tower or desktop form. If you need a monitor (traditional CRT or flat-panel LCD), speakers, keyboard, and mouse, buy a complete system. Some sellers will also include a printer, scanner, or memory card reader. All-in-one systems that integrate computer hardware, including drives, into the monitor are also available.
Decide if you need a brand name desktop: Buying a computer from a well-known company like Dell, Sony, HP, or Gateway can give you peace of mind because you know the company's name and reputation. However, desktop PC custom/whitebox computers cost less and have comparable hardware and system configurations.
Determine how you want to use your desktop: People who only want to work in Microsoft Office applications have drastically different computing needs than people who want to play 3D games or edit video. Before you start to shop, consider how you plan to use your computer. It should meet your personal needs as well as the system requirements set by your Internet Service Provider.
Discover the desktop of your dreams: Once you know what you want, use eBay's Product Finders and keywords to narrow down item listings.
Meet Your Desktop PC System Requirements
Below you'll find some suggested processor, memory (RAM), and hard drive capacity specs to use as a starting point when you shop for desktop PCs on eBay.
Buy a basic home PC
People looking for a basic home desktop PC want to work in word-processing and spreadsheet applications, surf the Net, email, perform basic photo editing tasks, and transfer data to and from gadgets such as your MP3 player and digital camera.
Find a desktop PC to fit your home office
Desktop PCs designed to fit into your
home office
allow you to bring your work home.
Features

Details

Processor

1.6 GHz or faster Pentium 4 or AMD equivalent

Memory (RAM)

1GB or more

Hard drive

80GB or more

Networking

10/100 Ethernet Card

Ports

USB 2.0 and FireWire (also called IEEE 1394)

Burner

CD-RW or DVD+RW/-RW

Software
Microsoft Office

;

Accounting software

such as

Quicken

,

Quickbooks

,

Peachtree Accounting

, or

Microsoft Money

.

Utilities
Utilities

such as

Norton Internet Security

and

McAfee Internet Security

to help keep viruses and spyware off your system.
Immerse yourself in a 3-D gaming machine
Experience hot 3-D gaming action on your desktop PC and online with a
3-D gaming machine
.
Features

Details

Processor

2.6GHz Pentium Quad Core or equivalent multi-core AMD chip

Memory (RAM)

2GB or more

Hard drive

100GB or more

Networking

10/100 Ethernet Card

Ports

USB 2.0 and FireWire (also called IEEE 1394)

Burner

CD-RW/DVD-ROM

Video card

At least AGP 8x or PCI Express ATI Radeon, Nvidia GeForce 8800 GTX

Video card

At least AGP 8x or PCI Express ATI Radeon, Nvidia GeForce 8800 GTX

Utilities
Utilities

such as

Norton Internet Security

and

McAfee Internet Security

to help keep viruses and spyware off your system.
Make music and movies on your desktop PC
Multimedia powerhouse
desktop PCs can function as digital darkrooms, sound studios, or video production houses.
Features

Details

Processor

1.8 to 2.6GHz or higher multi-core Pentium or AMD equivalent

Memory (RAM)

2GB or more

Hard drive

100GB or more

Networking

10/100 Ethernet Card

Ports

USB 2.0 and FireWire (also called IEEE 1394)

Burner

DVD+RW/-RW

Video card

ATI or NVIDIA card with VGA and/or DVI outputs. If you decide to purchase a separate video card on eBay, make sure your computer's motherboard supports the type of card you buy (AGP or PCI Express).

Sound card

Card such as the Sound Blaster Audigy 2 ZS, Sound Blaster Audigy 2 ZS Platinum, or Sound Blaster Audigy 4 Pro that supports 16-bit audio and includes inputs for speakers or headphones, a microphone, and a line-in for audio devices.

Software

Burning software such as

Nero

or

Easy Media Creator

; Video editing software such as

Pinnacle Studio

,

Dazzle Video Creator

,

Roxio VideoWave

, or

Adobe Premiere

.

Utilities
Utilities

such as

Norton Internet Security

and

McAfee Internet Security

to help keep viruses and spyware off your system.
Explore Common Desktop PC Components
Desktop computers are only as good as the parts that come inside them. When looking at these parts, also called components, know that:
1GB equals 1024MB.
1GHz is faster than 1MHz.
Faster processors offer faster performance.
As you increase RAM, program performance improves.
You can store more files on larger hard drives.
Compare desktop PC processors
The processor is your computer's nerve center. Sellers provide information about the type of processor a computer contains and its speed in megahertz (MHz) or gigahertz (GHz). When you shop, here's how to compare them.
Processor speed: 1GHz processors are faster than 1MHz processors. Faster processors offer better system performance and usually cost more than slower processors.
Intel & AMD: Intel and AMD use different speed naming conventions for their processors. Higher numbers offer better performance.
Celeron & Pentium: Intel makes two lines of processors: Celeron and Pentium. Celeron is an inexpensive, no-frills alternative to Pentium processors. You trade off some speed for a lower price.
Hyperthreading (HT): Hyperthreading (HT), an Intel technology, lets processors in the 3GHz and faster range work on two separate threads of data at the same time. Your software needs to be optimized for hyperthreading in order to see improved performance. More software will support the technology in the next few years.
Dual processors: Some computers contain two processors that can take turns working with data. You will only see improved performance if the software you run is optimized for dual processing.
Make sure you have enough memory (RAM)
Random Access Memory (RAM) stores data in a temporary holding area so that your desktop doesn't have to access slower hard drive memory when programs request information. Programs, including operating systems, need a certain amount of RAM to run, with more RAM providing better performance.
Select your hard drive capacity
A computer's hard drive stores all your programs and files. A drive with a higher storage capacity (measured in GB) lets you save more data than a drive with a lower storage capacity. You only need 40GB to 80GB of hard drive space if you only plan to store your operating system, programs, documents, songs, and photos. You'll want at least 80GB or more if you plan to save a lot of large files such as high-resolution images, movies, or your entire music collection. Additional external hard drives also work well for data backup purposes and for storing large files.
Back up with a CD or DVD burner
CD and DVD burners allow you to back up your data, create your own music CDs, or burn your home videos to DVD.
CD-R: Write to CD-R media and create your own audio CDs. You can only burn and finalize a CD-R once.
CD-RW: Back up your data to a re-writable CD-RW.
DVD+RW/-RW: A DVD can hold more data than a CD, making it a great backup data storage option. A combination DVD+RW/-RW burner can write to the popular DVD+RW and DVD-RW media formats.
Combo drives: Combo drives can read or write to two media formats. They may also include a read-only media format such as CD-ROM (to read CDs) or DVD-ROM (to play DVD movies and read CD-RWs).
Connect to your network
In order to connect to a home network or broadband Internet service, you'll need a 10/100 Network Interface Card (NIC), which comes standard on many PCs. If you want to set up a wired or wireless home network, read eBay's Networking Buying Guide.
Interact with your favorite gadgets
Digital cameras, MP3 players such as the iPod, video cameras, and other gadgets transfer data to and from your computer over a high-speed USB 2.0 or FireWire (also called IEEE 1394) connection. Many also work over slower USB 1.1 connections.
Get great graphics and sound
Gamers and multimedia enthusiasts will want one of the latest video cards and sound cards. They process video and audio, freeing up memory for other system tasks and enhance desktop wallpaper and screen savers. You may also need separate cards if you buy an older PC that does not have a motherboard with onboard sound and video processing.
Notes on upgrading: Desktop owners can easily replace older components or install new components to improve performance and add functionality. For example:
If you plan to upgrade components, ask the seller to provide you with a manual for the desktop. The manual specifies which hardware the computer's motherboard supports.
Find Desktop PCs on eBay
Now that you know exactly what you want, go to the Computers & Networking portal, click Desktop PCs, and start searching for items on eBay.
Categories: The Categories list on the left side of each page will help you narrow down item listings by brand.
Product Finder: Use the drop-down menus on the PC Desktops Finder to select your system preferences.
Keyword search: Search eBay listing titles for specific words. For example, if you want to find a custom PC with a 3GHz processor, type "custom whitebox 3GHz" (without quotation marks) into the Search box. Click "Search title and description" to expand your results. Visit eBay's Search Tips page for more tips on searching with keywords.
If you can't find exactly what you want, try shopping eBay Stores, tell the eBay Community what you want by creating a post on Want It Now, or save a search on My eBay and eBay will email you when a match becomes available.
Buy Desktop PCs With Confidence
Before making your purchase, make sure you know exactly what you're buying, research your seller, and understand how eBay and PayPal protect you.
Know your purchase
Carefully read the details in item listings.
Figure delivery costs into your final price. If you spend a lot of money, make sure the seller will insure the item when it ships.
If you want more information, ask by clicking the "Ask seller a question" link under the seller's profile.
Always make sure to complete your transaction on eBay (with a bid, Buy It Now, or Best Offer). Transactions conducted outside of eBay are not covered by eBay protection programs.
Never pay for your eBay item using instant cash wire transfer services through Western Union or MoneyGram. These payment methods are unsafe when paying someone you do not know.
Know your seller
Research your seller so you feel positive and secure about every transaction.
What is the seller's Feedback rating? How many transactions have they completed? What percentage of positive responses do they have?
What do buyers say in their Feedback? Did the seller receive praise?
Most top eBay sellers operate like retail stores and have return policies. Do they offer a money-back guarantee? What are the terms and conditions?
Buyer protection
In the unlikely event that a problem arises during your transaction, eBay and PayPal are there for you.
Pay safely with PayPal: PayPal enables you to pay without the seller ever seeing your bank account or credit card numbers. In fact, PayPal protects buyers 100% against unauthorized payments from their accounts. Plus, with PayPal Buyer Protection, your purchase can be covered up to $2,000.
eBay Security & Resolution Center: Visit the Security & Resolution Center to learn how to protect your account and use eBay's quick and efficient resolution tools.